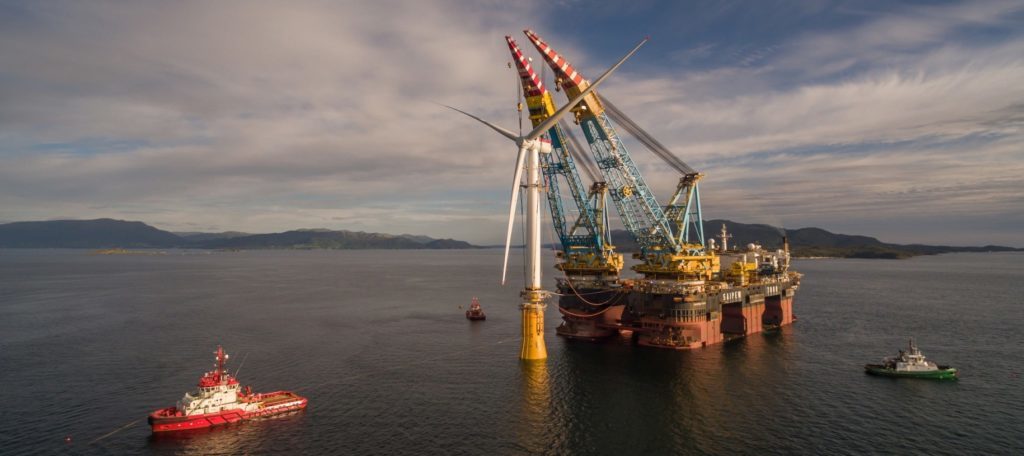 An incident during a lifting operation onboard crane vessel Saipem 7000 on Thursday morning left the ship listing in a channel north of Stavanger, Norway.
The 198m semi-submersible crane vessel (SSCV) reportedly suffered a partial capsize in the Åmøyfjorden channel, north of Stavanger.
As of Thursday afternoon, the vessel has reportedly been righted, having sustained some damage.
According to reports from Norway's central rescue centre (HRS), which co-ordinates land, sea and air search and rescue operations, the ship tilted while conducting a lifting operation.
Barges next to the crane vessel also reportedly suffered "major damage" and have capsized.
Broadcaster NRK said eyewitnesses it had spoken to heard loud bangs at 10:00 local time, shortly before the ship began to tilt.
"A steel cable broke during a loading operation," police commissioner Brit Randulff later informed AFP.
"Witnesses heard a loud bang, but there was no indication of an explosion," he clarified.
The Norwegian Maritime Directorate announced it would carry out inspections and port state inspections of the vessel "as soon as the situation allows."
Video on social media shows the extent of the listing, and subsequent damage.
Rescue at sea. Ongoing situation
One of the biggest Crane vessels in the world, tilting after a sudden explosion 20 min's ago. 275 ppl on board #Stavanger #Åmøyfjorden #Norway #Saipem7000 #MaritimeSecurity pic.twitter.com/dM8LePv8Dd

— Sea & son (@OnDeepWater) April 14, 2022
A closer look at the damages
#Saipem7000 #Maritime pic.twitter.com/UqzwqZKbPF

— Sea & son (@OnDeepWater) April 14, 2022
Norwegian media reported that the 275 people on board the ship have all been accounted for and are unharmed.
Local police said they are in the process of establishing a reception centre for evacuees in Dusavika.
"A lot of public resources" have been put on standby, HRS said.
#Åmøyfjorden #SAIPEM7000 kl1020. Løfteuhell på SAIPEM7000 i Åmøyfjorden. Kranfartøy fikk slagside ifm løfteoperasjon. Full personkontroll bekreftet OK. Ingen skadd. Lekter ved siden av kranfartøy påført stor skader og kantret. Mye offentlige ressurser satt i beredskap.

— HRS Sør-Norge (@HRSSorNorge) April 14, 2022
In a statement released on Thursday evening Saipem said: "In the morning of today off the coast of Amoyfjorden (Norway), an incident occurred on the vessel Saipem 7000.
"After having completed DP trials as per DNV testing program, Saipem 7000 was performing the planned 5 years main cranes load test, under the attendance of Classification Authority. Nobody was injured during the incident.
"Further to a preliminary assessment, it would appear that the main block wire broke during the test lifting operation and the testing load (two cargo barges) with the main block were released in the water.
"The unit, after an initial tilting caused by the load release, promptly returned in a stable position and safe condition. A crane assessment is ongoing."
The vessel is currently deployed to install jackets at the 1.1GW Seagreen offshore wind farm off the Angus coast – a £3 billion project being developed by a joint venture of SSE Renewables (49%) and TotalEnergies (51%).
With 21 jackets installed, the vessel journeyed to Norway this week for scheduled maintenance ahead of a second campaign scheduled to be launched later this month.
The vessel's huge cranes enable it to conduct heavy lift operations of up to 14,000 tonnes and deepwater pipelaying in water depths of more than 2,000 metres.
Recommended for you

Saipem moves ahead on drilling ambitions for offshore wind farms