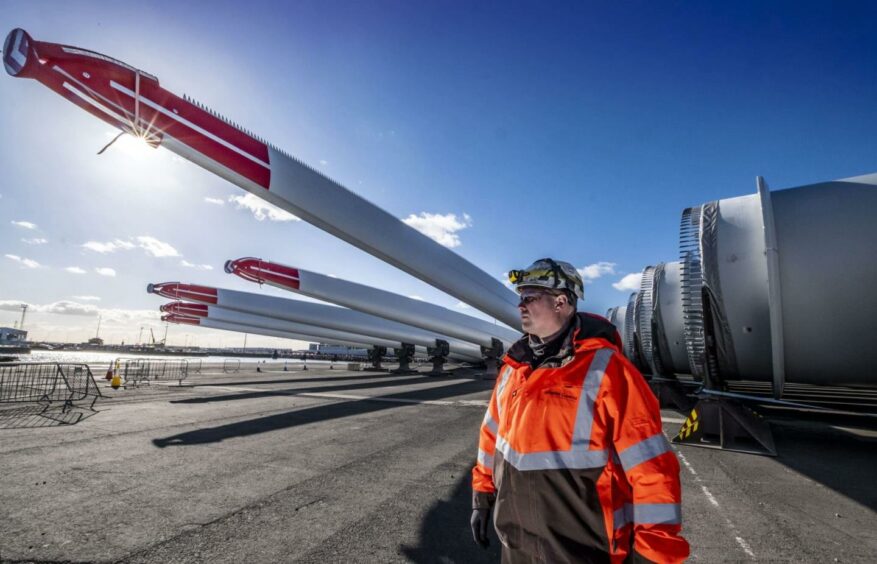 A new report from Robert Gordon University (RGU) suggests £17 billion of investment could secure the north-east's position as a leading global energy hub, but a lack of ambition may lead to significant job losses.
Prepared by the University's Energy Transition Institute, the 'Making the Switch' review says that "urgent capital investment" is essential to position the region as a long-term global leader in offshore energy.
It models four potential scenarios, ranging from "regional decline" to "global energy hub," the latter offering the largest rewards, contingent on the most progress and investment.
In this ambitious scenario, garnering £17bn of renewables investment and activity over the next eight years could secure 54,000 direct and indirect jobs in 2030 – up from 45,000 today.
However, the less ambitious scenario could see up to 17,000 jobs at risk, with workforce numbers falling by up to 40% to 28,000 over the same period.
This would continue a stark trend that has already seen the loss of nearly 35,000 jobs supported by oil and gas activity across the UK between 2020 and 2021, as Covid restrictions and volatile prices hit the sector.
Much of the investment proposed by the report would need to be committed as capital expenditure over the next four years to establish new large-scale manufacturing and installation capacity across the region, supporting the development of the ScotWind build out, as well as new hydrogen and carbon capture and storage (CCS) projects.
It would require the region to capture, develop, execute and operate as much as 18 GW of installed offshore wind capacity, 3.3 GW of hydrogen generation and up to 28 million tonnes of annual carbon capture and storage (including CO2 imports), in alignment with the UK's Energy Security Strategy.
Crucially, this investment would be made on top of ongoing oil and gas and clean energy expenditure in the region, requiring close coordination between governments and industry, RGU said.
Just transition
In all scenarios, the report suggests close to 14,000 oil and gas roles may need transition to renewables between 2022 and 2030.
This also assumes a 'goldilocks zone', where workforce reductions in one sector are matched by increased activities in an adjacent sector – again reinforcing the need for investment and a consistent stream of projects to ensure a smooth transition.
However, previous RGU research suggests that with more than 90% of the existing north-east oil and gas workforce possessing medium to high skills transferability, most people in the region are well positioned to make the switch.
Meanwhile around 10% (roughly 4,500 people) are likely to have lower transferability and are likely be disproportionately impacted by the changes.
For that reason, "cost effective and accessible" upskilling and training will be required for up to 10,000 people in the region who have medium or lower transferability.
In addition, it calls for common certification, standards and accreditation to support those moves – a demand that has already been made repeatedly by unions and campaign groups.
Harnessing the existing ecosystem
Energy Transition Institute director and the report's lead author, Professor Paul de Leeuw, described the findings as "an urgent call to action," but highlighted the transition presented "a unique opportunity to re-shape a new energy future" based on a legacy of oil and gas expertise.
He pointed to advantages the region already has in its skills base, but said momentum must be preserved to ensure the north east stays competitive against other areas also looking to secure investments in energy transition projects.
"There is no other place where there is such a large cluster of capability, it just makes sense. But we have to be conscious that other areas will compete as well, so the region has to compete and put its best foot forward," he said.
"But the starting point is that you have all of the operators and developers already here, you have the supply chain companies here, you have universities and colleges here, you have all the support services here and a whole ecosystem in place.
"If you want to have a starting point as a country, this is a very good way to start – but of course it's a choice and the region has to compete for it."
Future-proofing jobs
Responding to the report, Net Zero and Energy Secretary Michael Matheson MSP added: "Scotland's energy sector is at the forefront of our transformation to becoming a net zero nation. It is a major employer and source of economic output, and our oil and gas infrastructure and highly skilled workforce have long been at the forefront of energy innovation – which is why it is well-placed to embrace the transformation that lies ahead."
Mr Matheson said the Scottish Government also "stand ready" with £80 million of investment for the Scottish carbon capture and storage cluster, which includes the Acorn CCS project, adding that the scheme would be important to future-proofing north east jobs.
He said it was therefore "vital the UK Government reverses its decision not to award the Scottish Cluster definitive Track-1 status in its cluster sequencing programme."
Maggie McGinlay, CEO of ETZ Ltd said the review was "hugely welcome" in highlighting the need for targeted investment and support for the north east.
"The report is also a timely reminder on what is at stake and the critical role industry, governments, the region and the community have to play to ensure the North-East of Scotland remains a leading energy hub for generations to come," Ms McGinlay added.
Underlining his message, Professor de Leeuw added: "The energy transition will create exciting new opportunities and industry, governments and the education sector all have a key role to play. It will require a careful balancing act. The opportunity of getting this right has the potential to secure the region's economy as a global energy hub for decades to come.
"However, if we move too slowly, there won't be a role for everyone, and it will risk a hard-hitting economic decline for the north-east of Scotland. This must be avoided at all costs."
Recommended for you

Interview: Anasuria on 'exciting' first year as North Sea duty holder