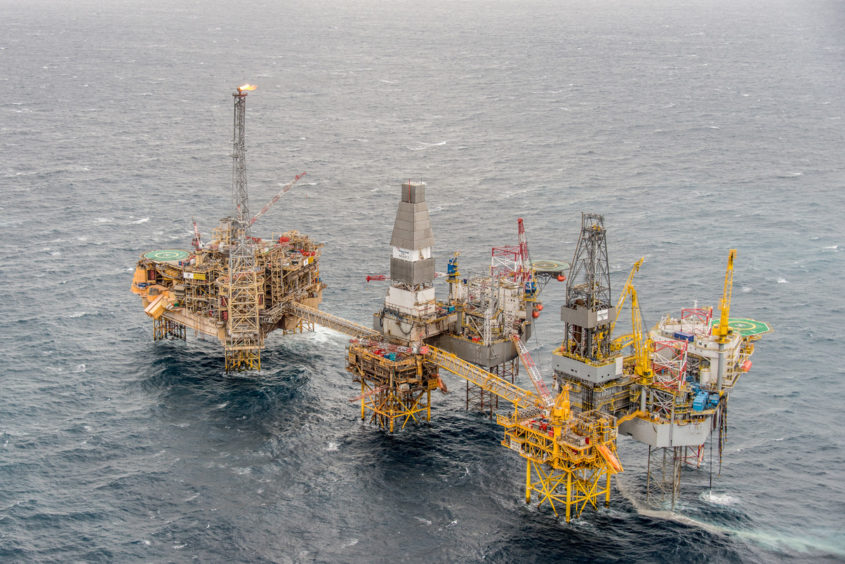 There was widespread disruption on several North Sea platforms on Wednesday after crew members staged unplanned walkouts.
Workers on installations for some of the sector's largest operators, including BP's ETAP and Harbour Energy's Judy, downed tools in an effort to force an increase to pay, in what has been described by some as a "wage revolution".
It is understood the strikes were sparked by fabric maintenance workers on the TotalEnergies-operated Elgin platform and the Safe Caledonia flotel on Tuesday night.
Energy Voice has seen a Telegram group documenting the strikes, with more than 1,000 members claiming to work on the installations.
Bilfinger UK workers across several of the platforms announced plans to down tools as they sought a pay rise.
Solidarity with workers on North Sea platforms who are downing tools in defence of fair pay.

Oil and gas companies have announced record profits off the backs of underpaid workers and short-changed consumers. Enough.

My message to employers: pay your workers, pay your taxes. https://t.co/uNna0gyNpB

— Mercedes Villalba (@LabourMercedes) May 18, 2022
Wood workers on the BP-operated ETAP also chose not to work, while it is thought the Glen Lyon FPSO, the Foinaven FPSO and the Clair field were also impacted.
Others on the list include the Taqa Tern Alpha and Cormorant Alpha, Dana Petroleum's Triton FPSO, and Harbour Energy's Britannia installation.
Workers claimed the CNR International Tiffany installation was impacted, though this was denied by the Canadian operator.
A spokesperson for Bilfinger UK said: "We understand that Bilfinger UK is one of a group of contractors with employees downing tools on assets in the North Sea. We are working closely with our clients and employees to resolve this as soon as possible."
Meanwhile a Wood spokesperson confirmed that a number of its employees and subcontractors "chose not to work".
They added: "We have received no official notification of this activity and are looking into this matter, with a view to working closely with our client and employee representatives to ensure any grievances are managed via the appropriate processes."
A spokeswoman for TotalEnergies said: "We are aware of the unofficial action taking place right now and are liaising with our fabric maintenance contractor partner in relation to it. The safety of people working across all our sites remains our priority and we are confident that safe operations are unaffected by the situation."
Workers are seeking an increase to base rates of £7 per hour to help with the surge in inflation and the cost-of-living crisis.
One person, who said he represents the wider group, said: "The cost of living has went up dramatically and the wages, on the other hand, have went down or stalled dramatically."
He cited oil and gas company profits being "at an all-time high" as part of the justification for the action.
In recent weeks North Sea firms have reported bumper takings, with Russia's invasion of Ukraine pushing commodity prices to highs not seen for years.
It has fuelled calls for a windfall tax on the sector in order to ease the financial burden on households.
A BP spokesperson said the firm is monitoring the ongoing unplanned industrial action and liaising with the employing companies.
They added: "Safety remains central to everything we do and we're confident there's no increased risk as a result of this action."
Harbour Energy, Taqa, CNR and TotalEnergies were all been contacted for comment.
Unions
A Unite spokesperson said the union "has only recently been made aware" of workers' grievances and that is unclear on the exact number of people taking part and on which installations.
"However, Unite has been clear that employers who repeatedly refused to pay wages which reflect the cost of living with inflation soaring at 11.1% can only stoke resentment amongst workers," they added.
"This is despite the profits that are being reaped in the industry through the rising price of oil, which has remained steadily above $100 a barrel for months."
Unite lamented Bilfinger not joining the Energy Services Agreement – a collective bargaining deal for North Sea contractors – adding "this must change".
Bilfinger held discussions with a Unite regional organiser on Wednesday morning, the company confirmed.
GMB Scotland organiser Dom Pritchard said: "The industrial unrest is not surprising – it's the inevitable response to employers who have been racing to the bottom for years on pay and conditions.
"GMB has previously warned the industry that it needs to drag itself into the future, so it can retain and recruit the people who will deliver the oil and gas we need on the journey to net zero and beyond.
"Bluntly, the industry needs to snap out of it's complacency and listen to the concerns of the workers it cannot do without."
North East Green MSP Maggie Chapman backed the workers' actions and raised the case for a windfall tax on oil and gas firms.
She said: "Oil & gas corporations have been making record profits during a cost-of-living crisis.
"The workers that create these profits deserve pay that reflects the important and hard work that they do. I stand with them in their actions.
"It is high time we taxed these companies and their executives. We can do this through a short-term windfall tax and a longer-term wealth tax. For too long we have seen a two-speed economy in the North East where the wealth of our land and sea is hoarded by a few, whilst many work on low wages.
"I commend the people on these platforms for their strike action and will support them in Parliament."
Recommended for you

CHC Scotia helicopter workers set to strike across UK in pay dispute