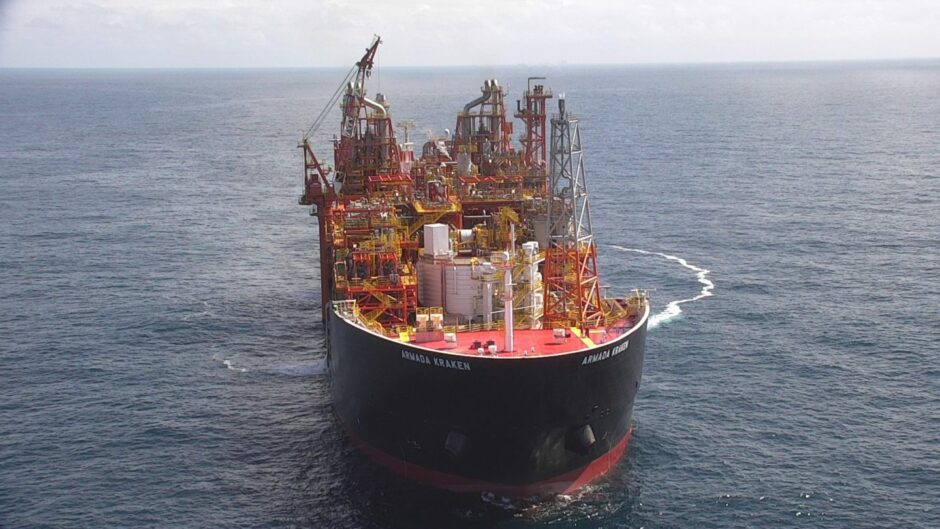 EnQuest has said its Kraken FPSO is "almost impossible to electrify" and is looking at creative alternatives to decarbonise the asset.
The North Sea Transition Deal, signed last year, set out crucial emissions targets for the industry this decade: an initial 10% cut by 2025, then 25% by 2027 – which the industry is confident of achieving – and a more uncertain 50% cut by 2030.
At the Offshore Energies UK (OEUK) conference last week, EnQuest infrastructure and new energy manager Donna Sutherland set out the challenges associated with some of the goals, particularly for its assets producing past the end of this decade.
"As we look ahead, particularly for our assets that go beyond 2030, we need to look at alternative and very creative solutions to understand how we're going to achieve that decarbonisation solution."
Measuring the progress of technology, electrification is "at the heart" of the opportunity, she said, citing potential for power from shore via the Sullom Voe Terminal in Shetland.
She added that EnQuest is also working on the INTOG leasing round, designed for electrification of oil and gas installations via floating offshore wind.
"We've been working with a very strong and credible INTOG consortium, which is made of one technology particularly which is the only floating wind technology that's deployable at commercial scale pre-2030."
However, she noted that electrification for new wind projects, such as those announced under the recent ScotWind awards, requires grid connection upgrades – many of which won't take place until the late 2020s or even into the 2030s for the central North Sea, which is too late for many assets seeking electrification.
On Kraken, she said: "A number of assets, particularly FPSOs, have real challenges to decarbonise, particularly due to the swivel configuration. As a result of that, it is almost impossible to decarbonise.
"There have been some successes within the UKCS, however with our particular FPSO Kraken we've actually concluded that it is so challenging to electrify that we're looking at alternative opportunities."
EnQuest is instead looking at drop-in fuel – fuels derived from biomass – to help Kraken meet the targets, but that also has challenges to overcome.
"If that drop-in fuel has the same chemical characteristics to marine diesel, that could provide a low-cost solution for us as the Kraken operator to meet our decarbonisation commitments.
"However, the issue with drop-in fuel is significant. Most notably the lack of renewable diesel globally that's available, the infrastructure, particularly refineries, within the timeline of delivery. And, most critically at the moment, sustainable feedstock.
"At the moment, a number of companies, particularly in the US, are using palm oil and soya beans, (and) there's adverse reaction to that type of feedstock. But lower cost vegetable oil and other feedstocks is not in plentiful supply globally and indeed in the UK."
Kraken has been mooted as a potential host for the Bressay and Bentley fields, which EnQuest acquired operatorship of last year.
The main Kraken field lies around 220 miles off Aberdeen.
Recommended for you

North Sea firm EnQuest eyeing 'significant infrastructure reuse' to deliver CCS