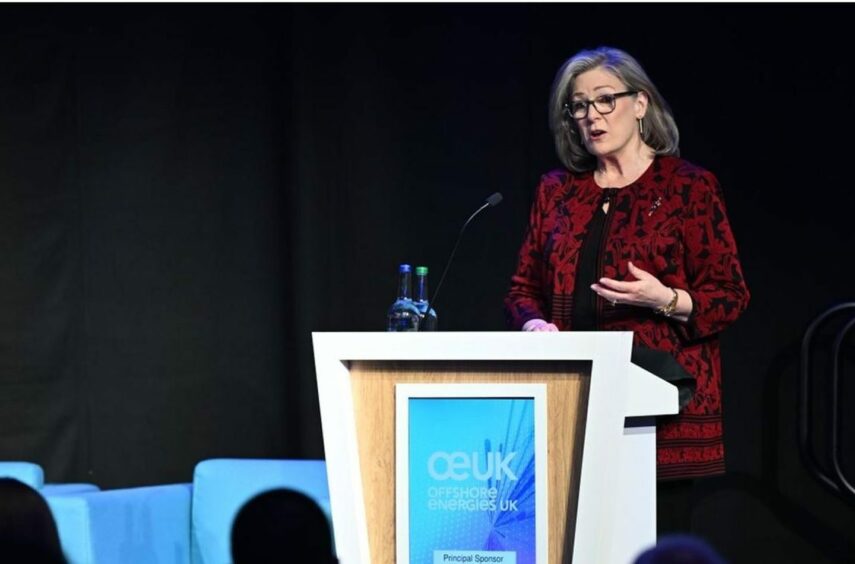 Harbour Energy (LON:HBR) reported strong nine-month performance in 2022 as production rose by more than a quarter, but again took aim at the impact of the UK's windfall tax measures.
In a 3 November operational update the UK's largest oil and gas producer said it had generated nine-month revenues of $4.1 billion (£3.6bn) to date, while production rose 27% on the same period last year to around 207,000 barrels of oil equivalent per day (boepd).
Improved production prompted the group to up its guidance on free cash flow by around $200m, boosted by the impact of lower capital expenditure and higher commodity prices.
Yet these gains were partly offset by higher UK tax payments, which the operator now expects to total around $650 million (£573m). This includes around $240 million relating to the December payment of Harbour's 2022 Energy Profits Levy (EPL) requirement, with total liability now forecast to be in the region of $400m (£352m).
Chief executive Linda Cook said the company was "proud" to be the UK's largest oil and gas producer, "contributing meaningfully to domestic energy security while at the same time working to help realise a shared ambition of UK leadership in CO2 capture and storage."
Yet she again took aim at the implications of windfall tax measures and "speculation" over potential further changes to the regime, which she said had "created uncertainty for independent oil and gas companies like Harbour."
"As a result, evaluating expected returns from long term investments has become more difficult and investors are advocating for geographic diversification."
"While we fully recognise the significant challenge in the UK to put public finances on a sustainable footing, we urge the government to carefully consider the consequences of any increase in or extension of the EPL."
"At a time when oil and gas producers are being asked to invest more to help ensure the UK's energy security and are considering longer term, material investments in CCS, additional taxes would run the risk of undermining our ability to do either."
Ms Cook has previously suggested the group would accelerate efforts to diversify its portfolio in light of the additional tax burden.
Nevertheless, the company has also returned around $500m to shareholders so far this year in the form of a $200m annual dividend, a $100m interim dividend paid on 19 October, and an ongoing $300m share buyback programme.
It maintained its expectations of being free of its $1.1bn in net debt some time in 2023.
Acorn and Viking CCS
Harbour said it had made "good progress" on its newly renamed Viking carbon capture and storage (CCS) development on the Humber.
A recent agreement with Associated British Ports means plans are now set to include a CO2 import terminal at Immingham, which would enable Viking CCS to offer a solution for stranded emissions across the UK.
Subject to government progress related to the regulatory framework, Harbour said it was now aiming to progress both Viking CCS and the north east's Acorn project to a final investment decision (FID) in 2024 with first CO2 injection as early as 2027.
Tolmount pays back
On the production side, the first nine months of the year saw the group average 207,000 barrels of oil equivalent per day – of which 194,000 boepd was from the UK – an increase of 27% on the same period last year.
This was split approximately 51% liquids and 49% gas and supported by "outperformance" from its Greater Britannia Area satellite fields, alongside a well intervention programme and new wells at J-Area, Everest and Tolmount.
Full-year production is now expected to be in the upper half of the group's 200-210,000 boepd guidance.
Notably, Harbour said its flagship Tolmount project reached plateau rates of 20,0000 boepd in July and began payingback in September – less than six months after first production in April.
The drilling of the Tolmount East well is expected next year, and would then be brought online in 2024, while the testing of the near-field Earn prospect would also be tied into existing Tolmount infrastructure, if successful.
On the international front, alongside progression of its Zama project in Mexico, Harbour also submitted an initial plan of development for Indonesia's Tuna field in October for government review.
Elsewhere in Indonesia, following the Timpan discovery earlier this year, 3D seismic acquisition is ongoing across the eastern part of the Andaman II licence.
Planning is also underway with partners for further drilling activity across the Andaman Sea acreage which is anticipated to commence in late 2023, targeting nearby prospects which have been de-risked by Timpan.
Recommended for you

Delays pose 'significant risk' to UK CCS targets