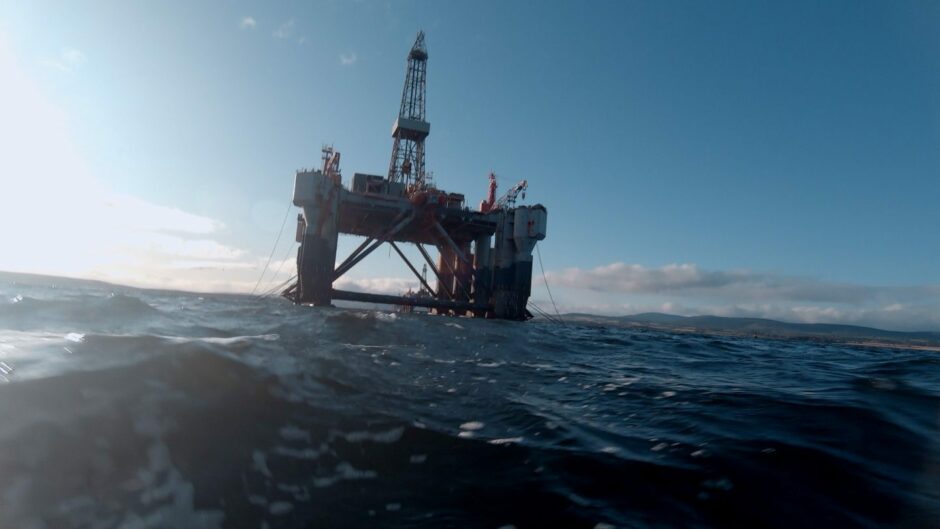 The Oil Machine, a new documentary which examines the UK's relationship with oil and gas, has arrived in time for COP27 and is already prompting debate.
Emma Davie, the film's director, is no stranger to the energy sector. "As a Scot growing up in the 70s, I was aware of the North Sea all my life and its importance for Scotland and for Scottish jobs," she told Energy Voice.
"My niece's husband works on the rigs so, like many people, I've got a connection in terms of that side of things. But I didn't understand what the implications were as we're trying to move away from fossil fuels.
"I felt that I wasn't really reading the textured, detailed questions that I felt needed to be asked about how we move beyond oil from all aspects of society."
It was this lack of discourse – and the significance of Glasgow's hosting of the COP26 summit – that prompted her to work on the film which, in its own words, seeks to explore our "economic, historical and emotional entanglement with oil by looking at the conflicting imperatives around North Sea oil."
The film touches on many aspects of that relationship, including our collective demand for cheap consumer goods, the ties between oil and finance and the debate over the North Sea's future. In doing so, it considers what the energy transition means for those who rely on the industry, but also the implications for future generations grappling with the impacts of climate change.
Living inside the machine
Ms Davie said the discussions of COP and the backdrop of the North Sea were a kind of "microcosm" for the wider debate over climate change and fossil fuels, enabling the film to explore "the bigger questions and the bigger pulls that are inherent in terms of how embedded we are in the world of oil."
Its title is based on a metaphor employed by one of the film's producers and contributors, author and activist James Marriott, who suggests we are living "inside an oil machine."
He draws parallels between the physical machinery of platforms and pipelines that bring oil and gas ashore, and the societal structures that support our relationship with and reliance upon hydrocarbons.
Ms Davie said the concept emerged "fairly late" in the production process but became an apt device for framing the debate.
"I began thinking about particularly the flow of oil into finance in the City of London – that for me is the biggest part of the machine, how it translates into finance and the stock market, what it means in terms of our pensions, and in terms of every aspect in our lives," she explained.
"But also what that means in terms of how we move beyond it."
Asking complex questions
The documentary features interviews with a range of figures, from scientists to activists and those in the industry itself, including Offshore Energies UK CEO Deirdre Michie, former BP North Sea boss Emeka Emembolu and RMT's Jake Molloy – all of whom Ms Davie says were extremely helpful in explaining the past, present and future of the basin.
"It seems to me that in order to move away from oil we need to speak to those in the industry and hear what they have to say," she explained. "And we need to speak to those who can imagine a different kind of future."
"It felt like many different voices are needed at this really crucial time of our history – and so that's what I wanted to do in this documentary."
All perspectives are given equal billing and Ms Davie said she was particularly impressed and moved by the skills and ingenuity that made the 1970s 'oil boom' possible.
She also acknowledges the transition of major oil and gas companies into "energy" companies, though said she has her own "ongoing questions" around their commitment to cleaner alternatives when most corporate profits remain in hydrocarbons – the reality of which has been brought into focus by another quarter of record earnings.
Despite its mechanical title, she is hopeful that the film brings those perspectives together and invites human conversations, rather than stoking division.
A season of public and community screenings in the UK and Europe are already lined up, and those held so far have been proved powerful motivators for debate and consensus.
"We found that after the screenings, people really have a need to talk about this and have a need to discuss what they can do personally, politically, financially – and I think these discussions need to be nuanced. They need to ask complex questions," she added.
"I think what I want people to walk away with is the sense that, actually, we're not a machine. We are a group of human beings who can decide to change things and who still have power and agency to make those changes.
"No matter whether you're an oil executive, a finance person in the city in London, or somebody who's a climate scientist – each of us within our own way has some kind of ability to affect the future and it feels like now is the time to take the steps we need to take."
Ms Davie said the efforts seen during the COVID-19 pandemic have shown that a concerted collective response is possible and hopes the film can help inspire a conversation "across society" about how to achieve it.
So – having made the film, is she optimistic or pessimistic as to our trajectory?
"It's such a difficult question – so many people ask me this at the end of the screenings.
"I personally feel that we don't have the luxury of not having the energy to try and find solutions," she said.
"Kevin Anderson [an academic and contributor] says it so well – he is an ex-oil worker himself – he says to discover North Sea oil was such a complicated thing, and to then transform it into this funny gloopy stuff that makes all these incredible things involved so much ingenuity.
"Now we have most of the technologies that we need to move beyond it. We have most of the skills that we need.
"We just need more will to change, from a government level, from an industry level and from a society level in order to really make the changes that we need to make."
The Oil Machine is in select cinemas now and at the International Documentary Filmfestival Amsterdam.
You can find out more at theoilmachine.org.
Recommended for you

Inside the SNP's oil and gas problem ahead of party's Aberdeen conference