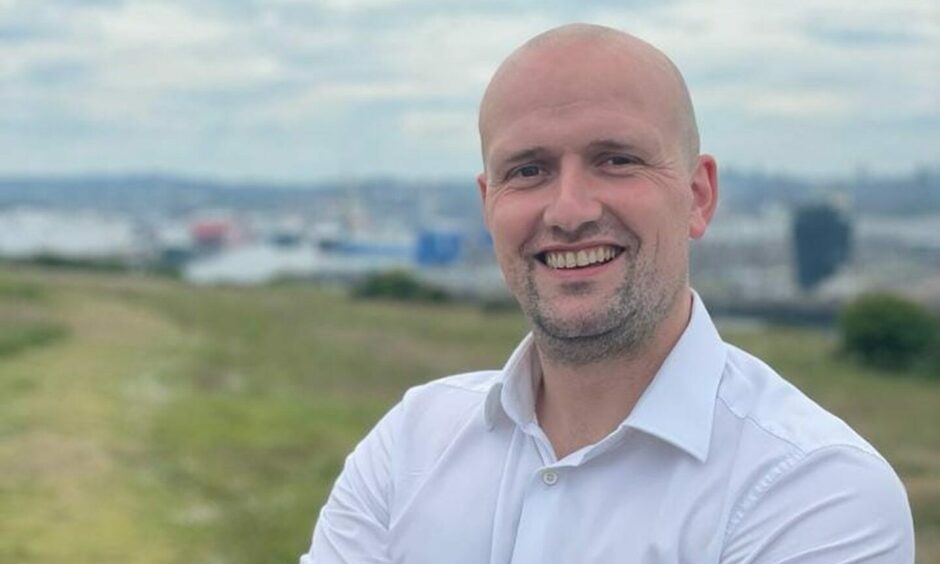 Stephen Flynn is just over a day into the job but has already been forced to play down claims of splits within the SNP's Westminster group.
As the dust settles on the swift leadership contest, the MP for Aberdeen South dismisses reports Nicola Sturgeon did not want him in the position as "a load of crap".
The pair talked on the phone after the vote on Tuesday night – the first minister was the second person he called after his wife – but they have yet to schedule their first in-person meeting.
The 34-year-old says it is his intention to put his "own team" in place in the coming days, including a "couple of small changes" to his frontbench.
Some decisions are being made for him. Veteran MP Pete Wishart quit first with a swipe at the new leader.
He is also yet to convincingly spell out how his leadership will differ from that of Ian Blackford beyond promising a style that is "energetic, positive and assertive".
However, the MP is not a man afraid of a challenge having campaigned in Aberdeen wearing a Dundee United top, overcome his own health challenges and navigated a rapid rise to the top of the Westminster group.
Rift in the ranks
Looking ahead, the Aberdeen South MP is keen to insist the Westminster group are a "close-knit bunch" and denies any talk of a rupture among the group of MPs.
But he admitted he will be having a "good chat" with Mr Wishart next week to "talk things through".
Mr Flynn told The Press and Journal: "Pete's a valued colleague. There's going to be absolutely no issues between me and Pete going forward."
The second departure came just hours later when defence spokesman Stewart McDonald, who backed Mr Flynn's Westminster leadership rival Alison Thewliss, also chose to quit the frontbench team.
Oil and gas
The new Westminster leader is also quick to stamp out suggestion he could challenge the first minister's opposition to drilling new North Sea oil and gas fields.
He maintains he is "completely in agreement" with his party's position around a just transition for oil and gas workers.
"Like everyone in and around Aberdeen, I've got family and close friends who work in the offshore industry", he says.
"My position is very clear. I fully support the party's position in terms of making sure we have a just stable and fair transition."
In his new position he is keen to ensure Scotland, and the north-east in particular, benefits from the "renewables revolution".
Mr Flynn adds: "The opportunities for Scotland are enormous and certainly in the north-east of Scotland I want to see us harness that and see us become that global hub for the renewables industry.
"I think it's achievable, I think it can be done and that ensures jobs in this city, in the wider north-east are protected not just for the next 15-20 years but for the decades to come."
Dundee roots
The Dundee-born MP grew up in both the city and Brechin, and went on to study at Dundee University.
He says he is "probably the only politician in Aberdeen to ever go chap doors with a Dundee United top on" before a game with Aberdeen a few years back.
It received some "interesting responses to say the least", he recalls.
His first home was his parents' flat in Stobswell, not far from Tannadice, and he says his love of Dundee United is "something that runs right through my family".
"Myself, my dad, my brother, my best pal, we all sit together at Tannadice", he says.
"We have done for a long time. I've had a season ticket since 1993. I've been going to see United for a long, long time.
"I just hope I'll still be able to have the time to go and see them."
His dad is Dundee councillor Mark Flynn, who visited the Commons on Wednesday, following his son's first outing as party leader at Prime Minister's Questions.
The pair were joined by former Scotland football manager, Alex McLeish.
Despite his dad's entry into political life – after his son's – the Flynn household was not especially political as his parents were "working to keep food on the table".
The MP instead became interested in politics in his teens as a result of suffering from a serious condition called avascular necrosis.
This left him unable to walk without sticks or crutches for 17 years until undergoing a "life-changing" hip replacement operation in 2020.
He says: "The reason I probably got interested in politics is I knackered my leg and wasn't able to do what I wanted to do which was to run around like everyone else.
"I started reading books and probably tried a bit harder at school than I otherwise would have done.
"That unfortunate personal circumstance perhaps focused my mind on something that I found interesting."
Scottish independence
As the SNP's new Westminster leader, he will be the MP responsible for taking the group towards its drive for independence.
Ms Sturgeon plans to make the next general election a single-issue contest on independence, dubbed a "de facto referendum", after the Supreme Court ruled the Scottish Parliament cannot legislate on independence without Westminster consent.
The precise detail of that proposition will be put to party members at a special conference to be held in the new year.
Asked if he supports that plan, Mr Flynn says he remains "very open minded" but rejected outright any suggestion from some of "collapsing Holyrood".
"I think that's utterly absurd during a cost of living crisis," he says.
"That would be one thing I'd be completely against but I don't think that's something the party will take forward.
"What we will seek to do is maximise the support where we can and it will be for party members to make that decision."
Recommended for you

Video: Aberdonians voice opinions on future of oil and gas