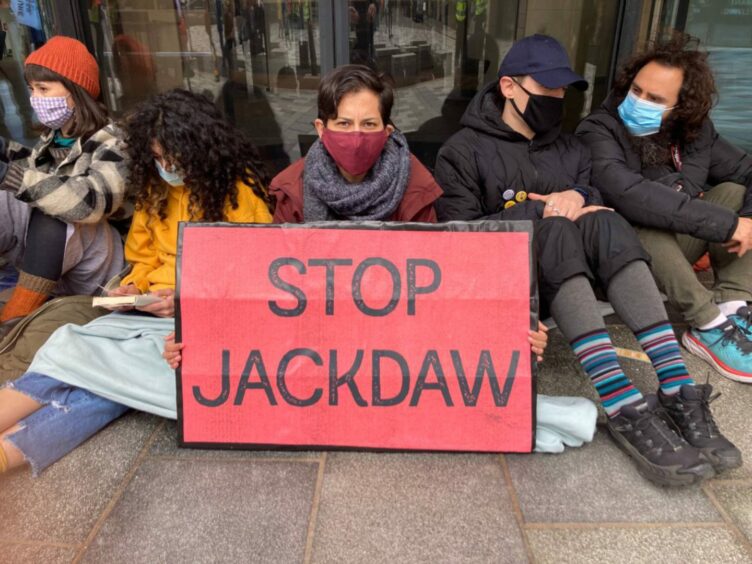 A coalition of campaign groups have vowed to mount three separate legal challenges to the UK government in a bid to stop the award of new North Sea oil and gas licences.
Greenpeace, Friends of the Earth and Uplift have each written to Business Secretary Grant Shapps setting out why they consider the 33rd Offshore Licensing Round to be unlawful and have called for the decision – taken by his predecessor, Jacob Rees-Mogg – to be reversed.
Each of the three letters – which mark the first step in a formal legal challenge – argue the government has failed to properly take into account the full impact of emissions that would be released by the pursuit, production and burning of new oil and gas resources.
Campaigners said they intend their challenges to create a major "legal headache" for the business secretary, while Greenpeace has already filed an application for judicial review against the government's decision to proceed with the process.
Pushed through under the short tenure of Prime Minister Liz Truss, the Licensing Round saw the North Sea Transition Authority (NSTA) offer more than 900 blocks of offshore acreage.
Unveiling the round in October, the NSTA said over 100 licences could eventually be handed out for new oil and gas exploration.
Applications for blocks will close on 12 January, after which initial results are expected in late spring 2023.
Triple threat
Each organisation has opted to pursue separate but similar criteria for their action.
In its challenge, Greenpeace argues that the government has "botched" the decision to hold another licensing round and has failed to assess the impact the emissions that will come from burning the oil and gas extracted from new licences.
It argues that the government has "a legal duty to assess these emissions."
Friends of the Earth (FotE) will contend that the government's climate compatibility checkpoint – a three-point vetting process for new licensing – is "not fit for purpose" and "ignores climate science".
FotE says the lack of consideration of the total carbon impacts of the licensing and burning of extracted oil and gas, and a lack of analysis as to the potential global production gap, mean the policy may be incompatible with the UK's climate objectives.
(It should be noted that UK production is still projected to decline at 7% per year, while global production would need to shrink by 3-4% to meet commitments to limit global warming to 1.5°C, according to a UN report.)
Finally, Uplift argues that the government has made "multiple unlawful failures" in its assessment of the impact of new licences. This includes failure to assess the emissions from burning new oil and gas, a failure to take into account the advice of the Committee on Climate Change, and a failure to properly assess the marine impacts of new developments.
Uplift executive director Tessa Khan said: "Jacob Rees Mogg was in post for less than two months but, unless reversed, his decision to greenlight new oil and gas licensing rounds will have serious long-term consequences.
"Aside from the multiple legal reasons to fight this decision, there is no public benefit from new licensing: new North Sea fields won't lower UK energy bills, will do next to nothing to shore up UK energy security and will only lock us into a dying industry far longer than is necessary.
"The government needs to signal to oil and gas companies that the time to shift to cheaper, cleaner renewables is now."
'An exercise in greenwashing'
Asked for comment on the letters and the potential action, a government spokesperson said: "While we cannot comment on ongoing legal proceedings, it's vital we continue to maintain our energy security, by boosting our homegrown energy supply and strengthening our domestic resilience."
A spokesperson for the NSTA said the organisation would not comment on ongoing legal issues.
Greenpeace oil and gas campaigner Philip Evans branded the licensing process "a complete disaster", while FotE senior lawyer Niall Toru said approving new projects is "clearly incompatible" with achieving climate targets.
"The government's 'climate compatibility checkpoint' is an exercise in greenwashing. It gives a false impression that climate impacts are being considered, while brazenly side-stepping scientists' warnings that new fossil fuel developments are incompatible with limiting warming to 1.5 degrees," Mr Toru said.
"Future licensing of North Sea oil and gas projects means the UK will fall disastrously behind on cutting emissions and phasing out fossil fuels. We've written to the minister to explain why we think the checkpoint is unlawful and are considering our legal options."
Campaigners added that the UK looks "increasingly isolated" in pursuing new licences and pointed to Norway, which recently postponed its next frontier round until after 2025. Meanwhile, Denmark, Ireland and France have all ruled out new permitting.
Legal minefield
The action follows similar challenges led by groups including Paid to Pollute, which earlier this year lost a case in which it alleged that the UK Government had acted unlawfully in its support for North Sea oil and gas.
Greenpeace has also launched legal challenge against the Government over the Shell-operated Jackdaw field off Aberdeen – one day after the supermajor took an investment decision on the project.
The NGO became the first to contest an offshore permit in court last year, after it brought a case the government over its decision to grant BP a permit to drill for oil in the Vorlich field in 2018. The field became a lightning rod for protests prior to its start up, with actions including a 12-day protest on an offshore rig in 2019.
Experts noted earlier this year that the UK is now the "highest risk" location in the world for legal disputes in the oil and gas sector, facing action both from the likes of NGOs and campaign groups, and as a result of increasingly fractious commercial relationships.
Campaigners warned there could be "even more legal headaches looming" if the plans for the development of the Cambo or Rosebank fields are approved.
Recommended for you

2024: A lost year for North Sea FIDs?