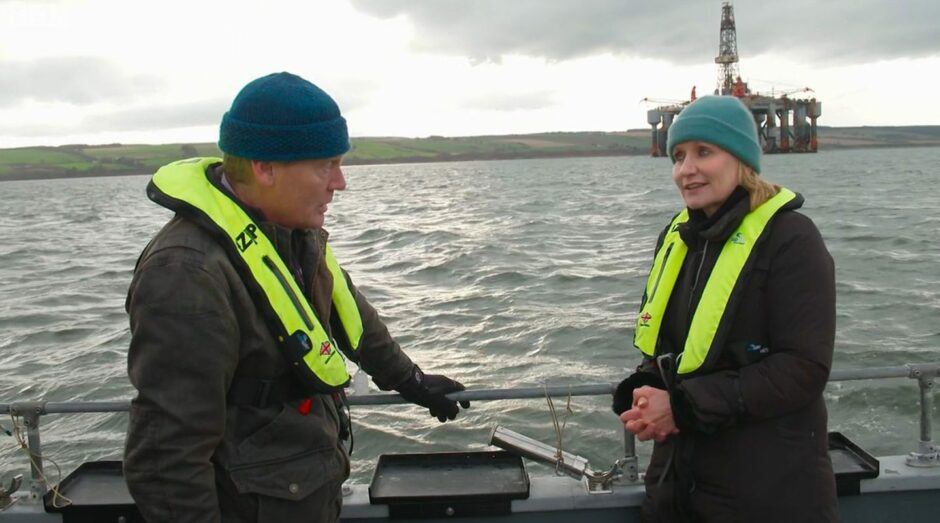 Countryfile spoke with industry representatives and campaigners as it examined how the oil and gas sector – and the wider north east region – is responding to the UK's energy transition.
Drawing on the theme of 'rural power' the latest episode of BBC's long-running rural affairs programme saw correspondents journey to Aberdeen and the north-east to host a wide-ranging discussion that touched on windfall taxes, new North Sea licensing and the renewables sector.
Correspondent Tom Heap spoke with Offshore Energies UK (OEUK) boss Deirdre Michie, as well as representatives from Just Stop Oil, the Institute for Fiscal Studies (IFS) and RenewableUK, in a bid to examine the present and future of the region.
Interviewed against the backdrop of the North Sea Memorial Gardens in Hazlehead Park, OEUK North Sea Transition Deal programme manager Emily Taylor spoke about growing up in the region, and how the energy sector is "the backbone" of the local area.
She explained there are "huge impacts" on the local community when oil prices crash, and noted that when people lose their jobs and income the knock-on effects can ripple through the local economy.
"Over 100,000 people work offshore up here, it's such a big part of who we are," she told Mr Heap.
Ms Michie – speaking onboard a boat in the Moray Firth – said continued investment in North Sea oil and gas was essential to ensuring secure energy supplies for the UK, but admitted that new drilling would do nothing to bring down bills for UK households.
Additional taxes raised through windfall measures could however be deployed to help consumers, she said.
Yet Mr Heap also pointed to the generous investment incentives enacted as part of the government's Energy Profits Levy (EPL), which mean operators like Shell paid no additional tax contribution last quarter thanks to its sizable investments in projects like the Jackdaw gas field.
Just Stop Oil's Emma Brown was clear as to why her campaign group is calling for an end to new oil and gas.
"Not only is it driving a horse and cart through any kind of climate action, it's also sending a terrible message out to all of the other countries in the world that they can continue their exploration and burning of fossil fuels," she told the programme.
RenewableUK's director of future electricity systems Barney Wharton also pointed out that there were no comparable investment incentives that could be used by those developing new renewables schemes – unless they were being built to power offshore oil and gas platforms.
Mr Heap observed that whatever the outcome, the people and fortunes of the north east would remain "closely tied" to the UK's energy outlook, but many including Ms Taylor, are optimistic as to the future of the sector and the region.
"I wanted to be part of an energy which was buzzing, that was exciting – and especially now a big part of what I do is about transition and about how we make the next step in the energy transition," she said.
"This city, and this area has got so much to offer, so we need that continuous investment, we need that vote of confidence in what we're doing up here, because what we're doing is changing the way that we energise the country."
Recommended for you

Scottish Labour rally around Starmer's plans to end new oil and gas