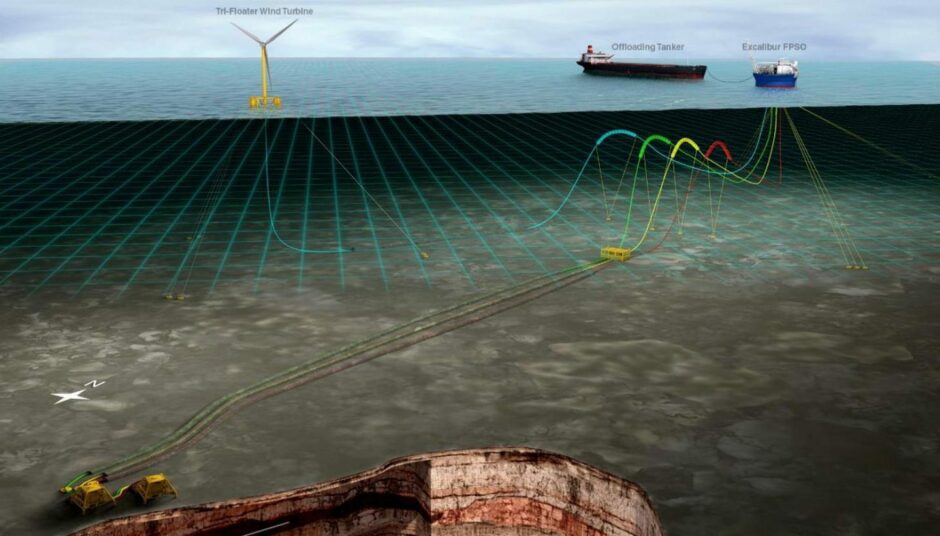 Ping Petroleum is pressing ahead with plans to develop the Avalon field in the UK North Sea, hailed by bosses as a "pioneering scheme" to slash production emissions from oil and gas.
The Malaysian-headquartered operator has handed in plans to the UK Government for the project, estimated to recover 23 million barrels of oil equivalent.
Ping Petroleum is developing Avalon in partnership with Cerulean Winds, which will provide a wind turbine to power the Excalibur FPSO production vessel.
In a deal signed earlier this year, Cerulean said the development option means 20,000 tonnes of CO2 will be removed annually – the equivalent of 4,000 cars taken off the road.
In an environmental statement to the UK regulator, Ping said this is "consistent" with UK and Scottish Government goals and will help "maintain energy security whilst meeting Net Zero targets".
Timeline
Ping Petroleum said Avalon is expected to produce hydrocarbons for 15 years, with first oil expected in Q3 2025.
The project, 95 miles off Aberdeen in the Outer Moray Firth, is then expected to see installation of its turbine 12-18 months later.
At this point, it is expected that produced gas from Avalon will "no longer be sufficient to power the FPSO", and the turbine will then meet up to 70% of power requirements. The remainder will be met through gas generators on board with diesel, if required.
Ping recently confirmed it expects to take a key final investment decision on Avalon next year, though this is subject to regulatory approval first.
'Energy supply for the future'
Ping Petroleum managing director, Zainal Abidin Jalil, said: "Driving our revolutionary greenfield project forward over the past year has been an incredible journey. Today's announcement takes us a significant step closer to realising our objective of becoming the first operator in the UK to use floating offshore wind to power production vessel operations and deliver a very real energy transition solution.
"From the original concept being accepted by the North Sea Transition Authority ("NSTA"), purchasing and renaming the Excalibur FPSO, to partnering with Cerulean Winds for the OWT application, we have underlined our commitment and determination to progress our roadmap towards decarbonisation.
"Regulatory approval will allow both our final investment decision and field development plan to be finalised. We anticipate approvals mid next year and operations starting in 3Q 2025.
"Ahead of this, we look forward to starting the front-end engineering and design work for Excalibur this year, as well as finalising the subsea scope and awarding major contracts.
"We believe the Avalon field, with its game-changing low carbon floating offshore wind concept, will play a vital role in kick-starting the floating offshore wind supply chain in Scotland ahead of INTOG and ScotWind to showcase what can be achieved in the region.
"Our ultimate objective is to help secure a more environmentally friendly energy supply for the future."
Emissions
In a "worst-case scenario" the FPSO would rely on diesel and gas as power sources for the life of the development, Ping said.
Although it expects to use all produced gas for powering the vessel, the operator added that it is assessing the creation of a gas import/export line, which could be used to prevent flaring, if needed.
According to the environmental statement, the Avalon field is expected to account for 0.1% of the UK's carbon budget in 2025, 0.2% in 2027 and 0.07% in 2030.
Overlap with wind and CCS
As the North Sea fills up with new types of energy being developed, firms have noted that there is overlap emerging between areas for oil ands gas, wind and carbon capture and storage (CCS).
In its environmental statement, Ping said the Avalon area overlaps with part of the INTOG offshore wind licensing round from Crown Estate Scotland – however this will only occur if the gas export/ import line is developed via the Ettrick field pipeline.
It also said that several blocks of the license area overlaps with an area acquired by Pale Blue Dot, a subsidiary of Storegga, for the Acorn CCS project based out of St Fergus in Aberdeenshire.
Recommended for you

Unite, UK's largest offshore union, hits out at Labour over North Sea plans