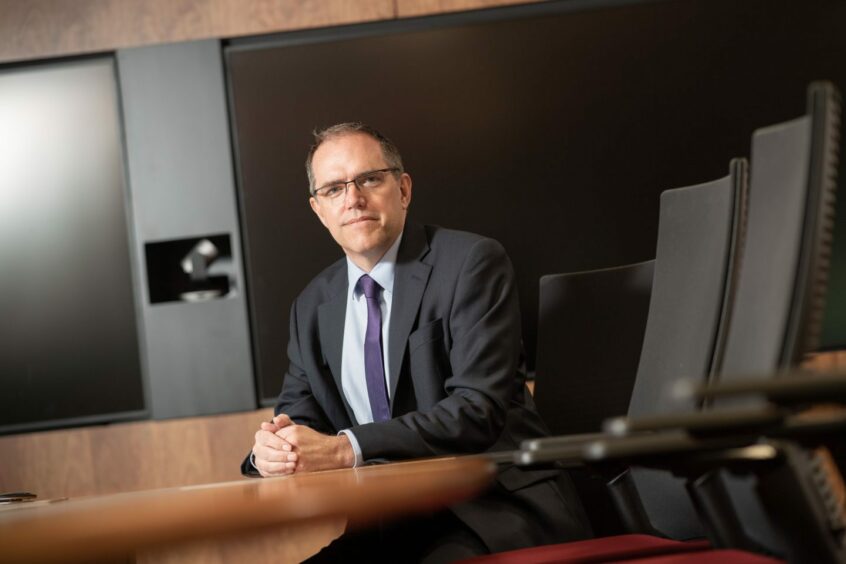 The new CEO of Shell (LON: SHEL) has been a "strong supporter" of investment in the UK North Sea during his career, according to the man who heads up the business.
Simon Roddy told Energy Voice that Wael Sawan, who takes over at the helm from Ben van Beurden in the new year, has already supported a clutch of previously-greenlit developments in the pipeline during his time at Shell; Penguins, Pierce and Jackdaw.
Mr Sawan has worked with Mr Roddy "a number of times", most recently when he was director for upstream at Shell, where he backed new UK developments like Jackdaw, which achieved regulatory approval this year.
Shell is also nearing first gas from the Pierce redevelopment in the North Sea, and the FPSO for its Penguins project – a redevelopment of a tie-back field to the former Brent Charlie Hub – recently set off from China.
Simon Roddy, Shell senior vice president for its upstream business in the UK North Sea, said it's a positive sign for the future, and paid tribute to outgoing CEO Ben van Beurden, who exits officially in the coming weeks.
"To start, just to acknowledge Ben van Beurden who has been a fantastic CEO of Shell and a real leader for this industry.
"Absolutely delighted that Wael is Shell's new CEO. I've worked with Wael a number of times over the years, and most recently he was head of Upstream and was a strong supporter of the UK and the investments that we've been talking about.
"So look(ing) forward to continuing to work with and for Wael as he takes on the role of CEO."
Cambo: 'We're still in the licence and still looking at options'
The backing for the UK North Sea comes despite turbulence for the sector, not least the windfall tax from the UK Government and furore from activists around investments like Cambo in the West of Shetland, or Jackdaw in the central North Sea.
Despite saying 12 months ago that it wouldn't progress the licence to investment due to the "economics", Shell has yet to exit its 30% stake in the Ithaca Energy-operated Cambo development, which is now synonymous with climate activism.
"We're still in the licence and still looking at options", is what Mr Roddy has to say on whether Shell might consider staying on in Cambo, especially now with improved commodity prices and a generous UK investment allowance linked to the windfall tax.
The North Sea boss highlights Shell is investing in areas like carbon capture and storage and renewables, with recently awarded acreage in the ScotWind auction.
That's all driven by oil and gas revenues, but does acute levels of activism and an anti-Shell sentiment in the UK dent the appetite to invest here?
Mr Roddy says there's a "very clear" case to back the North Sea, which needs to be made to the public with "humility" – in a way it perhaps hasn't in years gone by.
'Very clear' case to continue North Sea support
"When I worked here in the 90s that's the North Sea I remember. Clearly the world has changed.
"I think the North Sea Transition Deal sums it up; it's a really important blueprint and it brings to life the fact that the same skills, the same infrastructure, the same relationships that have enabled the North Sea to be successful over the last five decades. It is a hugely important competitive advantage for Scotland and the UK as we look to deliver net zero.
"It is the biggest change in the way we consume and deliver energy since the industrial revolution and, try as we might, that will take time.
"And the North Sea is going to be an incredibly important asset and if we don't extract oil and gas from the North Sea, it will only be imported, generally at higher emissions.
"So I think the logical case for continuing to focus on the North Sea is very clear and what we need to do is express that narrative, again, with humility, in a way that maybe we didn't have to do in the past."
'We expect to pay hundreds of millions of pounds of tax'
The North Sea sentiment also comes amid the windfall tax – which Shell's peers have said will dent investment.
But Shell, with a strong investment pipeline in projects like Jackdaw, Pierce and Penguins, revealed recently that it did not pay any windfall tax in Q3 due to investment incentives linked to it – a 91% return on spending for new developments.
Asked whether Shell intends to pay windfall taxes ahead, Mr Roddy said: "I think if you look at this and then the coming years, we are expecting to pay hundreds of millions of pounds of tax."
Energy Voice revealed earlier this month that TotalEnergies will slash its spending by £100m next year due to the levy, while independent Harbour Energy has warned it could impact its low-carbon investments in areas like carbon capture and storage (CCS).
EPL has "undermined" investment
Shell is taking things on a "case-by-case basis" when it comes to the impact of the windfall tax (or "Energy Profits Levy") but said the lack of fiscal stability has "undermined" the effort to drive investment.
Mr Roddy was in a meeting with Chancellor Jeremy Hunt last week on the levy, which he described as a "constructive dialogue".
"We are a long-term business. Investment capital will go to the most stable environment and the introduction and then changes to the EPL has really not helped that stability.
"We will continue to advocate for further investment stability which has obviously been undermined by that.
"Having said that, we have a number of significant investments in-train and we'll continue to look at those going forward."
Harbour Energy invests in the Acorn CCS project in Aberdeenshire, in which Shell is also a partner, but where the former is a UK-focused independent, the latter is an international oil major with a global business propping it up.
Constructive dialogue with Chancellor
Does Shell see the EPL, and indeed the new electricity generators levy for projects like offshore wind, impacting its investment in renewables and low-carbon?
"Well, all of our low-carbon investment comes from the revenues that we derive from oil and gas. So there is, as indeed with many players, a very close connection to that.
"The change in the fiscal environment does have impact across the board, and that's where our investment comes from.
"What we would say is a taxation system that looks to incentivise low-carbon investment is directionally something we support.
"This is a complex space and takes some thought. That's one of the points we've made to the Treasury, and to the Chancellor, that we would support over time. But not something that undermines stability."
Recommended for you

North Sea firms 'disappointed' over lack of windfall tax concessions