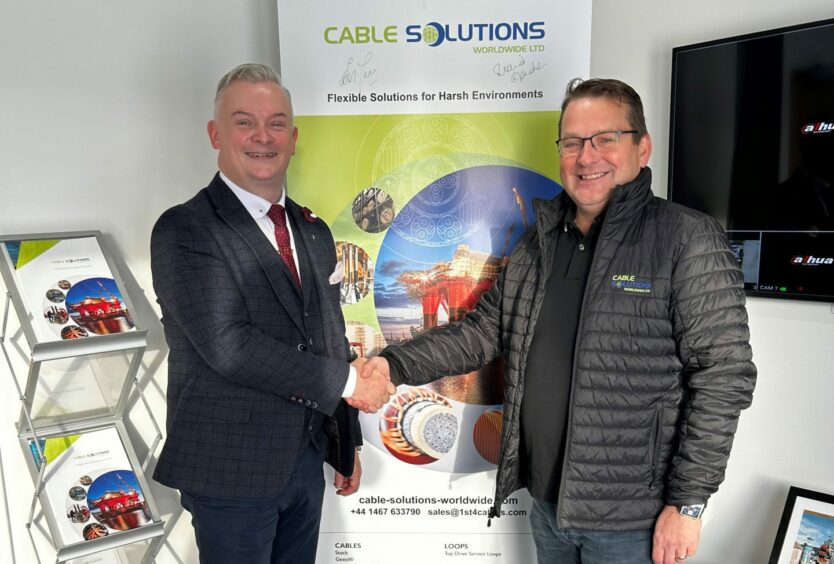 Electrical engineering group Dron & Dickson has acquired Inverurie-based firm Cable Solutions Worldwide as part of a seven-figure deal.
As a specialist in cabling supplies, Cable Solutions Worldwide is a major distributor for several globally recognised suppliers and manufacturers.
Aberdeen-based Dron & Dickson said the acquisition – the exact value of which was not disclosed – would enable it to offer a greater range of products and services across the business. It will also further expand the capabilities already offered by its existing strategic locations in Aberdeen, Stirling, Runcorn, Hull and Lowestoft.
Cable Solutions will continue to operate from its 12,500 sq ft warehouse and yard in Inverurie and under its existing trading name. There are not expected to be any redundancies as part of the deal.
It comes as the Aberdeen firm looks to drive growth in its existing sectors and in new markets such as renewables, as it draws on experience in delivering electrical engineered solutions for harsh and hazardous areas.
This will be spurred by the firm's growing renewable energy team, and its success in becoming FIT4OR accredited.
It also follows a string of recent awards for the delivery of electrical campaign and project services across several locations in the UK, both onshore and offshore.
Dron & Dickson managing director Colin Rowley said the deal would "significantly strengthen" its supply and service portfolio offering.
"As a team, we identified the opportunity to combine the expertise of the two companies and we are incredibly positive about the opportunities this partnership will bring," he added.
"I want to thank the team at Cable Solutions Worldwide Limited, in particular Colin Fraser, John Rickman, and Graham Ross who have committed to working with us towards our growth strategy in the longer term. They have every reason to be proud of the business they've built over the years".
Cable Solutions MD Colin Fraser added: "After many years, we are delighted that the Cable Solutions Worldwide Limited team will join a company that shares our values and to support further growth from the foundations I and the team have worked hard to establish.
"We are confident this move represents a perfect outcome for both companies, and to use a footballing analogy, I've taken the team as far as I can. It's time for Dron & Dickson to move our business forward to unlock further potential."
Recommended for you

North Star makes series of senior appointments