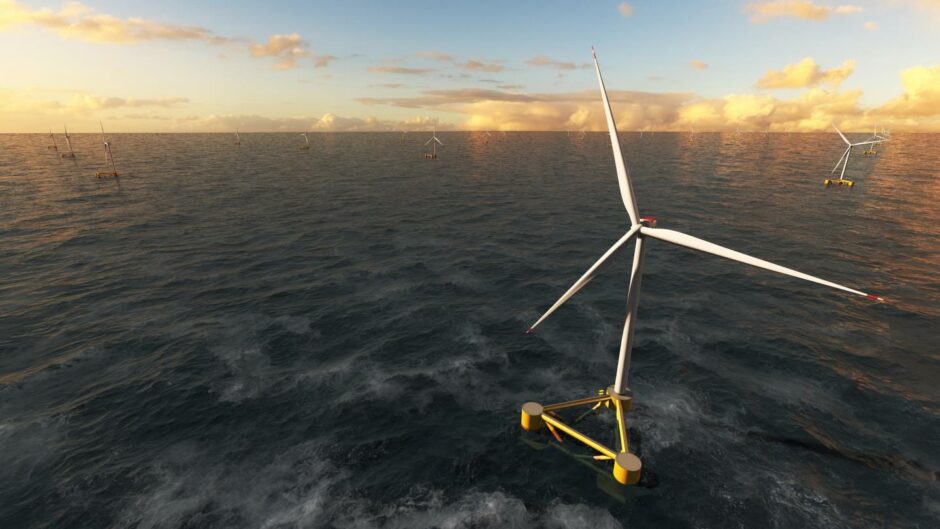 Orcadian Energy will look to the INTOG offshore leasing round to help progress its flagship Pilot development, chief executive Steve Brown said, as the firm looks to make headway in 2023.
Orcadian (LON:ORCA), which made its IPO in London last year, intends to develop the 79-million barrel Pilot using field using a polymer flooding technique, with power provided by a floating wind turbine.
Under its plans submitted to the regulator North Sea Transition Authority (NSTA) earlier this year , the company intends to drill 34 wells using a jack-up rig through a pair of well head platforms. However, it still requires full funding in order to progress the development in earnest.
In a recent investor presentation Mr Brown said the company had supported a wind farm developer with a Letter of Intent submitted as part of the Crown Estate Scotland's (CES) Innovation and Targeted Oil and Gas (INTOG) wind farm leasing round.
The seabed manager last week confirmed that a total of 19 applications had been received for the leasing process, 10 of which cover sub-100MW 'innovation' projects, while nine relate to larger decarbonisation schemes. Initial results for both components are expected by late April next year.
In the meantime, Mr Brown also outlined Orcadian's medium-term plans to help progress Pilot to a final investment decision (FID).
This includes plans to use the nearby Feugh gas field in Licence P2320 as a balancing system for gas management.
"Obviously if you're relying on wind power, sometimes you need the gas and sometimes you don't – so you need some method of managing that gas supply. We're planning on using the Feugh reservoir nearby as our gas management facility," he told investors.
Pilot optimisation
Orcadian has put the full costs of bringing Pilot to first oil at around $1 billion, though Mr Brown says it now has "a real opportunity to optimise that and bring it down".
The company's attention over the coming months will now focus on whether it can implement a phased development plan, reduce up front costs and simplify the overall project.
One example of this is in the field's water processing facilities, with Mr Brown suggesting a revision of plans would see the company abandon plans to use low-salinity water for its injection fluid.
"Now we're thinking we'll be better off setting that aside and instead recycle polymer from produced water," he added.
"By doing that the economic benefit of installing the low-salinity plant is much reduced, so we think in terms of simplifying the project that is a good step to make and there are one or two other opportunities we will be looking at in the near term."
He also pointed to the firm's recent agreement with services giant SLB, who will deliver core services for Pilot's 34 wells. One option mooted by the pair includes the use of conductor-sharing well heads, meaning two wells can be placed in one conductor.
"If we find that we can make that work for the pilot development that could allow us to shrink the size of the wellhead platform," he added.
"Rather than having 20 slots to allow for 17/18 wells, we can get away with 10 slots. and if you can reduce the dimensions of the wellhead platform, you can reduce the cost – that's just one example of multiple avenues of project optimisation we intend to do with SLB in the new year."
In a separate end-of-year update, Orcadian said it had also received an "excellent proposal" for a FPSO redeployment candidate, which could be upgraded to become the Pilot FPSO.
"However, we are conscious that the FPSO market is tightening and in parallel with continuing discussions with our preferred FPSO contractor, we intend to explore alternative concepts which we believe could significantly reduce upfront capital requirements," the statement said.
Though he could not provide further details on discussions, Mr Brown said Orcadian continues its work to seek both farm-in partners and investors to back the project, and to secure an alliance of contractors to begin technical development.
Looking to the longer term, the company recently confirmed its intention to participate in the NSTA's 33rd Licensing round, the deadline for which arrives in early January.
Windfall tax impact
As with most North Sea firms, Orcadian has not been untouched by the impact of the Energy Profits Levy (EPL) – though Mr Brown is more positive than most.
"Turmoil in government has not been helpful in trying to progress farm-out discussions," he told investors. "We're hopeful that we now have settled fiscal system that is clear and that actually really encourages investment in new projects.
"For all its ills, the EPL creates a very strong incentive for new investment in new oil and gas fields and it can significantly reduce the costs for an EPL-paying company. There's more certainty about the tax being around until 2028 and we expect some renewed appetite for new developments.
"We're expecting that now that this is settled we'll get a lot more interest in the Pilot project and we're expecting to see a shift in activity in 2023 as a result."
Recommended for you

Orcadian raises £350,000 as farm-out work continues