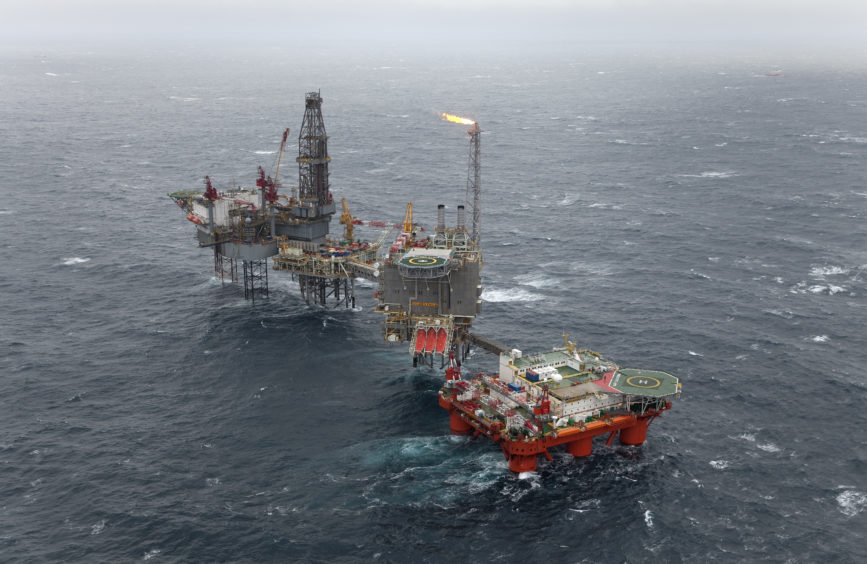 Several senior MPs have claimed Chinese involvement in North Sea oil and gas operators presents a "very real risk to security", as the UK's diplomatic stance continues to harden.
Iain Duncan Smith, chairman of the cross-party policy group Inter-Parliamentary Alliance on China (IPAC), said the government was "failing to take seriously" the involvement of Chinese-backed firms in strategic businesses, including North Sea oil and gas.
Alongside other senior MPs, Duncan Smith called for a review of Chinese business interests and pressed the government to remove stakes held in North Sea firms, according to reports by business daily City A.M.
The ramp up in rhetoric comes in the wake of Prime Minister Rishi Sunak's first major foreign policy speech in November, in which he said the "golden era" of UK-China relations is now at an end, branding the nation a "systemic challenge to our values and interests."
Alicia Kearns MP, chairwoman of the Foreign Affairs Select Committee and China Research Group (CRG), told the newspaper that China's "growing dominance in many key energy sectors poses a very real risk to our security."
She drew attention to the government's move last year to buy out stakes in the Sizewell C nuclear energy project held by state-owned China General Nuclear (CGN), suggesting a similar stance be taken for the offshore sector.
"It's plainly counterproductive to remove Chinese state involvement in our nuclear energy sector with one hand if we continue to wave through dangerous dependence in the oil and gas sector with the other," she said.
Major players
Several of the basin's major operators are backed by Chinese groups, including the state-owned China National Offshore Oil Corporation (CNOOC) and the joint Chinese-Spanish venture Repsol Sinopec Resources UK (RSRUK).
Independent Neptune Energy is also 49% owned by the nation's sovereign wealth fund, China Investment Corporation (CIC).
All three companies were approached for comment.
CNOOC International entered the North Sea in 2013 when it acquired Nexen for £9.4bn, in what was at the time the largest foreign business takeover by a Chinese company.
It still holds interests in a number of North Sea assets, including Buzzard – one of the basin's largest – as well as Golden Eagle, Scott and Telford.
However, recent reports suggest the group may now be gearing up to offload its UK interests, amid a rationalising of its international portfolio.
Equinor was reported to be among the firms considering a purchase of the assets, as part of a deal that could be worth up to £2.5bn.
'Strict processes' in place
Industry representatives were quick to point out the long history of foreign involvement in the basin.
A spokesperson for trade body Offshore Energies UK (OEUK) told City A.M.: "The government has long had a policy of promoting foreign direct investment and open markets and this has many benefits for boosting UK industry and jobs."
"But, as recent events show, investment from overseas does also bring increased exposure to geopolitical trends and events. It is for the government to assess these issues and review the rules as they see fit."
A spokesperson for the Department for Business, Energy and Industrial Strategy (BEIS) also said: "As with any industry, protecting our national security is always of paramount importance, and the [North Sea Transition Authority] NSTA has strict processes in place for issuing North Sea oil and gas licenses.
"The National Security and Investment regime also enables us to continue championing business and open investment, whilst protecting national security."
The NSTA declined to comment.
Rig diplomacy
A hawkish stance by some parliamentarians – including Duncan Smith, who was sanctioned by China over his calls for a response to alleged human rights abuses in Xinjiang – is to be expected as the UK resets its international relations, particularly around energy security.
However, China has previously shown its willingness to use energy assets in its diplomatic manoeuvrings.
In 2012, CNOOC chairman Wang Yilin reportedly described large deep-water drilling rigs such as the $1bn Hai Yang Shi You 981 unit as "mobile national territory" and a "strategic weapon for promoting the development of the country's offshore oil industry" according to Xinhua.
In 2014 CNOOC moved the 981 into waters surrounding the disputed Paracel Islands in the South China Sea, prompting a brief standoff with Vietnam.
Recommended for you

Shelf bags £13m North Sea drilling work with CNOOC