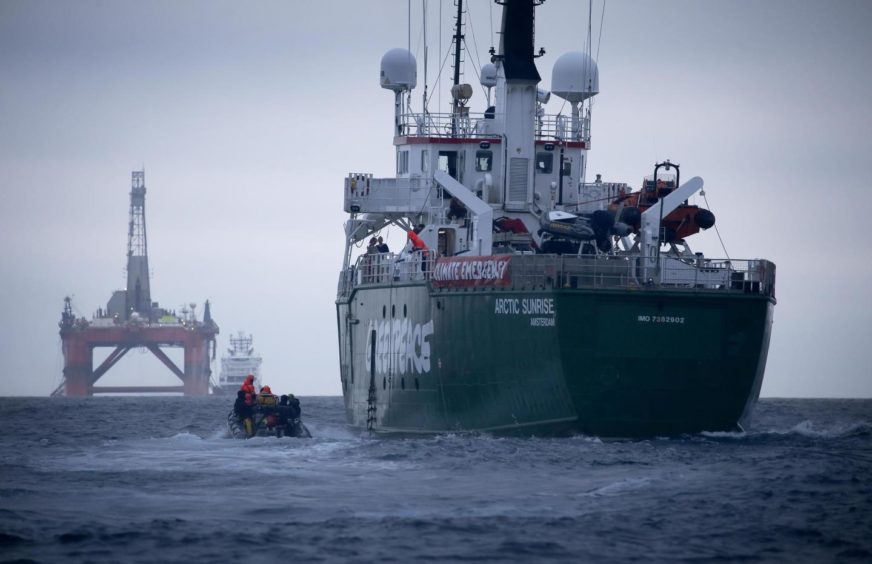 Located dozens of miles out to sea, it would stand to reason that oil and gas assets are unlikely targets for protestors – for the sake of convenience if nothing else.
While broadly that holds true, there have been some notable examples over the years of activists directly going after North Sea platforms, vessels and rigs.
In 2019, Greenpeace repeatedly tried to stop the Transocean rig from reaching the Vorlich field, owned at the time by BP.
Activists even boarded the Paul B Lloyd Jr, before protestors then pursued the drilling rig across the North Sea.
That same year, Greenpeace members also scaled the legs of the Brent Bravo platform, around 115 miles north-east of Shetland, in opposition to Shell's plans to leave them in place.
More recently, two activists in kayaks confronted a vessel in Norway in 2021, amid suspicions that it was taking kit out to the Cambo field.
Likely there's more to come
Last year, countless protests against the oil and gas industry were held up and down the UK, with campaigners' tactics becoming increasingly extreme.
It seems inevitable that offshore assets will be the backdrop for demonstrators again soon, particularly given the level of opposition the sector faces from certain quarters.
Shell's Penguins FPSO – its first new manned vessel for the North Sea in 30 years – is edging ever closer to UK waters, and it is rational to assume it could become a target before too long.
There are however numerous legal implications arising from protests focussed on offshore operations, largely due to safety.
Neil Smith, a partner in the dispute resolution division at Burness Paull, said: "The right to lawful protest is a key feature of democracy. However, there are clear legal implications where protests disrupt businesses lawfully carrying out their operations or present a risk to health and safety – both of which are major considerations when offshore operations are targeted.
"A recent case study perhaps serves well in terms of what may occur legally in this event. In October 2019, Greenpeace activists boarded two of the platforms in the Brent field, where decommissioning was under way.
"Lady Carmichael at the Court of Session in Edinburgh granted interdicts (Scottish injunctions) on the basis that the protesters had 'no right or title to occupy the installations' and that Shell had 'raised safety concerns of substance;, thereby banning the protesters from boarding or continuing to occupy the platforms.
"The consequence for a party in breaching an interdict is that they are committing a criminal offence. That can result in significant criminal fines or, in extreme circumstances, imprisonment for individuals."
The long arm of the law
In relation to oil and gas fields, the jurisdiction of the courts extends beyond the UK's 12-mile territorial waters.
Greenpeace was hit with a £80,000 fine for breaching a court order obtained by Transocean to stop protestors interfering with the Paul B Lloyd Jr.
For oil and gas companies, it is the "risks to health and safety" – of both workers and demonstrators – that they flag when seeking an interdict.
"The stark reality is that upon leaving the safety of the quayside and dry land, the potential risk of personal harm escalates significantly," said Mr Smith.
"Anyone familiar with marine and offshore operations is aware of those risks in just doing their daily work. Every year, experienced people are lost at sea, simply in the course of their work, due to the harsh and often unexpected conditions that can be encountered."
In terms of ships or FPSOs specifically, the targeting of them by protesters would "most likely be tackled in the same way as rig owners and platform operators have done".
Vessel operators would seek to obtain an interdict, and then look for "the enforcement of the criminal law" if breached.
Rules for captins
There are also regulations that govern how a ships captain should act and covers the use of boats by protestors.
Mr Smith added: "The UK's Merchant Shipping Legislation places obligations on masters and crew, so the captain of any ship sailing specifically for the purposes of disruption of legally sanctioned activities could be deemed to have committed a criminal offence.
"The practical challenge for companies will be to try to prevent disruption in the first place.  The courts will be looking for evidence of a real risk of disruption before granting interdicts.
"Their role in these circumstances is always to weigh the interests of different parties, applying what is known as the 'balance of convenience'. An interdict won't be granted simply because someone takes a contrary view."
Recommended for you

Greenpeace protestor risked being 'dragged under' Shell Penguins FPSO