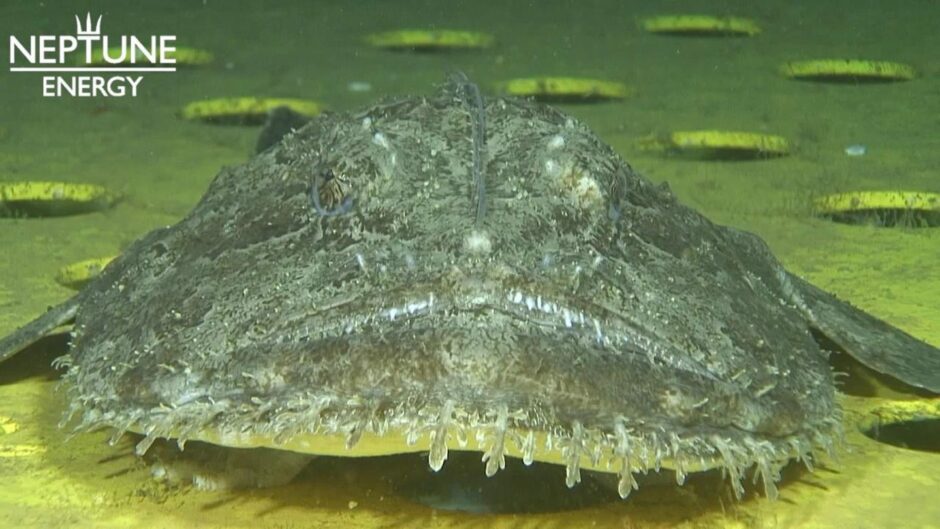 There is something fishy going on below the Neptune Energy operated Gjoa platform, literally.
During an inspection of the installation, offshore Norway, a remotely operated vehicle (ROV) captured footage of the amazing variety of marine life around 350 metres below the sea's surface.
Numerous creatures – some of which are the stuff of nightmares – were shot by the ROV's clam-era while it ensured everything at Gjoa is in good operating condition.
Everything from crustaceans to an octopus can be seen dipping in and out of the semi-submersible platform's subsea kit, including one fish, a Common Ling, that has bitten off more than it can chew.
A couple of the species – an angler fish (pictured) and one of the terrifying wolf fish – have made Gjoa their oh-fish-ial plaice of residence, and are frequently seen below the installation.
You can find a full list of the creatures featured in the video below.
Gjoa
Neptune's Gjoa is located in the Northern North Sea, some 27 miles off the west coast of the Norwegian city of Floro.
It is the first floating production platform to be powered sustainably by onshore facilities, with a 62 mile submarine cable delivering hydropower-generated electricity from Mongstad.
Electricity from the mainland saves 200,000 tonnes in CO2 emissions annually.
Oil from Gjoa is exported to the Mongstad crude oil terminal on the west coast of Norway, while gas if fed through the FLAGS pipeline to the St Fergus gas terminal in Aberdeenshire.
Neptune operates Gjoa with a 30% stake – Petoro (30%), Wintershall Dea Norge (28%) and OKEA (12%) own the rest.
City of cod – fish captured in the video
Pollock: Often there are so many Pollock investigating the ROV that it needs to stop and switch of its lights.
Angler fish
Common ling: They are very big in this part of the North Sea as they're able to use the platform to hide from fishing boats.
Rose fish
Shrimps
Sea cucumber
Corals
Wolf fish
Cod
Dumbo octopus