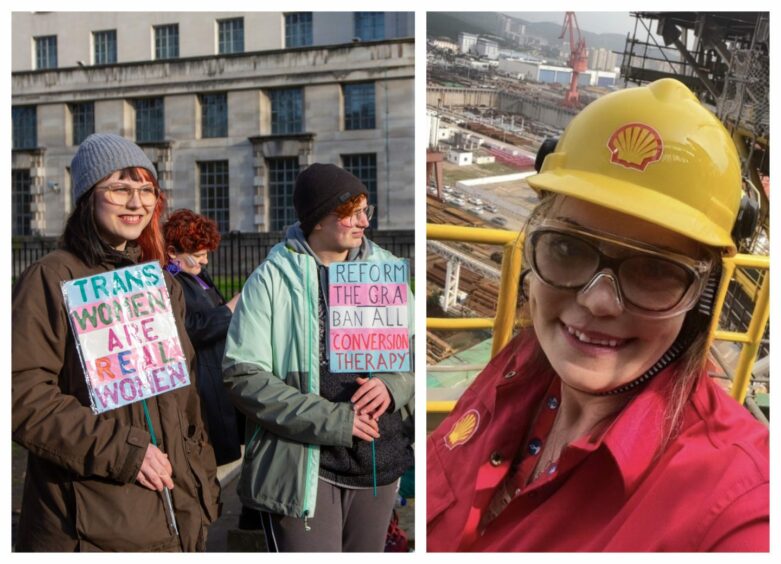 A transgender offshore worker has spoken out against the UK Government for "smoke and mirror" tactics in blocking the Scottish gender recognition reform legislation.
Samantha Nelson, a woman who medically transitioned 14 years ago and works as an offshore installation manager in the North Sea, fears "dehumanisating" rhetoric on the trans community could lead to a broader loss of rights that were "hard won over decades".
The Gender Recognition Reform Bill (GRB), passed in the Scottish Parliament last month by cross-party MSPs, is intended to streamline the process in Scotland for changing legal gender, such as removing the need for a medical diagnosis and reducing the time to three months for the person to have lived in the acquired gender.
Proponents say current processes are dehumanising and outdated, while opponents argue it could impact women's rights, and have particularly pointed to an aspect of the bill which would reduce the age of application from 18 to 16.
This week the UK Government said it would block the bill from receiving royal assent, arguing it would impact equality laws across Britain, while the Scottish Government described it as an attack on devolution.
Ms Nelson, an LGBT campainger and public speaker, as well as an offshore installation manager (OIM) for the Shell Penguins field and formerly of projects like the Brents, Montrose and Piper fields in the North Sea, hit out at the "weaponisation" of the bill.
She also accused Westminster of using it as a "distraction technique" from other hot-button political issues which need to be addressed.
"This whole debate and the weaponisation of the GRB is just so much smoke and mirrors from the right wing of the conservatives at the moment, almost demonising a part of society and weaponising it.
"It's this othering, this dehumanisation and a lack of compassion that really cuts me to the to the quick. And we shouldn't need to be fighting this battle, such a small, marginalised group fighting against the constant media stream and a constant, now, spilling to the general public this belief of what they're being told."
'All of a sudden, to be thrown back to 70s or 80s and that horrible conundrum of unacceptance and to be othered'
The Scottish Government is expected to challenge the blockage in court, while UK Scottish secretary Alister Jack said the intervention would "protect and safeguard safe spaces for women and children" citing swimming clubs, domestic violence refuge and schools, among other examples.
Scottish social justice minister Shona Robison said transgender women can be excluded from female-only spaces whether or not they have a gender recognition certificate – though critics say that's an untested area of law.
Ms Nelson said "everyone" wants to safeguard women's rights and hit out at the narrative that "anyone related to the gender diversity space is in some way mentally deficient, that they are predatorial".
She added: "All my life I merely wanted to present as being a woman, and support women.
"That's what I've made my life around, so of course it feels hurtful now when I read the commentary, especially around the social media space, where there's an echo chamber effect that happens.
"All of a sudden, to be sort of thrown back to 70s or 80s and that horrible conundrum of unacceptance and to be othered."
The AXIS Network, a women's equality group for the UK energy sector, voiced disappointment that the bill had been blocked and, while it recognises "valid concerns raised by pro-women organisations" it is essential to be open-minded and "treat people as individuals".
Ms Nelson spends her time, when not working offshore, as a public speaker and champion of diversity and inclusion in the energy sector.
Born Roman Catholic in the late 60s in north-east England, she said it was "very much drummed into me the unacceptability of who I believe myself to be and went through a lot of challenges during that phase, which forced me to hide myself away".
'Dehumanisation really cuts me to the to the quick' says offshore worker on gender debate
With support of colleagues, she completed her transition in the late 2000s, and will soon be the OIM of Penguins, Shell's first new manned installation in the UK sector for 30 years, which is currently being transported to the North Sea.
The gender reform recogntion bill, she says, would not grant any further rights to the trans community than they already have, only simplify the process.
It is a slim strand of civil rights, and many trans people "actually don't bother with the (gender recognition) certificate" which only impacts a birth certificate, a death certificate, and which prison they go to.
Protections on gender identity are enshrined in the Equalities Act of 2010 – and the dehumanisation of the trans community in the public sphere has led to concern on those rights being eroded.
"There's a lot of dialogue at the moment that you read online that they're going to ditch the Equalities Act or the protections that are within the Equalities Act 2010.
"And I think that's the major concern that's coming from the trans community. The GRC, the GRA, isn't here nor there. Of course, it's nice to have that acceptance and that simplification of a medical process to recognise who we.
"But the real chunk is the way they're connecting that to the safe spaces and the women's spaces are protected under the Equalities Act makes us think that that's what they're after next, that they're going to strip away protections under the same guise that once they demonise the community, they then almost validate stripping of rights that were hard won over decades, and then formalised and brought together in the 2010 Act."
Women in energy group 'disappointed' that bill was blocked
The AXIS Network said, as a gender equality group, it is "disappointed" to hear that the Gender Reognition Reform bill hads been blocked.
Chair Sarah Clark said: "We understand the complexity of the conversation and some of the valid concerns raised by pro-women organisations. However we believe it's essential that people approach this topic with an open-mind, treat people as individuals, and truly listen to different perspectives.
"As a society we have made progress and our laws should continue to evolve to reflect this progress. Gender recognition is in the spotlight today, I think it's up to us to learn from the mistakes of the past and adopt an inclusive approach in working through these complex and sensitive issues."