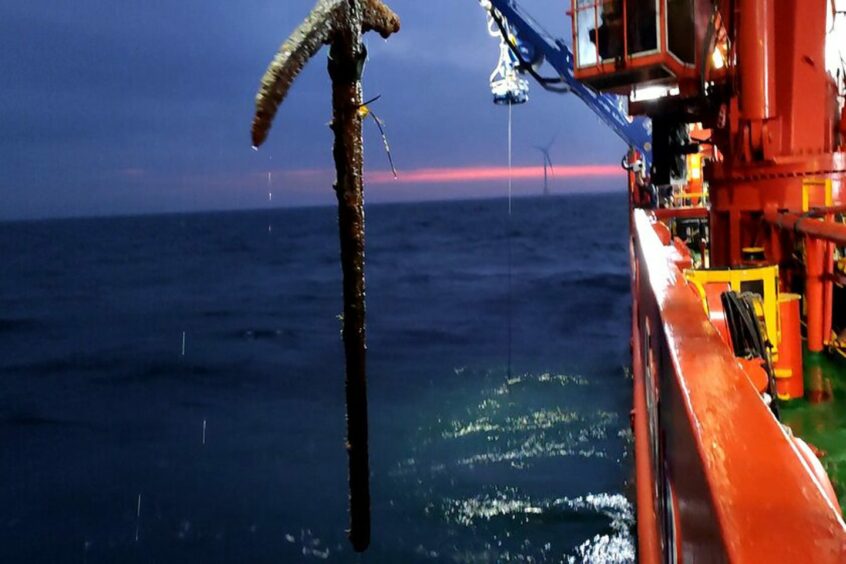 From German bombs to Roman anchors, as more offshore energy infrastructure is built the history of the North Sea is colliding with its future.
As an ever-growing number of offshore cables, jackets and platforms are coming into contact with shipwrecks, downed aircraft and unexploded ordnance (UXO), a new industry is growing to help energy developers navigate between past and future.
That there should be so much to find on the seafloor surprises even the largest wind farm operators, says Brandon Mason, an archaeologist with Maritime Archaeology Ltd. As the commercial arm of the Maritime Archaeology Trust, the non-profit exists to promote the importance of Britain's maritime history whilst also providing leading expertise on what might be lying on the ocean bottom.
"It's not much of a surprise to archaeologists, but it is to developers that you keep going offshore and you keep finding this stuff," he said. "You'd think it would be just on the beach or a few 100 metres off, but places like Doggerland are just littered with finds and we're seeing the same on the East Anglian coast as well, really far out.
"We've got Iberian shipwrecks from the 15th C, coastal traders from the 18th C packed with really exciting cargoes, Dutch traders 16th C packed with pantiles and things like that.
"You're hopping from one to the next, even 60km offshore – and it's going to keep going as an avalanche really, rather than a trickle."
The same can be said for the roughly half a million items of ordnance littered around the UK Continental Shelf, said Lee Wasling, a business and project development manager with UXO specialist EODEX.
Amounting to some 100,000 tonnes and largely from WW2, this includes defensive and offensive mines, bombs, torpedoes and other ordnance which was fired but did detonate, or munitions that were simply dumped during or after the war.
He points to hotspots such as Beaufort's Dyke between Britain and Northern Ireland where lot of munitions were dumped, as well as off East Anglia where Allied bombers often jettisoned payloads when returning from runs over Germany.
"Sod's law is that's where the best winds are for putting your wind farm," adds EODEX director Bernie Morrison.
A further about 1.6 million tonnes, much of which are chemical munitions, also litter the Baltic Sea.
Preservation effort
While many of these items – archaeological or otherwise – have been on the seabed for some time, prioritising their care is a far newer idea.
"It hasn't had the recognition as a discipline that it probably should have done," says Mr Mason of the space for maritime archaeology within offshore energy. "It's kind of really born in the 1950s and 60s when it starts to take off, and it hadn't got a voice yet to influence things like oil and gas projects."
That course appears to be corrected with firmer rules around offshore wind and associated infrastructure, and where companies such as Mason's are brought in at an early stage to oversee desktop studies. These are submitted as part of scoping reports to marine and historic environment agencies, and should the project progress, the firm can then review data from more detailed multibeam and sub bottom surveys.
Initial surveys results allow developers to move jackets and cable routes round any areas of particular sensitivity. It's also at this point that areas of specific interest appear which may warrant further investigation.
"It's much better for cultural heritage to be left alone on the sea rather than interfered with," he continues. "There's a presumption in favour of preservation in situ in historic environment agencies, we want to leave this stuff alone for future generations when the technology is better and to avoid the expense of having to recover it."
However, smaller finds may also crop up during the contracting phase. Mr Mason points to things like anchors, small guns or cannonballs are recovered and scanned to create 3D models and archives before being returned to the seabed out of harm's way.
In rarer cases or for truly historic finds they may be returned to shore. He points to what is believed to be a Roman anchor recovered at the site of ScottishPower's East Anglia ONE wind farm. At around 2,000 years old, he said the item was so significant as to warrant further study. (It is now in conservation at the Mary Rose Trust and will go on display at Ipswich museum in 2025.)
Low order
While it works closely with archaeologists on similar surveys, EODEX's prerogative is making the marine environment safer. While ordnance can be moved, the firm's preference is usually towards "deflagration" – or safe disposal in situ.
"Everybody gains when UXO is dealt with," Mr Wasling added. "I can equate it to having asbestos – if you know there's an asbestos risk you're not just going to leave it there, because not only is it hazard to people and any building works, it's also a hazard to the environment when it starts breaking up – and it's same sort of thing that happens with UXO."
While historically reliant on "high order" disposal – essentially using an explosive charge to detonate the ordnance, with a major impact on marine life – the industry is increasingly moving towards a more sensitive "low-order" method.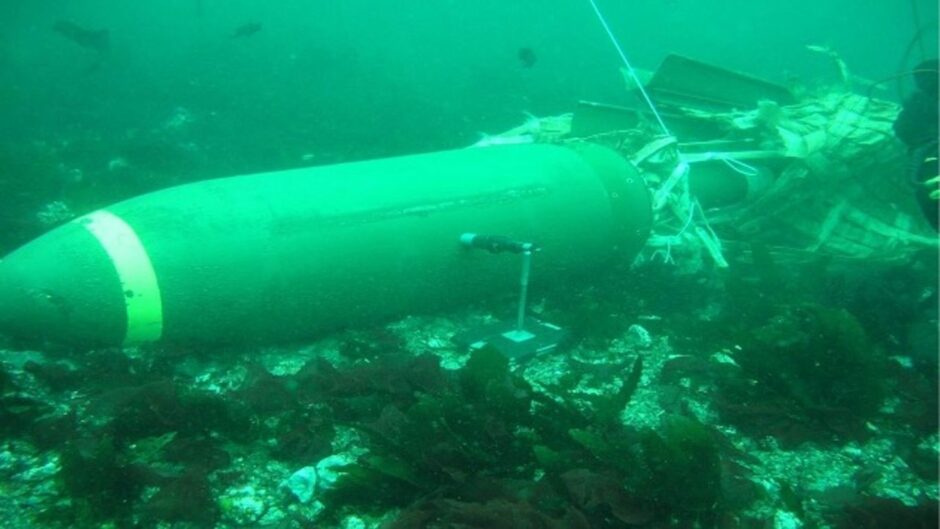 In EODEX's case this is a "unique" technology pioneered by its parent, defence group Alford Technologies, which fires a very small charge inside the casing of the item. This causes the explosive inside to burn, but not explode, eventually cracking open the casing to leave just scrap metal.
The system can be deployed by ROV or by diver in shallower water and is overseen by the firm's trained technicians, many of whom are ex-Royal Navy.
Based on military equipment, Mr Wasling says EODEX is the only company to offer the technology commercially and the volume of projects – growing further with the likes of ScotWind on the way – have made for at "a very busy pipeline" in the coming years with work spanning the UK, US, Baltics and Taiwan.
Nevertheless, having doubled its staff in the past year alone, he is confident the firm has enough capacity to meet the "significant demand" it sees, and is already working with most developers and Tier 1 contractors.
UK leading the way
Maritime Archaeology too has been involved in a sizable pipeline of projects dating back to 2006, when it began work on the Greater Gabbard wind farm. Since then it has helped with numerous sites including Westernmost Rough and the Burbo Bank and Walney extensions, and is now helping development at the East Anglia Hub, Outer Dowsing and the North Irish Sea Array.
Even over that time, the firm has also helped shape the frameworks and best practice around how finds are dealt with – in which the UK appears to be helping lead the way.
"There's still not concrete guidance," adds Mr Mason. "One of the interesting things from our perspective is being that voice between the developer and the statutory advisor and helping to shape where this is going and what the best way to do things is.
"The support is generally there, the developers have a much better understanding of how it works in the UK and we're seeing even clients from other European nations coming to us and saying: 'What's the best way to do this?'"
Mr Morrison says the same of the UK's UXO regulations, especially when compared to the US market, which is only just beginning to dip its toe in the burgeoning offshore wind sector.
For Mr Mason though, the real value in undertaking all this effort is to help provide a long-lasting contribution to the field and to UK maritime history.
"We really want to learn something from all the cost and effort of this. You could just pick it up with an ROV underwater and shove it out the way but we're not learning anything from that," he says.
In this way, trusts, historic agencies and offshore developers can work together to ensure their developments help bring a deeper understanding of the past as well, as energy for the future.
"Just taking that little bit extra time to bring [an item] up to the surface, record it and share that report with specialists… That makes a contribution to furthering our understanding of the past and human technology. We get something out of that."
Recommended for you

Scores of unexploded wartime bombs found in Moray Firth