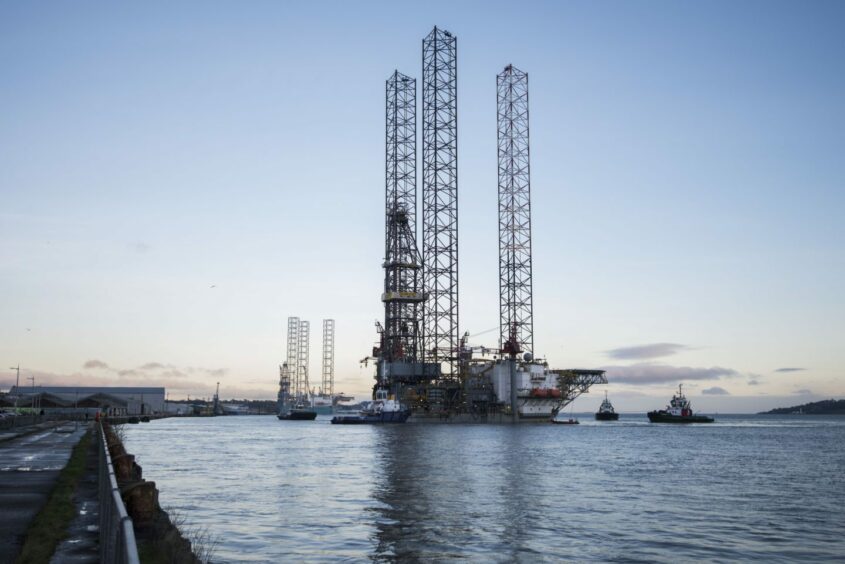 Police have named the man who went missing from an oil rig in the North Sea last week as 50-year-old Jason Thomas from Wales.
Officers, who boarded the Valaris 121 last week following the incident on Sunday 22 January, said they are still carrying out inquiries.
Police confirmed that they received a report at 9.20pm on the 22nd that Mr Thomas – a Valaris employee – was missing from the rig around 100 miles south-east of Aberdeen, while it was under tow to Dundee.
Officers liaised with a number of partner agencies including the rig's operator and the Maritime and Coastguard Agency during their searches.
Two oil supply vessels, a Coastguard helicopter and a Coastguard aeroplane were involved in the search, which was later stood down at 7am on Monday 23rd.
In a statement on Tuesday evening Police Scotland said: "Officers were able to board the rig on Sunday, 29 January to carry out enquiries.
"They are liaising with partner agencies including the Health and Safety Executive, and the rig operator, to gather any information that may assist them in establishing the circumstances leading up to Jason being reported missing."
In an earlier statement, rig owner Valaris said that Mr Thomas' family had been informed.
Energy Voice revealed last week that no regulatory bodies are investigating the case.
A spokesman for the HSE confirmed on Tuesday that it was still making enquiries and that no investigation has been launched.
Other regulators, including the Maritime and Coastguard Agency (MCA) and Marine Accident Investigation Branch (MAIB) have said they are not presently investigating.
Maritime union RMT has previously voiced fears the case could fall into a "vacuum of regulatory cover" due to jurisdictional issues between the various bodies.
The MCA has stated that as the Valaris 121 rig is registered in Liberia, West Africa, it would be their authorities who would lead on any subsequent investigation.
The 121 remains stationed in Dundee. Following the incident, Valaris said all the remaining 53 crew aboard were safe and accounted for.
Recommended for you

HSE issues second safety warning in wake of missing worker inquiry