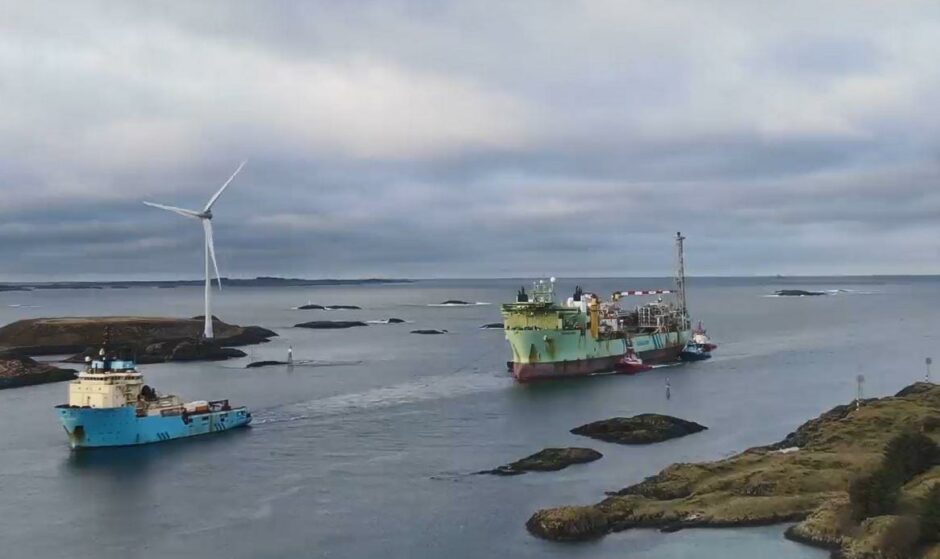 Production at the Pierce gas expansion project in the UK North Sea is now underway, Shell (LON: SHEL) has confirmed.
Following the publication of the oil giant's 2022 results, group chief financial officer Sinead Gorman confirmed that the project is "operational".
"We are watching closely as that ramps up," she told an analyst call on Thursday morning.
Shell previously said it had expected first gas production from Pierce, about 165 miles east of Aberdeen, in Q2 of 2022 – that date was subsequently kicked back until autumn.
The Haewene Brim floating production storage and offloading (FPSO), which will be produce the project, arrived at the UK field in June.
It followed a trip from Aibel yard in Haugesund, where refurbishment work on the vessel had been taking place.
Historically an oil producing field, first brought online in 1999, the redevelopment of Pierce will allow for associated gas to be exported via a new pipeline to the St Fergus terminal in Aberdeenshire.
Shell, which posted record full-year profits on Thursday, owns 92.52% of Pierce – the remaining 7.48% is held by Ithaca Energy.
A final investment decision (FID) was taken on the redevelopment project in 2019, with estimates it would increase production to 30,000 barrels per day.
Penguins
Shell is also making progress on its Penguins project, a separate North Sea revamp, this one of a former tie-back field to the Brent Charlie hub.
The FPSO for the field, the oil giant's first new UK manned vessel in 30 years, set off from China last year, and is now off the coast of West Africa.
A few days ago, four Greenpeace protestors boarded the White Marlin heavy-lift ship, which is transporting the FPSO.
They are "occupying" the production vessel in opposition to "the worldwide climate devastation caused by Shell and the wider fossil fuel industry".
Before arriving at the UK field, around 150 miles off Shetland, the Penguins FPSO it will stop at Aibel's Haugesund yard on Norway's west coast.
MS Gorman said: "The facility is on its way to Norway at the moment, and has passed the Canary Islands.
"As soon as it gets to port, we will look at the final things that need to be done before it moves towards its final destination."
The Shell Penguins FPSO is expected to deliver peak production of 45,000 barrels per day.
Cambo
On the controversial Cambo project, Ms Gorman reaffirmed that Shell's position has not changed.
Shell has 30% stake in the West of Shetland Ithaca Energy project, but announced plans in December 2021 to divest its interest.
Cambo had been under the spotlight for months prior, but Shell has always insisted its decision as driven by the economics of the scheme.
Ithaca intends to take FID on the project, one of the largest untapped reserves in the UK North Sea, this year.
On whether Shell will have spun off its stake by the time that comes around, Ms Gorman said: "As we have said before, Cambo does not make sense for us in terms the economic side of things. Our position on that has not changed."