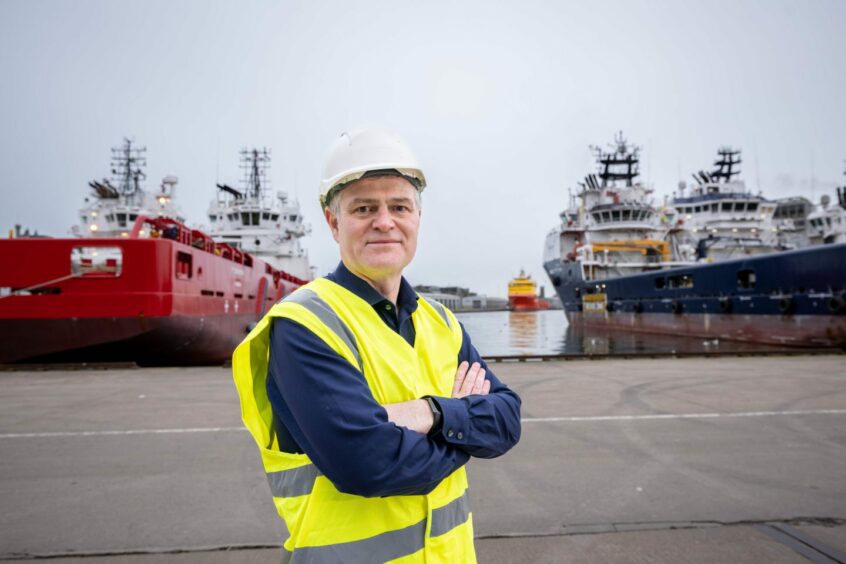 The UK Government windfall tax has seen more than 90% of North Sea oil and gas producers cut spending, with the policy "undermining" the country's energy security and supply chain.
"When you read about companies not investing, those are real people that are losing their jobs, that is hundreds of jobs being lost," David Whitehouse, chief executive of trade body Offshore Energies UK (OEUK), which compiled the figures, told Energy Voice.
"That is our future energy security, quite frankly, being undermined. That's less tax coming into the to the Exchequer to help support the country and to help support those in need."
Recent weeks have seen a steady drip of headlines on producers cutting spending due to the UK government policy; including Harbour Energy, the UK's largest producer, blaming it for slashing hundreds of jobs in Aberdeen.
The windfall tax – or Energy Profits Levy (EPL) – was implemented in May last year at a 25% rate, then raised in November to 35%, taking the total headline rate of tax for companies in the UK to 75%.
TotalEnergies, Apache, EnQuest and Harbour Energy are among the operators that have publicly announced spending cuts.
But Mr Whitehouse said it goes much further – and has written to the Chancellor urging government action ahead of the March 15 budget.
"As OEUK we have polled all of our operator members, and somewhere in excess of 90% of them are in a position where they have reduced capital investment and are reducing production volumes with this time last year."
That reduction in spending has not only led to job cuts, but risks the energy transition as vessels which can drill carbon storage wells or install wind turbines head to fairer shores with more opportunity.
He added: "I think you've got to acknowledge that Scotland and the UK are going through a difficult time.  Oil and gas companies are taxed highly and we want to and we play our part with the taxes that we pay.
"Having said that we're in a global race for energy investment. The UK doesn't sit on its own. We're in a global race for energy investment and it is clear that the tax changes that we have in place made the UK less attractive.
"It's clear that actually if we're going to deliver the successful continued investment, a platform for the successful energy transition, then we need a better long-term plan."
Fiscal Review: 'We're delighted to say the Treasury have heard us'
Mr Whitehouse came in as CEO of OEUK at the start of the year, replacing Deirdre Michie who stood down after nearly a decade at the helm.
The trade body represents hundreds of companies – including 55 operating firms which produce oil and gas in the UK.
Having met with the Chancellor, and written to him last month as part of Budget submissions, a key ask has been the industry wants the "windfall tax to be a windfall tax" so a price floor is implemented to stop the levy, should oil and gas prices fall.
Mr Whitehouse says government action is now underway on that issue.
"When prices stabilize, we want that to go away. That's been part of our request to government and what we also want is a conversation that sets up a long-term fiscal regime that we need for investment, not only in oil and gas but across the entire renewables renewable sector.
"We're delighted to say the Treasury have heard us on that and that kind of longer-term fiscal review will be kicking off in the course of the next few weeks."
An HM Treasury Spokesperson said:"The Energy Profits Levy strikes a balance between funding cost of living support while encouraging investment in order to bolster the UK's energy security.
"We have been clear that we want to encourage reinvestment of the sector's profits to support the economy, jobs, and our energy security, which is why the more investment a firm makes into the UK, the less tax they will pay."
Labour and North Sea windfall tax          
The trade body is also acutely aware that a general election is on the horizon, and has a meeting with shadow energy secretary Ed Miliband in the coming weeks.
Labour has been adamant there will be no new investment in oil and gas under its regime.
Mr Whitehouse says there's work to do but has confidence in the sector's "story".
"I myself have a meeting coming up with Ed Miliband in the next couple of weeks and we're expecting to meet and talk to Keir Starmer.
"Yeah, I think we do have some work, but what I think we have is we a very clear story.
"We have a clear story about providing energy security, about providing good jobs, about looking after our communities.
"We are looking to increase the local content of what is actually produced in the UK. I think we have a story that resonates with the that should resonate with any party and I'm looking forward to putting that forward."
Recommended for you

How the UK is a leader on emissions