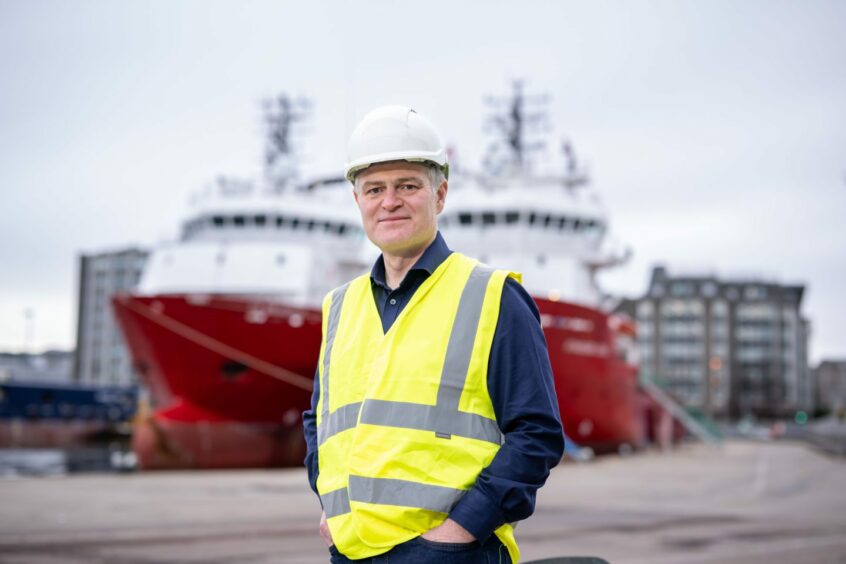 "It's going to be an important couple of years – quite frankly I think it's going to be an important couple of months," says David Whitehouse, the new CEO of Offshore Energies UK (OEUK).
Protecting the investment environment, ensuring fair manifesto policies, delivering on decarbonisation and improving industrial relations are on the priority list for the new man in charge of the leading North Sea trade body.
At a time of unprecedented political turmoil for the industry – when it would have been tempting to go for a politician or a career lobbyist to lead the charge at Westminster – OEUK has gone in a different direction and hired an engineer as its new chief executive.
David Whitehouse has had a career spanning Europe, the Gulf of Mexico, the Philippines, and spent the last 20 years in Aberdeen, with the latter seven of which as managing director of CNR International.
He knows the industry as well as anyone, but the level of lobbying ahead is relatively "new territory" at a time which, as he says, is "pivotal" in terms of energy policy as the sector remains a political tinderbox.
"To some degree, the intensity of the government engagement, it's definitely new territory for me, but there's a couple of things I think are helpful.
"One is that OEUK has excellent connections; we are clearly seen as the voice of the industry, and so the door is open for those conversations.
"And I think we have a very good story to tell. So, it's something that's critical to the job, and actually I relish the challenge."
'The implications are really human'
Because he hasn't spent a career lobbying or in the halls of Westminster, Whitehouse comes through as genuine, with the ability to humanise the cost of erratic fiscal policies.
As reported last week, the trade body says 90% of North Sea operators have cut spending in light of the UK Government windfall tax.
"There's people writing articles, talking about how it's good that things aren't happening because, effectively, that would be more profit for oil and gas companies – that's just simply not true," says Whitehouse.
"When you read about companies not investing, those are real people that are losing their jobs, that is hundreds of jobs being lost.
"That is our future energy security, quite frankly, being undermined. That's less tax coming into the Exchequer to help support the country and to help support those in need.
"The implications are really human and you will see those impacts in communities up and down the UK as a result."
READ: OEUK Budget letter warns Chancellor of North Sea finance and investment risk
READ: EY report warns of dangers of hastily winding down '£16bn' Scottish oil and gas industry
Arresting that decline will be crucial as groups like offshore drillers move their vessels out of the UK, which is bad for jobs today, and for energy transition activities like carbon capture utilisation and storage (CCUS) which rely on some of those skills, says Whitehouse.
That's the type of argument he's going to have to make to politicians, journalists and the general public in the coming months and years.
He takes over from Deirdre Michie, who spent nearly a decade at the helm; a skilled figurehead for the sector over the course of two downturns, whose accomplishments include agreement of the North Sea Transition Deal (NSTD) with government.
'That is not greenwashing': North Sea oil boss bats back accusations on BBC Debate Night
Even amid COP26, during an infamous BBC Debate Night, she held her own against a hostile audience while the industry was viewed as unwelcome and, to many, public enemy number one.
OEUK, of course, points to polling that shows support in Scotland for the industry – but does the prospect of having to deliver arguments to policymakers and the public on the big stage put Whitehouse off at all?
"No, and the reason why it doesn't put me off is I think we have a really good story to tell", he says.
"I'm lucky enough to walk into a great team – and following on from Deirdre Michie who I think it's fair to say did a fantastic job or for the industry."
Getting the storytelling right will be crucial, not only for the current political regime but the next one too as a general election looms.
"The priority is ensuring that general election manifestos are aligned with the needs of the industry," says Whitehouse –  a big ask considering the poll-leading Labour party seems set on higher taxes for the sector.
Risk of 'importing the energy transition'
Success means delivery of energy security, growth of the supply chain and jobs across the energy transition in areas including offshore wind, hydrogen and CCUS, alongside growth in domestic manufacturing – a key focus for OEUK.
But it's a high-stakes game, and the cost of failure means "we'll undermine what we already have, we will undermine that supply chain, we won't create those jobs and we will end up importing the energy transition.
"And for me, why do I want to work at OEUK? Because I want to be in a position where I can help push us to what I think is the right outcome."
As well as lobbying the current government for a windfall tax price floor ahead of next week's Budget, OEUK is meeting with shadow energy secretary Ed Miliband in coming weeks.
"We have a clear story about providing energy security, about providing good jobs, about looking after our communities. We are looking to increase the local content of what is actually produced in the UK.
"That story that should resonate with any party and I'm looking forward to putting it forward," says Whitehouse.
Enough focus on Westminster for OEUK?
Labour has been adamant there should be no new investment in oil and gas, and that it would tax the industry more drastically, exacerbating a situation which has already seen spending and job cuts.
They've taken a "firm stance", Whitehouse concedes. And while "there is an argument to be won" he believes the industry's case "is the right one".
But what about resource to get the message across? Anyone who suggests OEUK is an Aberdeen-based organisation will be swiftly corrected by its comms team – and its CEO – who note members across the UK.
Nonetheless, does it have enough resource and focus trained on Westminster at this point? Whitehouse thinks so, pointing to "well-resourced teams" in both Aberdeen and London to provide data and insights to lawmakers.
UK taxing global profits? 'It is just not credible'
Part of that discussion will be underlining that taxing companies like BP or Shell on profits made overseas, as some have suggested, is simply not realistic.
"Fundamentally, it is just not credible that you would tax on a global basis.
"Taxes are paid where they're made, that's the way the system works, to the countries where the companies are operating.
"And clearly the UK . . . if that was done in reverse to us, that would just cause mayhem."
One win has been a review from the Treasury on creation of a price floor for the windfall tax, which is due to get underway in coming weeks.
Other issues
All of this comes amid a backdrop of other issues: a key 50% decarbonisation target by 2030 under the NSTD, widespread industrial unrest in the North Sea, competition for resources amid different sectors, regulatory issues, recruitment concerns, the list goes on…
Whitehouse says that the industry, ultimately, "is the most collaborative industrial sector in the UK – fundamentally we get stuff done", so he's confident of overcoming these challenges, including the decarbonisation target.
Other lobbying efforts to government will be around the aforementioned regulatory issues.
That's not just because of the red tape caused for offshore wind and oil and gas developers, but because other countries are making investment much more attractive – like the US via President Biden's Inflation Reduction Act (IRA).
"I do genuinely think there's things that the UK can learn from that on the regulation side – make it simpler and we can make this a much more effective place to develop."
Masters in Renewables
Coming into the job, acknowledging OEUK's wider "offshore energies" role, Whitehouse is now completing a Masters degree in renewable engineering at Aberdeen University.
"To play a role now, we do need to educate ourselves – and I thought it was important to do that… and to be honest, I also thought it would be great fun at age 55 to back to university."
As well as education on the wider industry, it is providing insight on better ways to attract the next generation into the sector.
"One of the reasons one of the things that we need to get across is we we're not attracting enough kids –  and 55 year old men –  to come and do engineering courses.
"What's clear for me is if you want to talk about changing the world, you can go and do something else – but if you want to genuinely do it, this is the industry to be in.
"We've embraced the transition and we should be able to attract more and more people to come and study and come and be part of it, because this is where you genuinely do change the world.
"I have been lucky to be on what I think is one of the best courses in the country, with quite frankly, some of the best students in the country too."