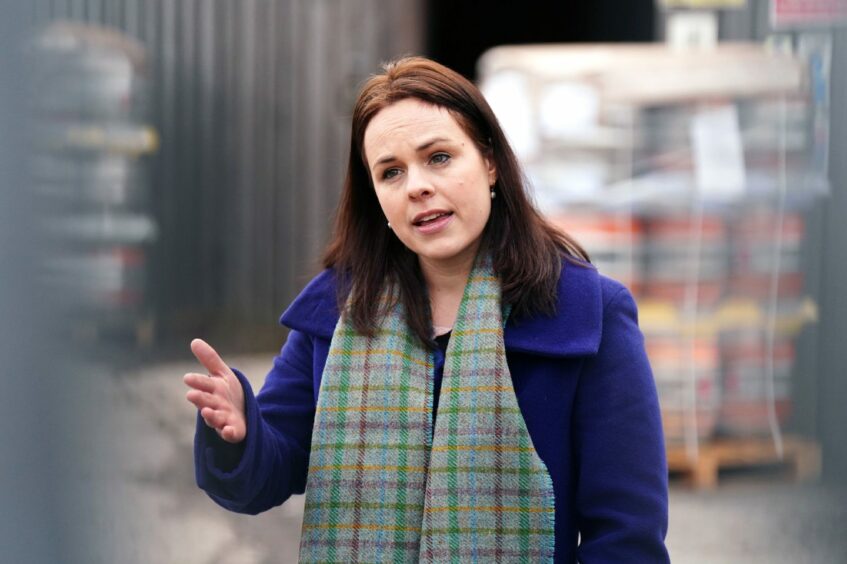 Kate Forbes firmed up her support for oil and gas in the north-east as she insisted profits should be used to set up a special Norway-style wealth fund.
The SNP finance chief, who is vying to be first minister, insisted her party should not throw the fossil fuels sector "to the winds".
Instead Ms Forbes wants revenues earned from drilling in the North Sea to be invested back into the economy if Scotland exits the union.
For years, the SNP claimed Westminster had wasted lucrative profits reaped from the oil and gas industry as they made their case for independence.
Campaigners consistently looked to Norway's approach as the best model for Scotland to emulate if a bid to leave the UK was successful.
The Scandinavian nation's government set up an oil fund in 1990 which uses money generated from drilling to invest in assets such as property and infrastructure.
However, SNP support for oil and gas has waned in recent years with the government opposed to any new oil fields opening.
Instead Nicola Sturgeon's administration has backed shifting to renewables as quickly as possible despite opposition from the Tories.
Ms Forbes warned her party must avoid "cliff edges in policy" while moving away from dependence on fossil fuels as she promised a change in tack.
The SNP leadership hopeful insisted money earned from a new oil fund could even be used to invest in green energy.
New direction
She said: "I don't think it is wise to throw the oil and gas sector to the winds in a way that may compromise our energy security and ability to invest large sums, including in renewables.
"For over 50 years, Scotland has cast envious eyes across the North Sea to Norway and its Sovereign Wealth Fund.
"It didn't make the mistake of the UK and fail to prepare for the future when oil and gas was discovered in Scotland's waters."
Ms Forbes insisted she remained "fully committed" to supporting renewable energy despite not wanting to wind down oil and gas production immediately.
The Skye, Lochaber and Badenoch MSP is not the only SNP leadership candidate willing to jettison the government's current energy policies.
Outsider candidate Ash Regan has also said she would not support the rapid phasing out of fossil fuels if she wins the race to succeed Ms Sturgeon.
Ms Regan – who quit her government post last October – told the Press and Journal her own party had "neglected" the north-east of Scotland.
Despite backing an oil fund, Ms Forbes admitted Scotland would not be able to "emulate Norway's achievements overnight".
A YouGov poll just days ago indicated 70% of SNP voters backed moving away from oil and gas dependence in the near future.
It found 45% of the party's supporters supported a ban on opening new oil fields, while 39% were opposed.
Campaign woes
Ms Forbes' attempt to set out an economic vision for Scotland if she wins the race to be first minister comes after the first week of her campaign was bogged down by controversies.
The Holyrood finance secretary sparked fury after admitting she would have voted against gay marriage had she been an MSP when it was passed.
Ms Forbes also confessed she would have voted against the SNP's controversial gender reforms had she not been on maternity leave at the time.