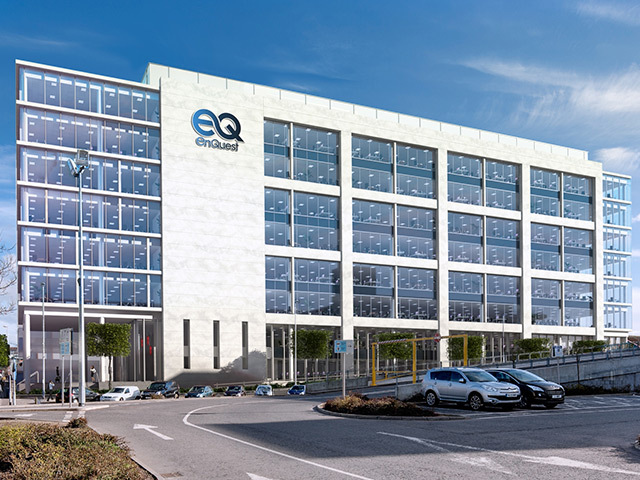 An major office landmark of the Aberdeen skyline has been put up for sale with a £42 million price tag.
Annan House near the Union Square shopping mall, deemed the largest commercial office in Aberdeen to go on the market for over three years, has been put up for sale by its owners, the Patrazia Hanover Property Unit Trust.
The building's main occupant, the North Sea oil and gas firm, Enquest (LON: ENQ), has agreed to lease the property for another 12 years, until 2035.
The eight-storey building was built for Enquest by Aberdeen's Drum Property Group in 2015 as part of its £100million project to redevelop the Aberdeen Seafood Park on Palmerston Road into the area now known as the North Dee Business Quarter.
The property was acquired by Rockspring Property Investment Managers in the same year for a price in the region of £45.1m. German investment firm Patrizia acquired the London-based Rockspring in 2017.
'Long income stream'
Derren McRae, the head of Aberdeen office for CBRE, the firm marketing the landmark, said such high quality office space was getting scarce in Aberdeen.
He said: "CBRE are delighted to have launched the investment sale of one of Aberdeen's highest profile office buildings in the North Dee Business Quarter.
"The building benefits from strong environmental credentials and offers a potential new investor a long income stream to one of the North Sea's best known operators, at a time when the last available Grade A office space is being snapped up."
Other recent Granite city office deals include the sale of the fully occupied Caledonian House, at 234-238 Union Street.
It was acquired by Standard Real Estate (SRE), an investment vehicle of Scottish property entrepreneurs Hamish Munro and Scott Campbell in a £2m+ deal.
Diversified portfolio
One of last year's biggest deal was the £20m sale Equinor House at Prime Four business park to an overseas investor.
Mischa Davis, Patrazia Hanover Property Unit Trust fund director, said: "Our sale of Annan House is part of Hanover's ongoing strategy to evolve its sector allocation and ensure investors have a good spread of real estate risk across relevant asset classes, including alternatives such as student housing, healthcare/senior living, data centres and life sciences.
"As a leading balanced fund in its peer group, our aim for Hanover is to provide investors with a market-leading diversified portfolio that evolves as the market changes."
The passing rent for Annan House is £3,411,914 per annum, equating to £28.24 per sq ft. Prime Grade A rents in Aberdeen are currently £32.50 per sq ft.
Recommended for you

Energy sector momentum boosts industrial property in Aberdeen