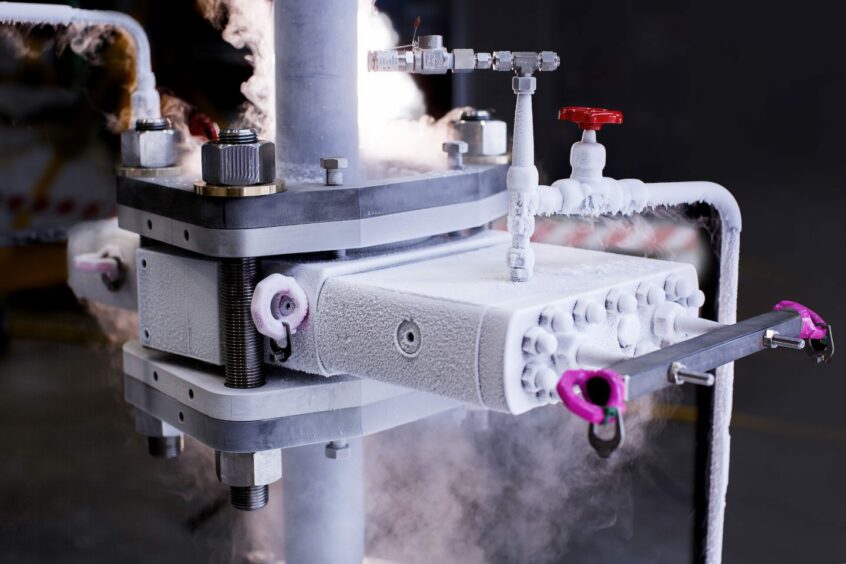 IK Group is cashing in on an "exponential rise" in global demand for its AOGV isolation technology, subsea and topside pipeline specialist.
The Norwegian offshore services firm has launched Izomax, a wholly owned but separate company focused solely on the patented product.
AOGV uses isolation technology to help customers mitigate downtime during shutdown, turnaround and outages, whilst also maintaining system integrity – allowing process flow to continue.
Cost and time savings are further enhanced by the reduction in risk of emissions spillages.
Four years after its first deployment, the technology, developed at the company's Stavanger headquarters, was installed for the 100th time in 2022.
With a client list comprising several oil and gas supermajors and multi-national NOCs, the AOGV product line will now move forward as an independent, but wholly owned, subsidiary.
Chief executive ok IK Group, which has a UK base in Blackburn, Eirik Berge commented: "We will continue to support Izomax wherever needed but by becoming independent, Izomax will take the AOGV technology and service delivery to new heights with enhanced customer focus and engagement."
Rune Sele, vice president of Izomax, added: "The launch of a stand-alone company allows us the freedom to rapidly evolve our solutions-oriented technology globally, with a laser focus. We are already enhancing our technologies and tool fleet to meet demand, whilst opening offices in Australasia and North America. We are seeing exceptional growth with our revenues tripling in the last two years, in addition our organisation has tripled in size, and our customer base is evolving at pace.
"However, we will retain a bond with IK Group whilst wholly focusing on the Izomax business and expansion plans, and we have a huge admiration for the team at IK Group – not least for the investment, support and encouragement that has brought us to this exciting new stage in driving our company forward."