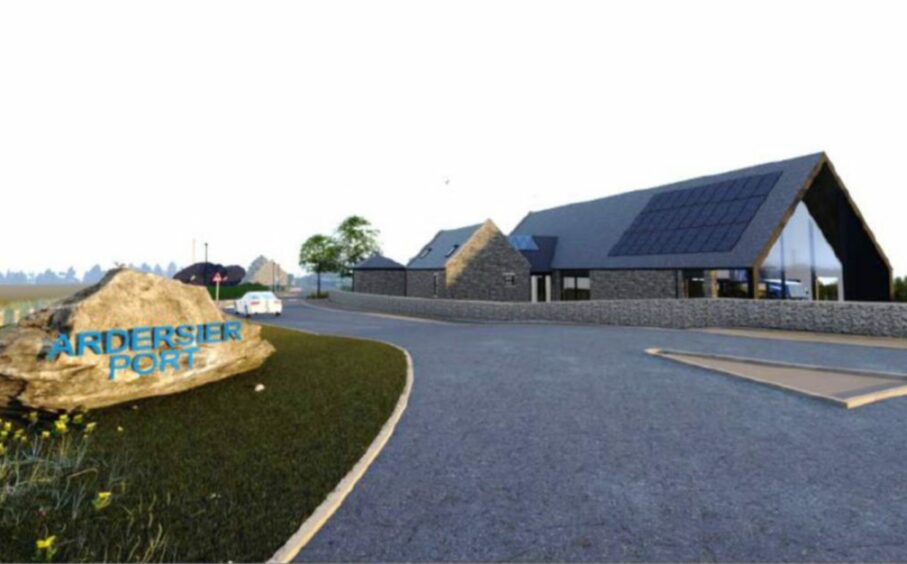 A new heritage centre and cafe are being planned for Ardersier Port to create a new entrance and mark its history as an oil yard.
The former McDermotts base was once a thriving offshore fabrication site employing thousands of people before closing in 2001.
It was acquired in 2016 by Ardersier Port Ltd which later renewed planning permission for port operations and energy-related uses.
The company has lodged plans for the first phase of long-term proposals, aiming to create an attractive entrance to the port for locals and visitors.
New entrance gateway and roundabout
The proposed heritage centre, made from traditional stone and slate, will be open for community use and includes a cafe and seating for visitors, walkers and cyclists.
Ardersier Port has acquired a McDermotts truck that was used in the development of the former yard.
This will be put on display in the centre along with a display of photographs and other materials relating to the former use of the site.
The plan also includes a new entrance gateway, security office and road improvements including a new roundabout junction at the port entrance, parking and two bus stops.
A new footpath, segregated from the main access road serving the port, is planned to provide access to the area to the east and west.
This will enable a connection through to the woodlands and existing informal paths to the west of the site.
It could also tie in with Highland Council aims to provide a coastal route between Inverness and Nairn.
The proposed footpath enables direct access to the heritage centre with parking facilities for cars, disabled access and cyclists.
Nicola Drummond, a planning consultant for the port, said: "The heritage centre is very much a community-based facility.
"We are working closely with Ardersier and Petty Community Council on working up the display which will be about marking the heritage of the site.
Further applications as port plan progresses
"The port owners want to make a start on the site once they have secured all the appropriate planning permissions.
"We are working towards submitting further planning applications as development of the port progresses."
The 400-acre site is earmarked as an energy transition facility which the owners say will create thousands of jobs.
Work includes dredging the equivalent of 1,000 swimming pools of sand to open up the massive port again.
Longer-term proposals include an oil rig decommissioning facility and a waste-from-energy recovery plant.
The site would also include a green steel plant, powered by offshore wind and energy from waste, a concrete production facility, using sand dredged from the port.
It is also proposed to have a dedicated floating wind hub for concrete floating wind foundation manufacturing.