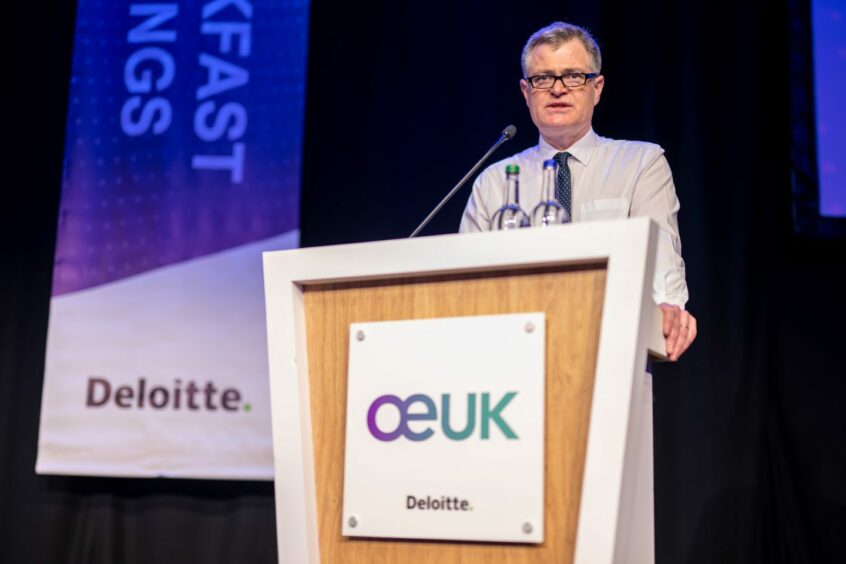 An industry boss has questioned the UK's ability to source the £1.4 trillion needed to zero out carbon emissions by 2050.
Chief executive of Offshore Energies UK (OEUK), David Whitehouse underlined policies in Europe, Asia and, "critically", the US, designed to attract inwards investment.
His comments, made at the launch of the trade body's latest business outlook report, come ahead of the UK Government's so-called 'Green Day'.
Scheduled for Thursday, Westminster is expected to make a series of energy policy announcements, potentially in Aberdeen.
As well as a revamped net zero strategy, the "energy security day" could include news about a windfall tax price floor, as well as carbon capture and storage.
The pressure is on the UK Government to respond to Joe Biden's inflation reduction act (IRA), a massive package of spending pledges aimed at attracting investors to the US.
Mr Whitehouse said: "Achieving net zero will take us many years, a huge amount of work and long-term planning across sectors. We will continue to need domestic oil and gas.
"It is estimated that over a staggering £1.4tn of investment will be required to decarbonise the UK economy. The bulk of that investment will come from private companies, private companies that have choices on where to invest.
"Across the world, in Europe, Asia, and critically USA, policy is in place to attract the investment necessary. We are in a global race for energy investment and the UK is falling behind. At the moment, our report suggests, most UK operators are actually cutting investment.
"Our governments and politicians have climate goals that we fully support. That the public support. We need energy policy that supports those goals. We need the UK to be the great place to invest. We need our sector to be the best place to work. We need to continue to attract great people."
Asks before Green Day
To ensure the UK doesn't fall short is its decarbonisation push, OEUK has made a number of requests of government before Green Day.
They include recognising the importance of oil and gas, providing "timely support" for low carbon technologies, and for ministers to "work with industry to make it efficient to get things done".
Mr Whitehouse also delivered a rallying cry to those at the event, urging them to continue making the case for the oil and gas industry.
He said: "In these critical times, we want you, our members – all of you in this room – to be confident that we are out there making that case. But we all need to act together. We need you.
"If you are proud of the industry, proud that we provide decent jobs, energy security. Please speak up.
"If you are proud that we are decarbonising our production, we are in action on the energy transition, on anchoring supply chain opportunities in the UK. Please speak up.
"If you are proud of the jobs and communities we support. Please speak up. Critical times lie ahead."
Biz outlook 2023
OEUK launched the latest edition of its business outlook report on Tuesday, setting out in-depth analysis of the UK's current and future energy needs.
It found that, while the North Sea has the skills and money to drive the net zero push, there are shackles on its ability to do so.
Chief amongst them is the North Sea windfall tax, though there is cautious optimism that amendments to the policy are in the pipeline.
Mr Whitehouse said: "Taxes imposed on North Sea oil and gas operators, under which their overall tax rate has risen from 40% to 75% in just 10 months. Offshore wind operators face a similar tax, rated at 45%. Both taxes will remain in place even as oil and gas prices drop till 2028 as it stands.
"Those tax rises make it much more difficult to finance new projects. There are other headwinds.
"The Labour party has floated proposals to backdate and raise the tax, and remove most tax allowances, should it win power. Those proposals if enacted will undermine our sector further.
"We should not forget that the headlines we see, the statements we read, also undermine the 200,000 decent people whose jobs depend on the sector."
Recommended for you

Scottish energy minister lambasts 'tone deaf' Labour North Sea policy