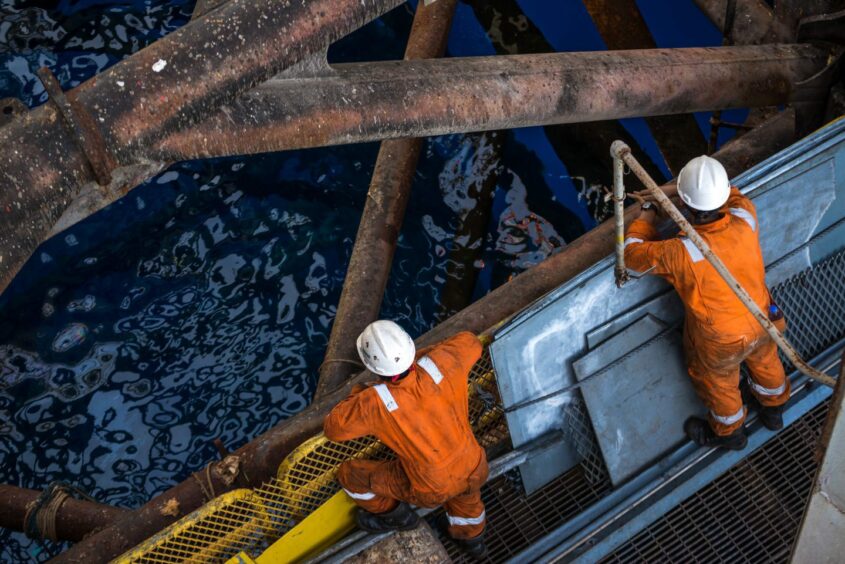 Unite has revealed the dates on which a "tsunami" of industrial unrest will hit the North Sea, with hundreds of workers due to down tools.
According to Unite, 1350 of its members will walk out between April 24 and 26, with the trade union describing the action as "unprecedented".
It also claims many platforms, operated by the likes of BP, Shell and Harbour Energy, will likely be brought to a standstill, threatening the UK's energy security.
The dispute, which includes workers from Bilfinger UK, Petrofac, Stork, Sparrows and Worley, centres on pay.
Among those that will be striking includes electrical, production and mechanical technicians in addition to deck crew, scaffolders crane operators, pipefitters, platers, and riggers.
It is understood Energy Services Agreement (ESA) unions the RMT and GMB have also balloted members across a number of companies as unrest in the basin comes to a head.
That's despite members of the collective bargaining agreement recently pledging to promote "stable industrial relations" for energy security.
Unite general secretary, Sharon Graham, said: "Oil and gas companies in the offshore sector are enjoying record windfall profits. There's no question that contractors and operators can easily afford to give Unite members a decent pay rise. The scale of corporate greed in the offshore sector has to be challenged.
"1350 offshore workers will now take part in an unprecedented tsunami of industrial action over 48 hours with hundreds more set to join them.
"Unite will support all our members every step of the way in this fight for better jobs, pay and conditions".
Background
Strikes have been a dime a dozen in the North Sea for more than a year now, as workers seek to secure better pay in the face of the UK's cost-of-living crisis.
Adding fuel to the fire has been the eye watering profits posted by oil companies in recent months, with BP and Shell reporting record annual takings.
Unite recently blasted the UK Government for its "inaction on taxing" companies, despite the 75% windfall tax that is currently in place.
Issues around three weeks on, three weeks off shift patterns have also come to the fore again.
John Boland, Unite industrial officer, added: "Unite has received an emphatic mandate in support of strike action. It is historic and it will be the biggest offshore stoppage in a generation.
"Unite's members are determined to get their fair share and to establish a better working environment. This is not exclusively about pay but also working rotas, holidays, and offshore safety.
"The workforce has been taken for granted for years but now their value will be acutely felt when strike action will bring dozens of platforms to a standstill."
Specifics
Around 700 offshore workers at Bilfinger UK will down tools as part of a pay dispute. They are demanding an increase above the base rate of pay set in the Energy Services Agreement (ESA) for 2022. 48-hour strike action will take place starting from 00:01am on 24th April to 23.59pm on the 25th April.
Over 360 Stork construction workers will also take strike action in a dispute over working rotas and rates of pay. 48-hour strike action will take place starting from 6.30am on Monday 24 April until 6.29am on Wednesday 26 April.
Around 50 Unite members employed by Petrofac on the Ithaca Energy FPF1 platform will take strike action in a dispute over imposed clawback days. According to the union, offshore workers can be asked to work at any time for no additional payment. Ithaca allegedly has a 'clawback' policy of 14 days, double the industry norm of 7 days. 48-hour strike action will take place starting from 6am on Monday 24 April until 5.59am on Wednesday 26 April.
In addition, around 50 Unite members employed Worley will strike in a dispute over a base rate increase of £7 per hour, and standby payments to be 12-hours full pay. The workers are based on Harbour Energy platforms – Britannia, Jade, Judy and Jasmine. 48-hour strike action will take place starting from 6am on Monday 24 April until 5.59am on Wednesday 26 April.
Unite also has strike mandates at Petrofac covering around 100 members on BP assets, and over 80 members employed by Wood on TAQA assets, but no strike dates have been announced in relation to these disputes.
Recommended for you

Unite plans 'hard-hitting' campaign to canvass energy workers