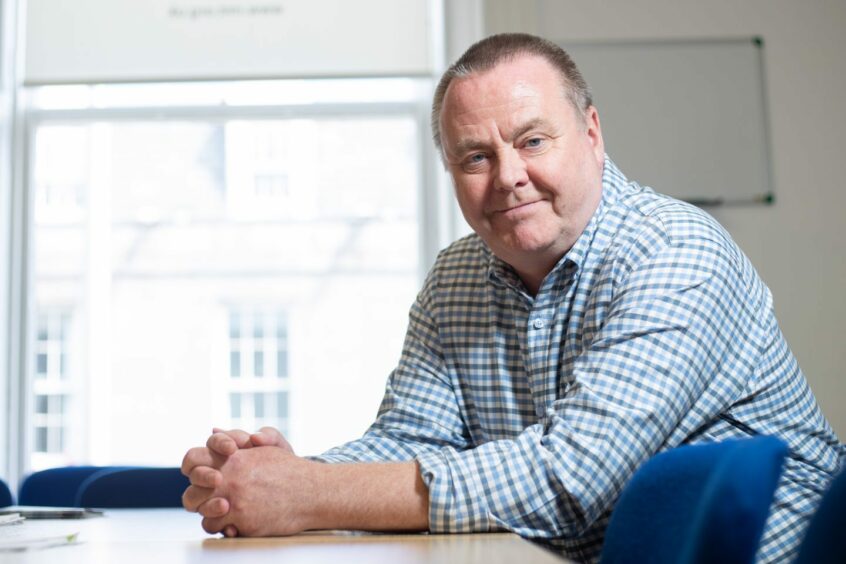 RMT union boss Jake Molloy has decided to bow out after more than 25 years in the job, and 17 years before that working offshore.
Mr Molloy has been a figurehead on key issues including health and safety during his time at the helm in RMT and, before that, the OilC (Offshore Industry Liaison Committee) trade union.
As well as representing workers during a series of recent industry downturns, he has been involved in supporting families over the course of several fatal accident inquiries during the last 20 years, including a spate of helicopter incidents.
Before becoming a trade union official he spent 17 years working across the industry, including time as a safety rep.
He said recent years have "taken their toll" mentally and physically, and around eight months ago decided not to run for re-election.
He is replaced by Ann Joss, whose background is in the rail sector, as regional organiser at RMT.
Speaking to Energy Voice, Mr Molloy was candid about needing a fresh start.
"It's just been full-on and at 63, and after 20-odd years, I thought to myself 'no, no this is needing a fresh set of eyes, it's needing someone new, younger blood to run with this'.
"Much as I've, for the most part, enjoyed it, it's taken its toll physically and mentally. I know that, I can feel it, so the body is saying 'enough is enough'".
Recent years have included two major downturns, a third of the industry being cut during the pandemic, the breakdown of the Offshore Contractors Association and the introduction of its replacement, the Energy Services Agreement.
There has since been the resurgence of oil in February 2022, inflation and, now, wide industrial unrest as workers – who took cuts during the previous downturns – seek a better deal.
The scale of industrial unrest "is a consequence of the last 10 years," says Molloy, for a workforce that "lived with the boom and bust" and "rolled with the punches" despite the downturns.
"You've got six or seven years of attrition, then you've got the pandemic, then you've got a third of the workforce paid off.
"Then we come out of it and the industry needs activity back up.
"The workforce is saying 'ok, we've taken the hit, do we get a share'? And the industry is saying no. That's a pretty difficult position.
That's created "a degree of fragility in the industry" when it doesn't need it, says Molloy.
Plumber to offshore safety rep
Mr Molloy, a plumber by trade, was "fitting a bathroom suite for a guy that was working for Chevron" when it was suggested he think about the offshore industry.
"Offshore? A plumber?" was his reply, not realising at the time the scale of the operations and the huge need for tradesmen.
He would eventually find himself, in 1980-81, on the Ninian Central with about 300 people offshore; "a small housing estate" in effect, with plenty of need for plumbers and other trades.
Molloy had never even flown, never mind got on a helicopter. And it was a quick process to get offshore back in those times.
He had thought he was going for a job interview when he arrived at a recruitment office on union street – but they handed him his boots, overalls, put him into a taxi and told to look for the Chevron desk at the airport.
"I'd never been on a plane, I'd never flown – what the hell is this?", was his thought on the first flight up to Shetland.
"It was a fourteen seater twin otter flight from Aberdeen to Unst. I was sitting behind the pilot and it was the scariest thing ever."
Then, the first chopper. It was a time before survival courses and HSE had taken hold of the sector.
"There was smoking on that as well. Everyone sitting with zips down, suits pulled out, smoking away – playing cards, I couldn't believe it – you were screaming because of the noise, playing cards on a flight.
"And then landing on Ninian Central, you're just agog. You're coming in to land and saying wow, what a monster."
Smoking on a flight offshore is, now, unthinkable with the HSE-heavy focus on today's industry.
Jake Molloy was a safety rep before ever becoming a trade union official, and safety remains a key passion for him.
But amid wide concerns about delayed maintenance, and evidence of serious HSE incidents taking place offshore today, Molloy reflects on the state of play for the sector which is now 35 years on since the Piper Alpha disaster.
"For us, the older guys, you know, Piper was the turning point and will always be the catalyst for everything that we do. Because we've, we've seen and felt that the horror of what can occur when it all goes wrong.
"A lot of the young guys coming in the industry now haven't really seen it, could never imagine it, just as we couldn't imagine it. You know? I mean, the idea that a platform would be lost…"
Today's safety systems should mean that a repeat of such an event "touch wood, is remote", but that doesn't mean letting HSE slip.
There have been serious gas leaks in recent times, and delayed maintenance could put a question mark over whether safety-critical systems – designed to prevent another Piper  – are working properly and could be impacted.
A lot of emotion and tragedy from heli incidents
Taking the skills shortage, climate challenge, and other factors around safety, Molloy sees a "thin line" the industry must tread to protect its social license.
"You've got that skills shortage, you've got the refusal – the intransigence  – of big operators to share out on the profit. You've got the climate stuff, you've got backlog stuff. And as I said at the last meeting I had with OEUK (Offshore Energies UK), we're walking a very thin line here because if, God forbid, we have another really bad one, game's a bogey. North Sea's done. You could literally pull the plug on it and say that's it.
"Investment goes, public confidence goes, political will goes against them. That's scary."
Reflecting on his time at RMT, Molloy remembers numerous fatal accident inquiries and the aftermath of major incidents – many linked to helicopter safety.
Super Puma crashes in 2009 and 2013 are among those that spring to mind, with "a lot of emotion and tragedy" stirred up.
"It was a pretty scary story going on behind the scenes. I remember one senior manager from one helicopter company, that will remain nameless, that said in his opinion – and many others in the industry – someone should have been in prison after the 2009 tragedy.
"Then later a pilot made the comment that, of the five events between 2009 – 2013 four of them could have been avoided if they'd applied the same standards as the company that he flew for. You're saying to yourself 'as much as we move forward, sometimes you just stand still or even go backwards'. That's tragic."
Next steps
The 63-year-old isn't sure what's next – but he's not retiring.
Will his opponents be chuffed he's stepping down? Some say he's "mellowed" over his time in terms of industrial relations.
Jake Molloy reckons that's just a reflection of "building a relationship" but he's never shied from the tough conversations either and there has been "a lot of locking horns" in years gone by.
He said he'd be "quite happy working in B&Q or something" but he's keen to keep his hand in the industry if he possibly can, particularly around the safety element which he has been so vocal about over the years.
What it will certainly mean is more time with the family – and maybe even some downtime.
"I've got four grandsons who I have missed growing up because of this job.
"I'm really looking forward to spending some time with them. I've seen them maybe once or twice a year since they were born. Certainly because of the downturn, the whole pandemic thing.
"So really looking forward to time with them, time with my son, with my daughter, and their families and – hopefully – get my fishing rod out.
"I've not had that out for a long, long time and I'd love to do a wee bit of fishing."
Recommended for you

UK Government looks beyond price for 'most impactful' CfD round yet