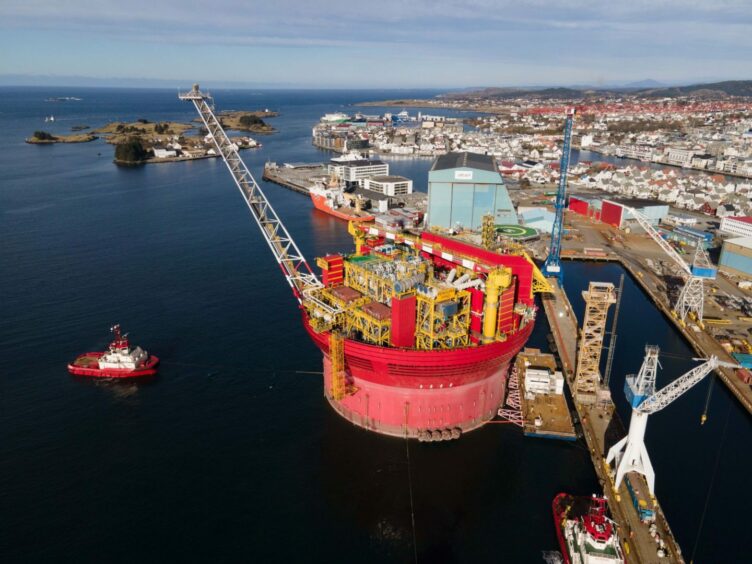 Shell would not be drawn on a sailaway and start-up date for its next North Sea development, with the Penguins  FPSO set to remain in Norway for several more months.
Located around 150 miles north-east of Shetland, Shell's (LON:SHEL) Penguins is a redevelopment of a former tie-back field to the Brent Charlie hub.
The project will see a total of eight wells drilled and tied back to a newbuild floating production storage and offload vessel (FPSO) – the oil giant's first new manned vessel in UK waters for 30 years.
Speaking to media in the wake of the supermajor's Q1 results on Thursday, chief financial officer Sinead Gorman said she could not provide a sailaway date for the vessel to start its final journey from Norway to the North Sea, adding that for now "there's still more work to do."
The FPSO is currently undergoing final preparation work at Aibel's yard in Haugesund Norway, expected to last a further three months or so.
First oil from the project had been expected last year, however construction delays have pushed the timetable back, with no official word on a revised start-up date.
Meanwhile the Ocean Endeavour rig has been cleared for further drilling at nearby Penguin East between April and December 2023.
However, its journey from China was far from smooth. While on board the Boskalis White Marlin transport vessel, Greenpeace protestors launched a protest occupation for 13 days prior to its arrival in Norway.
Among the six protestors on board was Imogen Michel, a Greenpeace activist from Ayrshire, Scotland, who spent over 290 hours aboard the vessel and travelled nearly 2,500 miles.
Though they later disembarked, the group's Southeast Asia executive director Yeb Sano addressed Shell CEO Wael Sawan directly, saying the occupation was "just the beginning."
Greenpeace said it had been hit with a legal claim for $120,000, over alleged damage caused by activists while onboard the FPSO.
It could spell further trouble for the supermajor when the vessel makes its final journey to its new home off Shetland.
Windfall tax payments
Penguins aside, Ms Gorman also pointed to the breadth of work carried out by the group across the basin in recent months.
"The North Sea is where you've of course seen plenty of action coming through whether it's the Jackdaw FID, Penguins and of course great to see Pierce up and running after its re-phase bringing double the volumes it was doing before, particularly gas in at the moment when it's most needed," she added.
She also fielded questions on the supermajor's expected tax payments under the Energy Profits Levy (EPL).
Though she noted that EPL payments were made in tranches over a period of time, she said the company expects to pay more than $500 million for the 2023 calendar year, as part of a wider total UK tax charge of "over $1bn".
It follows EPL payments totalling $134m up to the end of December 2022.
Rival BP confirmed last week that it had now paid over $1bn in windfall taxes, with $700m paid last year and $300m in Q1.
Meanwhile Friday saw the company launch a six-month marketing process for its 30% stake in the Cambo oilfield in the West of Shetland, after striking a deal with operator Ithaca Energy (70%).
Recommended for you

Greenpeace blockades Shell terminal in the Philippines