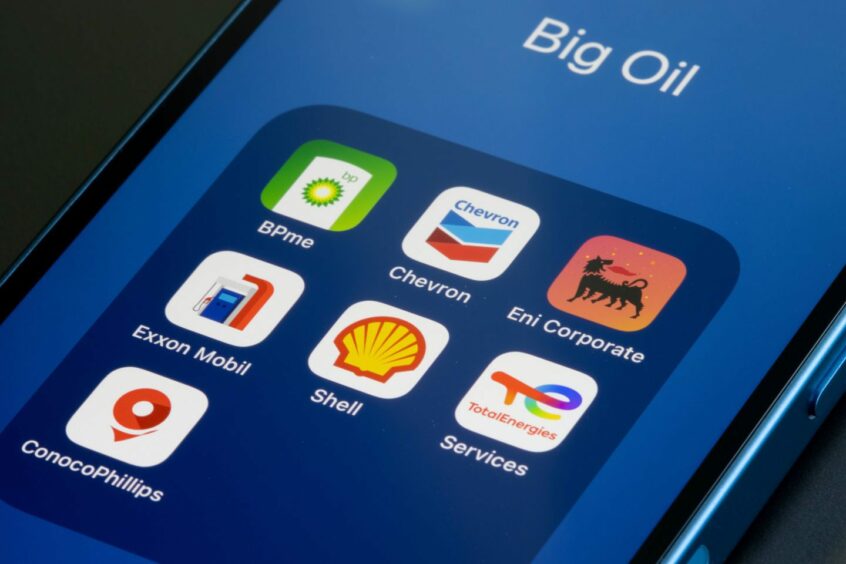 Emissions from oil and gas produced in the UK are projected to increase by 2030 for some companies, new analysis has found.
The UN has said global greenhouse gas emissions must peak by 2025 at the latest and decrease by 43% by 2030 to limit global temperature rise to 1.5C (2.7F) above pre-industrial levels – the target set in the Paris Agreement.
Data from Rystad Energy and analysed by Global Witness has revealed that five companies – Shell, BP, Equinor, Chevron and the Israeli conglomerate Delek Group – are set to increase their scope three emissions by the end of the decade.
These refer to companies' indirect emissions, such as those which come from the use of the oil and gas they produce and sell.
Many fossil fuel companies do not include scope three emissions in their net zero strategies, committing to decarbonising their operations only.
Out of the top 10 oil and gas producers in the UK, it is predicted these five companies will increase emissions while the others will decrease.
All 10 together are set to emit 725 million tonnes of CO2 between now and 2030, with Shell and BP responsible for around 36% of the total.
Alexander Kirk, fossil fuels campaigner at Global Witness, said: "Big oil saying that scope three doesn't count is like arms dealers saying they don't pull the trigger.
"Oil and gas is produced to be burnt, just like weapons are made for warfare. If we continue burning fossil fuels at current rates, then humanity is driving itself off a cliff-edge."
A spokesperson from Shell said it was committed to becoming a net zero energy company, adding: "By the end of last year we reduced emissions from our operations by 30% compared with 2016 on a net basis.
"That's more than halfway towards our 2030 target of reducing them by 50%.
"Over that same period, the net carbon intensity of the energy products we sell fell by nearly 4% while the net carbon intensity of the global energy system fell by around 2% – according to our analysis of International Energy Agency data."
Offshore Energies UK (OEUK), the industry representative for North Sea energy companies, said oil and gas is "essential" to the UK and will be needed "for many years", and that despite the rise in emissions for some companies overall UK Continental Shelf production is in decline.
Mark Wilson, OEUK's health, safety, environment and operations director, said: "For oil and gas companies, these scope three emissions arise predominantly from the use of our products in everyday lives.
"Oil and gas is essential to the UK: it powers homes, industries and transportation.
"The UK will require a level of oil and gas production for many years to meet the UK's energy needs and keep the lights on as low carbon energy systems develop – and to ensure we don't rely heavily on costly and energy intensive imports."
Speaking at a decarbonisation conference on Wednesday, renowned climate scientists professors David King and Johan Rockstrom warned that going beyond 1.5C will likely trigger irreversible tipping points that would lead to a collapse of life on Earth.
They said the Earth is currently on track to warm by 2.5C by 2100 which will completely melt the big ice sheets, thaw permafrost, destroy rainforests and lead to a collapse of marine life while rendering around a third of the equator uninhabitable for humans.
A spokesperson from the Department for Energy Security and Net Zero said: "There will continue to be ongoing demand for oil and gas over the coming years as we transition to lower carbon, more secure forms of energy generated in this country.
"Sourcing oil and gas domestically in the North Sea has a far lower carbon footprint than shipping it from abroad, and our oil and gas sector is well positioned to invest in clean technologies while protecting British jobs and expertise."
Many UK oil and gas giants have been dogged by chaotic annual general meetings in recent weeks amid conflicting investor pressure between those who want companies to capture profits and those who want to see faster action on emission reductions.
Shell and BP are among those who have faced tense AGMs, dominated by shouting protesters and shareholder rebellions over their climate strategies.
Richard Black of the Energy and Climate Intelligence Unit said: "These plans fall short in three different ways, starting with the fact that increasing oil and gas use is incompatible with the Paris Agreement, with science showing that carbon emissions need to halve this decade to keep the 1.5C target within reach.
"Companies with net zero targets, including BP, Shell, Total, Equinor and Chevron, should also be reflecting on last year's report from the UN Secretary-General's expert group which showed that to be credible a net zero target cannot include plans to open up new oil or gas production capacity."
Recommended for you

NSTA: £4bn of North Sea developments approved in 2023