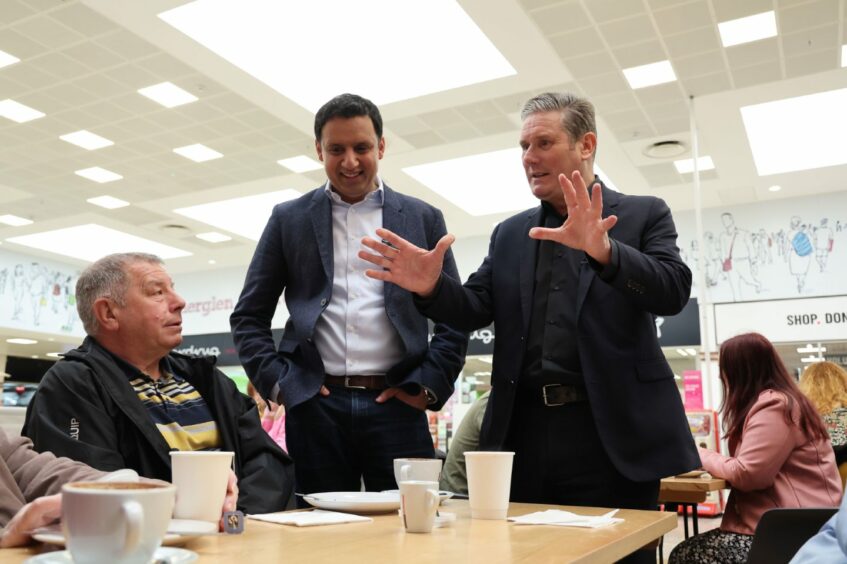 Scottish Labour leader Anas Sarwar has backed plans set out by Keir Starmer to end licensing for new oil and gas fields.
It follows reports over the weekend that the UK Labour leader would unveil the plan as part of a major net-zero energy policy announcement in Scotland in June.
The reports confirm a long-running message from Mr Starmer of Labour's intention to set a stop date for new investment and production in the North Sea.
The party has since said it will only commit to existing licences, while Labour's shadow work and pensions secretary Jonathan Ashworth told Sky News on Sunday that its focus would be on ensuring current developments are managed "sustainably".
The plans were roundly criticised by the industry, including by Offshore Energies UK (OEUK) chief executive David Whitehouse, who said the sector had received the proposals with "deep concern."
Aberdeen and Grampian Chamber of Commerce policy director Ryan Crighton described it as a "pie in the sky strategy" which had been made with "zero engagement with the industry, or the region."
The Scottish Conservatives said the plans were "nothing short of a gut punch to the industry and tens of thousands of Scots who work in it," while shadow energy secretary Liam Kerr said Mr Sarwar and the party must clarify their position.
No 'cliff edge'
In response, Scottish Labour representatives said it would not pursue a "cliff edge" stop for the sector.
A Scottish Labour spokeswoman said: "Labour will not impose a cliff edge end to oil and gas production while we transform the UK into a clean energy superpower – existing licences will continue and using existing wells sensibly is baked into our plans.
"Labour is committed to a just transition that works for all of our communities – lowering bills for good and creating tens of thousands of skilled, long-term jobs in Scotland and across the UK."
Mr Starmer's policy brings Labour roughly into line with the SNP which, under First Minister Humza Yousaf holds a presumption against further North Sea drilling as part of its draft energy strategy
Asked for his stance on future drilling earlier this month, Mr Yousaf said there should be "no new extraction" of North Sea oil and gas, unless there is a "good reason to do so".
'Economically illiterate' to rely on imports
However Scottish Labour Executive member and Aberdeen councillor Deena Tissera vowed on Tuesday that the party would not "turn its back" on the north-east energy sector.
"If Aberdeen is to retain the Energy Capital of Europe title, it must work closely with the oil, gas, and renewable sector to embrace a successful energy transition. Aberdeen has a unique skilled workforce that is leading the way in moving towards renewable just transition," she said.
"All of us want to see Labour commit towards more renewable sources of energy by investing in the green jobs of the future, however we must remember that hundreds of thousands of jobs remain within the oil and gas industry and that we cannot turn our back on a sector which has supported UK PLC through the difficult times."
She added that it would be "economically illiterate" to import oil and gas while resources remain in the North Sea.
"It is vital that the oil and gas industry works with Labour to ensure that the priority of the UK matches the serious change needed to protect our environment whilst we move towards just transition.
"It is refreshing to see Sir Keir Starmer does not intend to strangle the oil and gas sector as some have predicted but to work with the oil and gas sector to transform the UK into a clean energy superpower with Aberdeen being at the heart of that promise."
OEUK's Whitehouse said he had personal assurances from Mr Starmer that he would engage with the industry in the coming days with further details on the plan, ahead of any formal announcement.
Recommended for you

Sir Keir Starmer 'no show' in Aberdeen despite promised summer visit