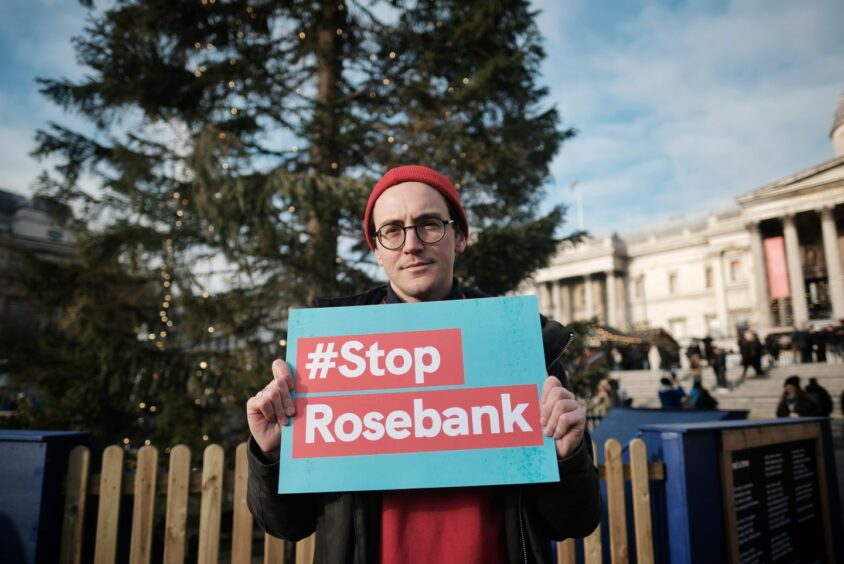 Campaigners have written to the UK government and regulators warning they intend to initiate legal action if development of Equinor's Rosebank field is approved.
Formal permission for the 300-million-barrel development west of Shetland is widely expected within days, after a long-running deliberation process that has seen numerous political showdowns and protests by opposition groups.
Campaign group Uplift now says it has written to both Secretary of State Grant Shapps and the North Sea Transition Authority (NSTA), stating it has "strong grounds" to make the case that an approval of Rosebank "would be unlawful."
Uplift claims there are potential failures in ensuring a "transparent and participatory" decision-making process, and that development of the project may be incompatible with the UK's climate targets.
The group also alleges the government has potentially failed to assess the full environmental impact caused by the burning of oil produced at the field, and its wider impact on the marine environment.
In particular, the group has pointed to the project's development plan which includes laying a pipeline through the Faroe-Shetland Sponge Belt – a protected area of the North Sea. It says doing so would impact the "fragile ecosystem" of the region, affecting rare marine creatures like sea sponges and quahogs.
A spokesman for the Department for Energy Security and Net Zero said: "The UK's climate commitments are set in law. As a net importer of oil and gas and a fast-declining producer, new oil and gas licences simply reduce the fall in the UK supply; they do not increase it on current levels."
The department said proposals for new fields are a matter for the regulators and are subject to "extensive scrutiny" – including environmental impact assessments and public consultation – and that the NSTA is responsible for any final decision on whether or not to approve a field development proposal.
"That decision has not yet been made," the spokesman added.
Only in a 'parallel universe' should Rosebank not get go-ahead, says UK energy minister
'Calamitous' impact
In a House of Commons session earlier this week UK energy security minister Graham Stuart said that only in a "parallel universe" would it make sense not to approve the project.
However, Green Party MP Caroline Lucas contested that doing so would be a "last ditch, desperate attempt to justify propping up the fossil fuel industry".
Equinor – which operates the project alongside minority partner Ithaca Energy – has pushed back a final investment decision (FID) on Rosebank on a number of occasions, but is now expected to make a call this year unlocking a promised £8.1bn investment and more than 1,600 jobs.
Tessa Khan, climate lawyer and executive director of Uplift said: "We have repeatedly raised concerns about the calamitous environmental impacts of Rosebank but this government seems determined to bury its head in the sand.
"Aside from the abundant evidence that new oil and gas projects are incompatible with a safe climate, the approach that the government is taking to a decision on Rosebank gives us strong grounds to believe that an approval of the project would be unlawful.
"Our planet can no longer sustain new oil and gas and our broken energy system in the UK certainly can't. Given that our addiction to fossil fuels is at the root of the energy crisis facing this country, this government should be 100% focused on ways to lower UK energy bills.
The NSTA has previously said it has "full confidence" in data which shows the oil and gas sector is "on track" to reaching its emissions reduction target by the end of the decade, if not surpass it, even including the impact of new fields.
Other opponents 'stand ready'
Uplift's warning is the latest in an increasing number of legal challenges over North Sea oil and gas development.
Greenpeace has launched a series of actions against the government in recent months, over both its continuation of new licensing for North sea exploration and its decision to approve development of Shell's Jackdaw field.
The latter request for a judicial review is expected to reach court at some point next year, pending the outcome of a separate case brought against Surrey County Council in the Supreme Court.
At the time the activist organisation said it was "closely monitoring developments" on proposals for new fields including Cambo and Rosebank, and "stand[s] ready to challenge the government any time they unlawfully approve new oil and gas."
Recommended for you

Ithaca welcomes 'strategic progress' on Cambo, Rosebank in Q3