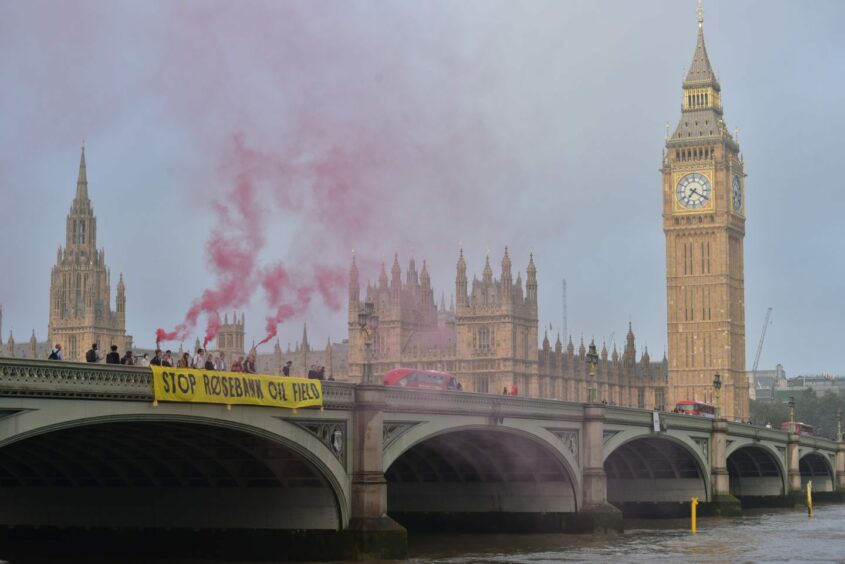 Activists from campaign group Fossil Free London hung a banner calling for a halt to the Rosebank oil field on Monday morning ahead of MPs' return to parliament.
The group hung the 15-metre banner reading 'Stop Rosebank Oil Field' from Westminster Bridge during rush hour on Monday morning, accompanied by red smoke flares.
The stunt comes as MPs return to parliament after their summer recess and marks the latest in a series of actions aimed at halting development of the Equinor-backed field west of Shetland.
One of the largest untapped resources in UK waters, the field is currently awaiting final approval from government – a move that was widely expected before summer recess began.
Projected to produce 300 million barrels of oil, it remains a battleground for climate campaigners.
Citing figures from pressure group Uplift, Fossil Free members claim that the field would receive £3.75 billion in tax breaks and that burning the oil from Rosebank would produce the same emissions as the worlds' 28 lowest income countries combined.
Yet proponents, including UK energy security minister Graham Stuart, have argued that if not for the project, oil would be imported from overseas and that demand for oil and gas will persist, regardless of how much – or little – the UK produces.
Monday's stunt will form part of a wider campaign intended to culminate in three days of action against the Oil & Money summit – now dubbed the Energy Intelligence Forum – from 17-19 October.
Joanna Warrington, a spokeswoman for Fossil Free London, said: "Rishi Sunak wants to give billions of pounds of public money to a giant oil company in exchange for the climate time bomb, which will do absolutely nothing to lower our energy bills. It's reckless and absurd.
"People want clean, cheap renewable energy, but the government is on autopilot, handing money to their oily chums. Yet again, they are prioritising fossil fuel industry profits over a future safe from climate breakdown. We need to stop Rosebank and drive oily money out of our politics."
Meanwhile, further action will take place later on Monday as environmental campaigner Chris Packham leads a rally at Parliament Square which will call for an end to new fossil fuel licensing.
Today I'll be joining scientists outside Parliament as they meet with MPs returning from summer recess to inform them of the danger of persuing fossil fuels . . .

We are in deep , deep trouble & our message is clear: #TheOilPartyIsOverhttps://t.co/3TQerKKzpT pic.twitter.com/cABiUW4MeN

— Chris Packham (@ChrisGPackham) September 4, 2023
Big week for oil industry
In addition to the return from recess, this week also marks one of the oil and gas sector's largest events – Offshore Europe – in Aberdeen.
Chief executive of trade body Offshore Energies UK, David Whitehouse, said the event should spark a "national energy debate".
"Offshore Europe provides a key opportunity for engagement and discussion at a pivotal time for the sector," he noted.
"We must re-frame our national debate about energy from what we just stop to what we must start. I hope politicians and policy makers take the opportunity to hear first-hand from companies pioneering the technologies and collaborative approaches which can help tackle national challenges securing affordable, reliable and increasingly low carbon energy.
"The UK's offshore energy sector is expanding its skills and has plans and solutions which can deliver this shared future at pace."
Recommended for you

Businesses lambast 'historic mistake' as Sunak confirms net-zero policy slide