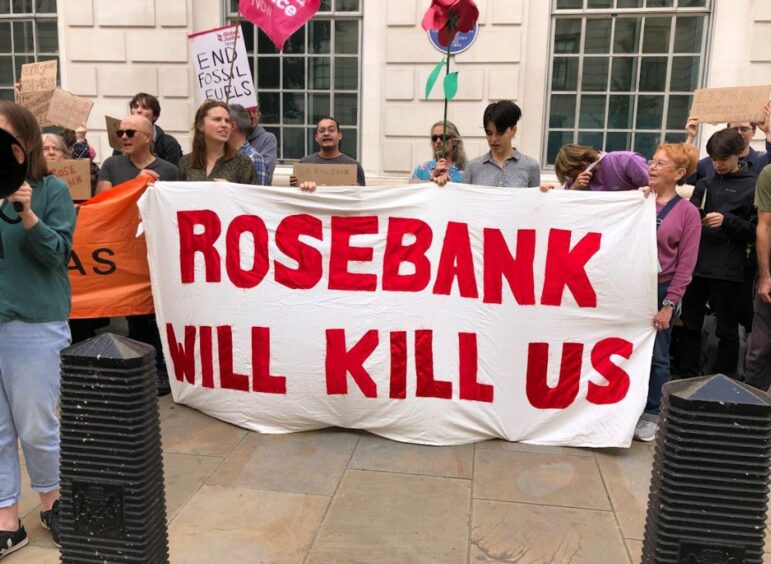 Anti-fossil fuel activists have launched spontaneous protests at government buildings London following the approval of the Rosebank oil field.
Fossil Free London, Stop Rosebank and other campaigners staged a "spontaneous protest" in Westminster on Wednesday morning, following news that the 300-million-barrel development had been signed off by UK regulators.
Campaigners rallied outside the Department for Energy Security and Net Zero on Whitehall Place in London, holding placards and setting off flares.
The development has garnered considerable opposition and various protests in recent months, including a major demonstration in London over the summer backed by climate campaigner Great Thunberg.
Critics have alleged the field's operators are in line to receive around £3.75 billion in tax breaks to develop the project – though this figure is unconfirmed – and that burning the oil produced would release the same emissions as the worlds' 28 lowest income countries combined.
Operator Equinor said it is "not tone deaf" to the debate around emissions from the oilfield, and warnings that no new upstream projects should be brought online if the world is to meet global warming targets.
Recognising the latest messages from the IEA, Equinor's Arne Gurtner said: "As long as society needs and demands oil and gas, Equinor will be there to produce that oil and gas with the lowest production emissions possible."
A spokesperson for Fossil Free London, Joanna Warrington, said: "Now all Rishi Sunak's anti net-zero posturing makes sense. Approving Rosebank is a sickening failure. He and his government are refusing to take the era of global boiling seriously, and failing to take action to bring down our unpayable energy bills.
"This disastrous new oil and gas will get sold internationally to the highest bidder, doing nothing to provide energy security. What we need is bold action – renewables and rapid home improvements to insulate this country.
"We need Rosebank like we need a hole in the head."
The campaigners have already called for another demonstration due to take place this Saturday at noon outside the same department.
Fossil Free London, who organised the protest, has also vowed to shut down the Energy Intelligence Forum in west London next month, where Equinor CEO Anders Opedal is due to speak, among a host of other oil and gas executives and financiers.
Meanwhile other campaign groups have vowed to contest the field via the courts.
Uplift now says it has written to both Secretary of State Grant Shapps and the North Sea Transition Authority (NSTA), stating it has "strong grounds" to make the case that an approval of Rosebank "would be unlawful."
Recommended for you

Ithaca welcomes 'strategic progress' on Cambo, Rosebank in Q3