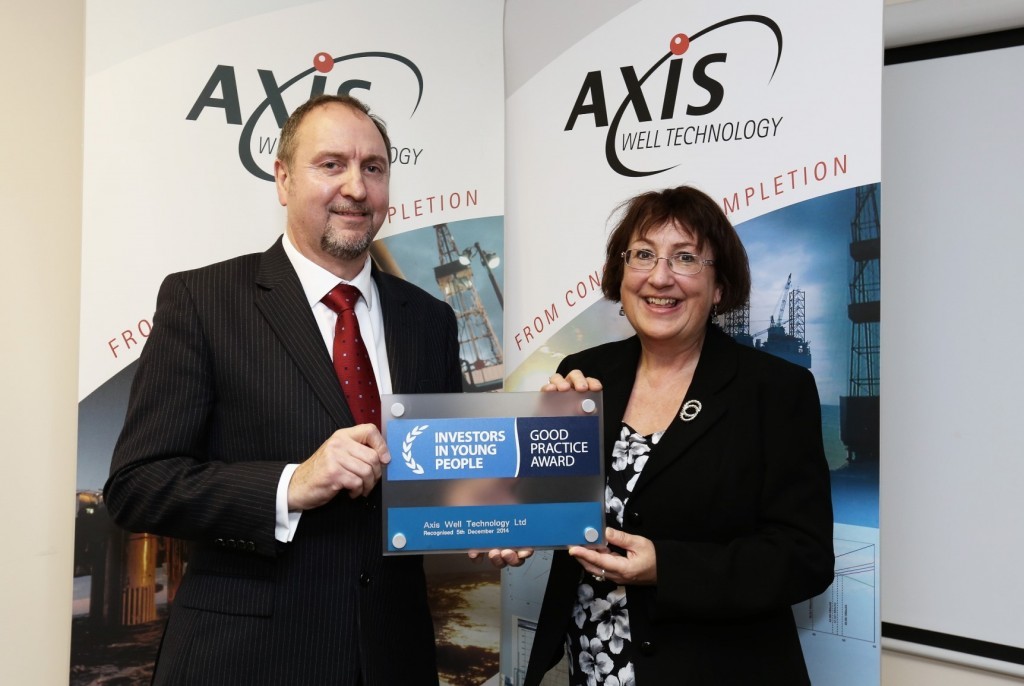 Aberdeen-based Axis Well Technology Ltd. has become one of the first organisations in the oil and gas sector to be recognised for its commitment to employing young people.
The organisation was presented with the Investors in Young People (IIYP) accreditation yesterday by Scottish Minister for Youth and Women's Employment, Annabelle Ewing MSP.
The IIYP scheme is supported by £1 million funding from the Scottish Government.
To mark the accreditation Ms Ewing visited Kettock Lodge, Bridge of Don to meet some of the young people recruited by Axis and to hear about some of the training and recognition they have received.
Speaking at the presentation Ms Ewing said: "I am delighted that Axis Well Technology has been recognised for its commitment to youth employment. Over the last few years Axis Well Technology has introduced a number of youth employment programmes for staff, undergraduates and graduates who want to pursue a career in one of Scotland's most crucial sectors – oil and gas.
"It is the perfect example of what companies in the energy sector can do. It offers recruitment and training opportunities and engages with the education system to provide good development opportunities for young people so they can plan ahead and develop long term plans and ambitions."
IIYP, Scotland's only people management award focusing on employers' recruitment and retention of young people, originated through a key recommendation from the Commission for Developing Scotland's Young Workforce, led by Sir Ian Wood. Offered to all businesses across Scotland, the award recognises and supports organisations in the employment of young people.
Peter Russian, Chief Executive of Investors in People added: "Axis Well Technology has excelled with their application and accreditation – we were extremely impressed by their commitment to their young workforce in the oil and gas sector.
"This is a fantastic achievement for them and I offer my heartfelt congratulations to the organisation. The Investors in Young People framework not only recognises and supports organisations in the employment of young people, but marks them out as an employer of choice.
"The benefits of recruiting and developing young people are countless. These include the creation of a talent pool for the future, new and increased skills, fresh eyes and mind-sets into business operations along with enthusiasm and unique talents."
Jim Anderson, chief executive of Axis Well Technology, said: "I am extremely proud that Axis has been able to lead the way in positive youth employment practices, by becoming one of the first employers in the oil and gas sector to be awarded the Investors in Young People accreditation.
"One of the biggest challenges businesses face is finding the right personnel to help them grow but we, along with IIYP, believe that recruitment and development of young people is a great way to build a dynamic and productive workforce.
"By attaining this accreditation Axis has proven itself to be an organisation that wants new ideas, modern viewpoints and energetic minds whilst committing to the realization of each individual's true potential.
"We are delighted that this has been recognized by IIYP as it demonstrates our unwavering commitment to young people by providing them with high quality work experience, funded education, and sustainable employment.
"Youth employment is a key pillar of our business plan and I am delighted that our work in this area has been recognised in this way."
Recommended for you

Can the oil and gas sector win friends and influence people in 2023?