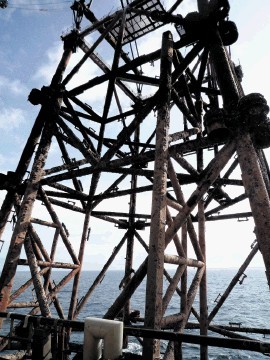 UK offshore oil and gas industry trade bodies Oil & Gas UK and Decom North Sea have pledge to deliver more joined-up working to deliver a more effective decommissioning agenda for the North Sea.
A collaborative approach – but with each body retaining its independence, geographical representation, brand and governance – was announced today in St Andrews at the Offshore Decommissioning Conference jointly organised by both OGUK and Decom North Sea.
The new partnership approach is set to begin next year with aim of streamlining cross-industry activities.
Karen Seath, Decom North Sea interim chief executive, said: "Working together more closely would be in the best interests of the industry, the regulator and the members of both Oil & Gas UK and Decom North Sea. We already work in tandem in areas such as the publication of guidelines."
Oil & Gas UK chief executive Deirdre Michie said: "Alignment on key areas will help ensure our industry stays focused on maximising economic recovery, while managing late life strategy and timely decommissioning in a safe, efficient and cost effective manner."
The importance of decommissioning in the context of maximising economic recovery from the North Sea has been highlighted in the Wood Review and by the Oil and Gas Authority's Call to Action.
The UK decommissioning sector is growing at a steady pace, with total expenditure expected to hit £16.9billion over the next decade, a new study shows.
Oil and Gas UK's 2015 Economic Report indicated decommissioning spend is likely to rise from £1 billion in 2014 to over £2 billion in 2018, by which time over 50 fields will either be approaching or undertaking decommissioning.
Recommended for you

Windfall tax could undermine net-zero investments, trade body warns