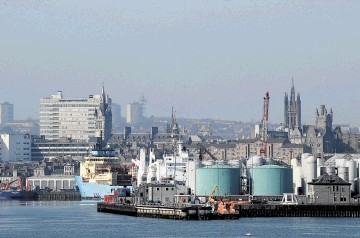 The trade body for the North Sea oil and gas sector has called for the industry to back the tenets of a new charter that outlines collaborative behaviours to achieve "transformational change".
A taskforce set up by Oil & Gas UK (OGUK) drew up the five-point Industry Behaviours Charter, which was signed off this week after gaining support from a cross-section of industry as well as the Oil and Gas Authority (OGA).
The charter was signed by OGUK chief executive Deirdre Michie, alongside the body's co-chairmen, Trevor Garlick of BP and John Pearson of Amec Foster Wheeler – who leads the Efficiency Task Force (ETF).
By signing, they agreed on behalf of their companies to: 1. Be an early adopter of efficiency initiatives and new technology, sharing learnings with others 2. Provide access to decision makers through a specific, fast access point, in order to escalate issues 3. Strengthen industry co-operation through continual improvement in and support for, industry codes of practice, forums and standards 4. Contribute to performance improvement by ensuring transparent and time-bound legal, commercial and contractual engagements 5. Commit to continuous improvement through regular review of the delivery of this Charter, across all levels of my business.
Sir Ian Wood, whose review of the industry recommended greater co-ordination of activities and collaboration, welcomed the agreement.
He said: "There is absolutely no doubt that the drive to industry collaboration and greater efficiency needs an Industry Behaviours Charter and it's great that the Efficiency Task Force has now brought this out.
"Achieving the essential collaboration requires a change in behaviours both between operators and also with the supply chain.
"The good thing is the charter goes well beyond the obvious headlines and identifies some of the key areas of behaviour that will require changing, indeed are beginning to change, but the charter will undoubtedly enhance the process and provide constructive guidelines on how business should and must be conducted.
"If the industry really takes this to heart, and I believe they will, then it will be a big step ahead."
Michie said: "Improving the performance of this industry will only come about through real collaboration between operators, major contractors and SMEs, embedding new ways of working and creating new business models.
"The EFT aims to support that shift and the Industry Behaviours Charter, which has the full backing of the Oil & Gas UK board, will be one of its principal mechanisms.
"We need the rest of industry to get fully behind it, taking the principles and incorporating them within their own organisations to help deliver a safe, competitive and enduring future for our sector."
Andy Samuel, OGA's chief executive, said: "Cultural change and greater collaboration is needed, more than ever, to reinvigorate the basin and drive simplicity and efficiency.
"It is great to see industry making this commitment."
Recommended for you

Oil tycoon Sir Ian Wood on Sunday Times Rich List 2022