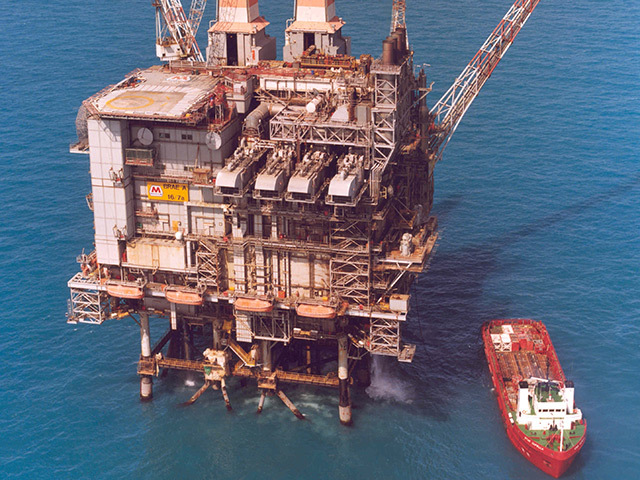 Marathon's Brae Alpha platform remains out of operation while investigations continue into the cause of a gas leak on board the installation.
Production was shutdown after the alarm was raised late afternoon on Boxing Day.
No-one was injured following the incident.
Two helicopters were mobilised by the Coastguard in Aberdeen but both aircraft were stood down and returned to base without landing on the platform.
A Marathon spokesman said the relevant authorities had been notified and the cause of the incident was being investigated.
He said: "Marathon Oil UK LLC confirms that its Brae Alpha installation has been shut down at approximately 16.35 hrs on December 26, 2015 as a result of a natural gas release.
"The safety and welfare of our workforce is our first priority, and all personnel on board are safe and accounted for. The situation is under investigation and the relevant authorities have been notified.
"The Brae Alpha Platform is located in block 16/07a, approximately 155 miles (248km) north-east of Aberdeen."
The Brae Alpha started production in July 1983.
The installation and its neighbour, the Brae Bravo, suffered from a power outage this time last year (2014).
A total of 75 non-essential personnel were taken off the platforms following the loss of power just days before Christmas
RMT regional organiser Jake Molloy said that it could have been a serious incident if there had been an ignition source near the gas.
And he said that the incident would lend itself to arguments against making cuts to jobs and extending staff hours in the wake of slumped oil prices.
Mr Molloy said: "It sounds quite serious. The initial feedback was that they were very lucky there was no ignition source.
"We will have to wait for the investigation but I think the inevitable response from the workforce will be along the lines of what we are seeing, which is that cuts don't work.
"Cutting staff, extending hours and an increasing maintenance backlog does not work.
"We have been saying it since this madness started. We have been saying it would affect production, that it would not be more efficient and in actual fact it would be less so – and from a workforce perspective this is evidence of that."
Recommended for you

Platform crew attempted rescue during fatal GoM helicopter crash