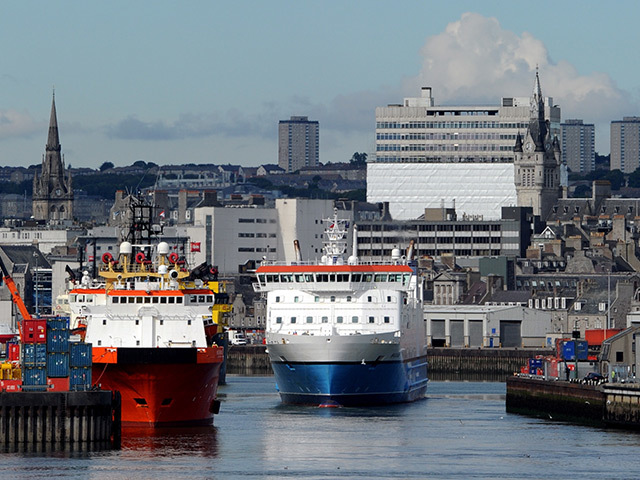 Ports in the north-east of Scotland must band together with their UK neighbours to fend off the challenge from Norway and the Netherlands for decommissioning work.
Deirdre Michie, chief executive of Oil and Gas UK (OGUK), warned yesterday that it would be a mistake for yards along the UK's east coast to treat each other as competitors.
Mrs Michie said UK ports needed to work out "where they fit" to make sure they can all capitalise on a market thought to be worth about £50billion over the next three decades.
She said decommissioning was still in its "infancy" as a market segment.
But some major jobs are close to getting under way, including the removal and dismantling of Shell's Brent Delta topside.
Many ports and yards skirting the UK's North Sea coast have invested heavily in facilities to help them vie for a slice of the pie.
Aberdeen Harbour Board plans to spend £415million on expanding into Nigg Bay to help anchor decommissioning activity in the north-east.
But UK ports received a blow earlier this year when the contract for Maersk's Janice floating production unit went to a port in Norway, a country which benefits from having ultra-deep-water berths.
Mrs Michie said: "There has been a lot of speculation that decommissioning could bring a second North Sea boom.
"It does present commercial opportunities but we must bear in mind it's essentially a low margin, one-off business and our handling of this growing market needs to reflect that.
"I think the efforts of Peterhead to position itself as a decommissioning centre of excellence are spot on, because we should be aiming to develop places like Peterhead and the UK itself so that they can deliver supply chain jobs in this country. We do our own decommissioning and we export our expertise globally.
"I do think it's important that we join up on this and we remind ourselves that, when it comes to decommissioning, the competition is Norway and the Netherlands − and it's not other areas in the UK."
Mrs Michie was speaking at a Peterhead Energy Hub (PEH) exhibition and lunch event in Boddam.
PEH is a partnership between Peterhead Port Authority (PPA) and oilfield service firm Asco which aims to establish the town as a centre of excellence for renewable energy, decommissioning and subsea industries.
About 120 people attended the event at the Buchan Braes Hotel, which showcased 10 businesses and organisations from the Peterhead area.
Presentations were delivered by Mrs Michie, PPA chief executive Ian Laidlaw and Leif Delp, Statoil's project manager for a floating wind farm expected to start producing electricity next year.
Mr Laidlaw revealed site work in preparation for Peterhead's harbour deepening project would start next week.
The inner harbours at Peterhead will be deepened to 21ft from 11.5ft as part of a £50million redevelopment programme aimed at keeping the port at the forefront of the fishing industry.
Mr Laidlaw said deepening the berths would allow more fishing vessels to move into the inner harbour, freeing up more space for large offshore service and supply ships.
Mr Delp told the audience there would be plenty of opportunities for the north-east supply chain to benefit from Hywind, a pilot project that will consist of five floating turbines operating about 15 miles off Peterhead.
Mr Delp said Statoil had looked at other areas such as the west coast of Scotland and the east coast of the US before choosing Peterhead as the base for Hywind.
The infrastructure in and around Peterhead and the strength its oil and gas and renewables supply chain tipped the balance in the Aberdeenshire town's favour, he said.
Statoil has already awarded the contract for the turbines to Siemens, but Mr Delp said there was still a chance to win deals for a range of maintenance jobs and onshore civil work.