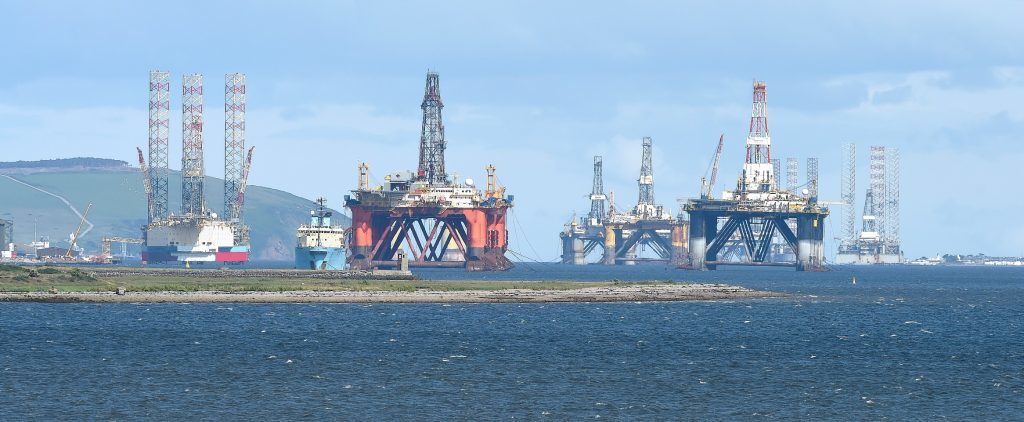 The owner of Invergordon Service Base is launching a bid to attract North Sea decommissioning work to the facility.
The Cromarty Firth Port Authority (CFPA) is carrying out environmental impact assessments and preparing to apply for the necessary Pollution Protection and Control (PPC) licences.
CFPA Bob Buskie said gearing up for decommissioning projects was a key part of efforts to diversify the port during the continuing energy sector downturn.
The port's role as a facility for upgrading, inspecting, repairing and maintaining rigs has been badly hit by the downturn and there are currently 14 semi-submersibles and jack-ups stacked in the firth.
Mr Buskie said: "The big push we have on here now is to ensure that we are in the focus for the decommissioning work if that were to happen. It's a big chunk of work that is going to happen over the years to come and we are doing what we can in terms of making the port ready.
"We are going through the environmental impact assessments and looking at obtaining PPC licences to make sure that we can handle offshore structures as and when they are required to be decommissioned. There is a lot of emphasis going into that side of the business."
Mr Buskie said he believed it was unlikely there would be a significant upturn in inspection, repair and maintenance or subsea fabrication work in the firth for the next couple of years.
He added: "The decommissioning work, if it comes, will generate a number of jobs, but not at the same level as the jobs that were here when the industry was booming. The port is diversifying and we are looking at other sectors like our cruise sector, which has been doing really well.
"People are used to the offshore oil and gas type of work. That has dried up for a lot of people of late and the big challenge is to find out what we can do to supplant that and make it sustainable.
"There will be projects for offshore wind coming through, but again it doesn't necessarily create the number of jobs we get in the rig upgrade and subsea world. But, it's opportunity, so we are trying to make the best of the situation across all the different vertical markets to try and help create as many jobs as we can."
During a recent visit to Invergordon, Oil and Gas UK chief executive Deirdre Michie said decommissioning work represented an opportunity for the port.
Ms Michie said: "Our focus is on maximising economic recovery and pushing this industry out as far as we can and then decommissioning when the time is right and doing it efficiently, cost-effectively and safely.
"But I do think there is an opportunity for the UK to become a centre of excellence and for ports like this to get in there and get the business."
Recommended for you

Aussie decommissioning hub gets strategic leadership boost