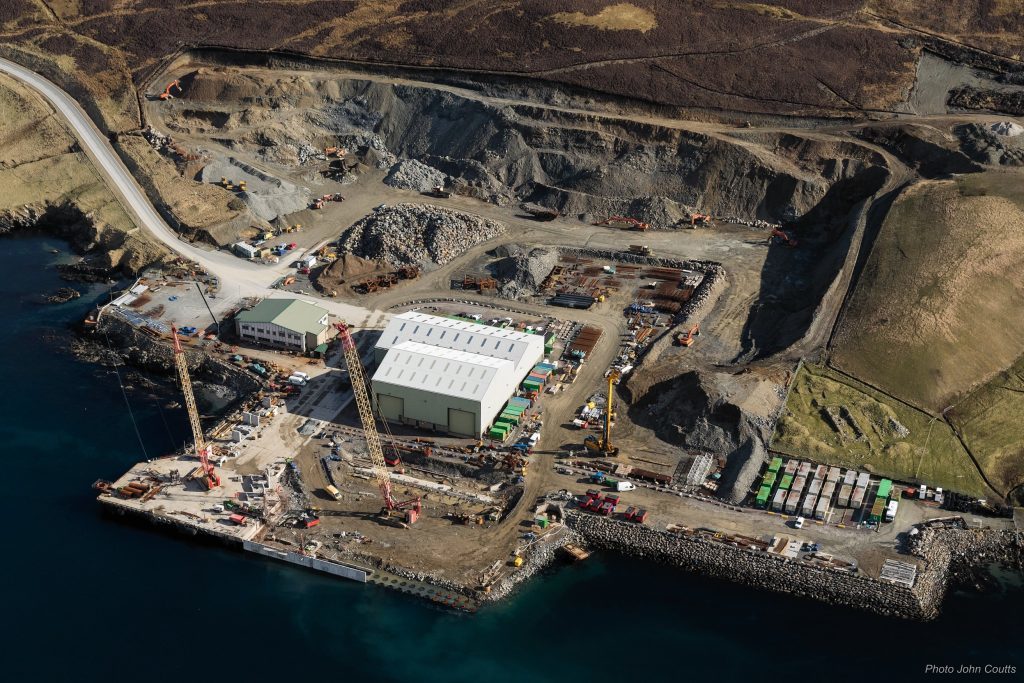 Bosses at Lerwick Port Authority (LPA) on Shetland see their workplace as Scotland's main base for decommissioning.
LPA chief executive Sandra Laurenson backs the claim with a reminder that Lerwick handled the single biggest piece of decommissioning work the UK has seen to date.
About 10 years ago, the module support frame for one of the Frigg field's platforms, a beast at almost 9,000tonnes, was delivered and dismantled at Lerwick's Greenhead base.
With that, the myth that the UK "hasn't done decommissioning before" is dispelled.
Lerwick has not rested on its laurels since then, either. An £11.95million extension of the Dales Voe quay has been completed this year.
It gives Dales Voe a quayside length of 127 metres and 40,000 square metres of laydown space to go with water depths of 12.5 metres – adding to attributes Lerwick already had.
LPA and supply chain partners plan to build a dedicated decommissioning yard at Dales Voe once contract awards start coming through.
Ms Laurenson said Shetland supply chain companies could comfortably provide the labour needed to staff the yard.
She also said being on an island was not a disadvantage, as most of the scrap produced by decommissioning is exported to smelters in Europe via sea.
She said: "The reason we're positioning ourselves for decommissioning is we've got something other east coast ports do not have: water depth, strength of quaysides for heavy lift jobs and laydown space.
"Dales Voe future-proofs us so we can capitalise on the pipeline of work that's coming through."
In many ways, the future is already here. In August, Allseas' giant, twin-hulled Pioneering Spirit vessel completed its first commercial single lift job, removing Repsol's Yme topside in one piece before taking it to Norway.
The Dales Voe upgrade means Lerwick could handle a job of that scale.
Lerwick is also one of the only ports in the UK doing reverse-installation heavy lift decommissioning.
This involves removing topsides one large module at a time. At Lerwick, the modules are brought ashore for dismantling via a barge transfer, as was the case with the Frigg module support frame.
Ms Laurenson also said a large volume of piece small work was taking place at Greenhead, which is operated by Peterson and Veolia Environmental Services.
They are currently decommissioning subsea infrastructure from BP's Schiehallion field west of Shetland.
LPA has also got future aspirations for constructing an ultra-deep-water quay, but is waiting for the market to ripen.
Ultra-deep facilities would enable crane vessels to lift heavy loads directly onto the quay, without the need for a barge transfer.
Ms Laurenson said: "We can't justify a speculative build of that nature at the moment. As the market grows there may be opportunities that arise and I do think the Scottish Government knows this is an area where we do not have the infrastructure."
She said that while investment in infrastructure was an important part of making sure the UK is competitive, most of the expenditure on decommissioning will be directed offshore.
She added: "There is a lot of misunderstanding about the numbers. The costs are huge but nearly all of that is offshore, whether that's well plugging and abandonment, platform shutdown and removal.
"The bit that ends up in a yard is only 2-3% of the total cost. Total onshore expenditure in Scotland between now and 2030 is between £200million and £800million according to Scottish Enterprise, so it's not the multibillions we see bandied around."
Read part one of our decommissioning series here.
Recommended for you

Lerwick Port reinforces lead role in decommissioning