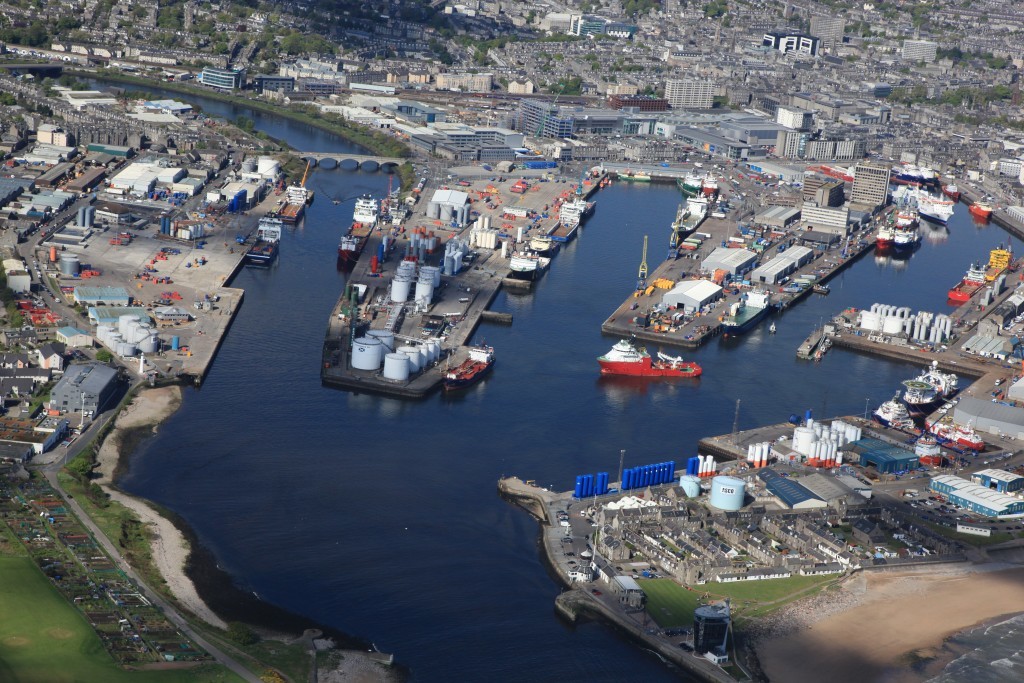 Despite having some of the most ambitious plans of any UK port, bosses at Aberdeen harbour are not getting carried away as far as decommissioning is concerned.
They accept they are not in the same market as ports which can take delivery of a whole topside.
But they are confident that a planned expansion into Nigg Bay, located to the south of the existing harbour, will make decommissioning an important part of the revenue mix.
Aberdeen Harbour Board (AHB) chief executive Colin Parker said the £415million development would also help the organisation target the renewables and cruise sectors.
And it will alleviate the demand for berthing space at the existing harbour, which has been bursting at the seams recently.
Mr Parker said: "We see Nigg as being a game changer in what we can offer many sectors, including decommissioning.
"But we'd be focusing on the supply chain that would use Nigg Bay as the most convenient port.
"Oil and gas has sustained activity in many harbours over the last 40 to 50 years.
"I never saw a platform being built in Aberdeen, but we have had years of support activity and that will continue many years to come.
"Geography will play a part in deciding where the work goes, but our strong suit is the supply chain that has built up around here over the last 40 to 50 years.
"If you look at Kingswells and Westhill and the subsea firms based there, this is the closest port to sail out of, and they view Nigg Bay very positively."
The development would provide an extra 1,400metres of quay, minimum water depths of 9metres, a wide entrance and turning circle, and a laydown area of more than 125,000square metres.
It would also have heavy lift capabilities, fully serviced berths, and the capability to accommodate larger vessels.
The project already has a preferred bidder for the role of contractor and is awaiting decisions from the Scottish Government on a harbour revision order and marine licences.
Mr Parker said the facilities would equip the port to take in larger structures for decommissioning.
However, a lot of the work Aberdeen hopes to welcome to an expanded harbour would be similar to what has gone before.
Previously, AHB has tended to host the decommissioning of smaller constructs and equipment brought ashore on services vessels.
Mr Parker said: "We've been involved in decommissioning for several years now. We would see a lot of equipment going out to platforms to prepare for decommissioning and pipes coming back to shore.
"You'll never see us doing a Brent topside, but Brent has had a lot of equipment going out there and back.
"Of a platform being decommissioned, 15% to 20% of what is being removed would come back on a supply vessel."
Decommissioning is a tricky business to quantify, Mr Parker said.
The return to shore of equipment from platforms and subsea networks is part and parcel of decommissioning.
But, much of the time, that work is termed as something else, usually scrap.
"A lot of metal will have come into Aberdeen harbour and gone out again as scrap exports," Mr Parker said.
"And it's not easy to recognise individual commodities in a manifest as oil equipment coming back as scrap."
Ultimately, the market will choose the best place for decommissioning, and Aberdeen harbour is keen to make sure it is in the running, Mr Parker said.
He said: "In the end, all ports will be interested in attracting activity.
"I'm not saying it'll be cut-throat, but if there are opportunities, ports will market their facilities to attract work.
"Some ports will see decommissioning as an opportunity and the market will choose what the best facility is, but we believe the scale of what we're offering at Nigg Bay is significant and attractive to the sector."
The series so far:
Part One: Turf wars and the North Sea's next 30 years
Part Two: Lerwick confident experience will tell in hunt for new work
Recommended for you

VIDEO: 'Absolutely game-changing' – MPs tour Aberdeen South Harbour