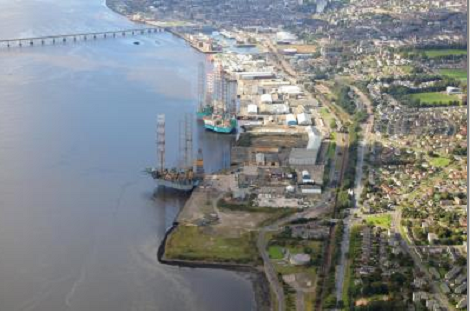 The Port of Dundee has laid its cards on the table, as far as its attitude towards decommissioning is concerned.
Bosses at Forth Ports, which owns the harbour, are investing heavily to make sure the facility is ready to go when the £50billion market segment comes to fruition.
By the end of 2017, Dundee will have completed a £10million extension of its quayside and a new decommissioning waste management facility will also be up and running.
It means the port will be ahead of the game compared to some of its north-east rivals, who are just preparing to embark on expansion projects.
Stuart Wallace, a divisional director at Forth Ports, said having the infrastructure in place early would be key to capitalising on North Sea industry's final phase.
Mr Wallace said: "Our view of decommissioning is that it is an emerging market. It is finding its feet technically and is driven by economic conditions.
"When cessation of production comes up, we believe we will have a great asset here and that we have the ability to help people with planning.
"We are investing up front to helps us create and develop a key market. We're also giving people an option on the east coast which is close to oil and gas fields.
"It means you can help shape the market from a stronger position when the market is ready to go."
The port expansion, announced in February, will lengthen the quayside by 650ft and involves the installation of an ultra-heavy lift pad for handling some of the bigger decommissioning jobs.
The quayside will have a strength capability of 80 tonnes per square metre, making it one of the strongest in Scotland.
The work is slated for completion in the third quarter of next year.
And just last month Forth Ports said it would team up with Augean North Sea Services to bring a 25,000sq ft material transfer facility to Dundee early next year.
Dundee Decommissioning Ltd, a subsidiary of Robertson Metals Recycling, has already established a base for recycling offshore structures within the port.
Dundee clearly sees decommissioning as a potential revenue generator, alongside offshore wind and its traditional activities in agriculture and timber.
Bosses also think a thriving supply chain can be built around the port, benefitting the city as a whole.
Ambitious figures for potential employment creation from decommissioning in Dundee have been bandied about − up to new 1,500 jobs in one instance.
But there are those who feel Dundee was largely bypassed by North Sea industry and still need convincing the port will fare any better with decommissioning.
Graham Huband, business editor at The Courier in Dundee, warned the hard work would only be starting once the new facilities are ready, and has argued that offshore wind should be prioritised ahead of decommissioning and repair, maintenance and inspection work.
But Mr Wallace feels Dundee is well placed in terms of geography and facilities and can be a player in the decommissioning market.
He said: "We believe there is room in the market for a number of players and we want to secure as much of that as we can in Scotland and the UK.
"When we make an investment we want to see a return on that."
The series so far:
Turf wars and the North Sea's next 30 years
Lerwick confident experience will tell in hunt for new work
Aberdeen harbour sees supply chain as its 'strong suit'
Gap between P&A and platform removal full of opportunities
Montrose to punch above its weight in decommissioning market
New simulator to 'massively reduce' well decommissioning costs
Recommended for you

Huge investment at Port of Cromarty Firth may swell to £330 million