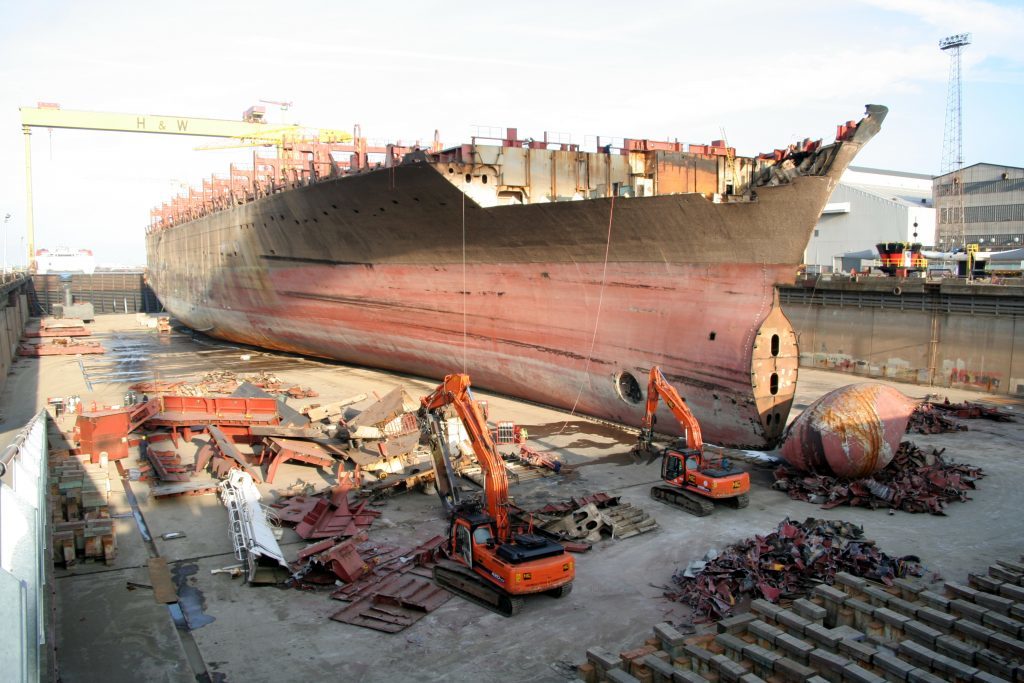 For many UK ports, creating the facilities needed for large-scale decommissioning projects is a quest they are just embarking on.
But for the Harland and Wolff (H&W) shipyard in Belfast, the asset it describes as the Holy Grail of ship decommissioning has been in place for many years.
The yard that built the Titanic has one of the biggest dry docks in the world, at 556metres in length and 93metres wide, about the same area as seven Wembley football pitches.
David McVeigh, general manager, sales marketing and business development, said the dock is an important feather in Belfast's cap.
Its thick, high walls are a physical barrier between the surrounding environment and oils and other contaminants that could accidentally spill.
It keeps H&W in line with the 1992 Basel Convention on the transfer and disposal of hazardous waste materials.
Ports with piers or slipways may have well thought out safeguards against spills, but from an environmental viewpoint, they cannot offer the same level of assurance on decommissioning.
H&W also has a waste management licence for ship and offshore unit recycling, not to mention the two giant yellow cranes, Samson and Goliath.
Mr McVeigh said H&W's offering means it should appeal to those who take their environmental responsibilities seriously.
He said: "Our facilities are huge. We have big quaysides and one of the biggest dry docks in the world. It means we can offer environmentally credible solutions.
"Some customers would place the economics above the environmental impact. We'll still see vessels going outside EU to places that are not as concerned about environmental issues as we are.
"If someone is looking for a cheap solution they're not going to come to us, but if someone values the environment, we are well suited to deliver."
Mr McVeigh said that while decommissioning is not a big earner for H&W, the yard will be "ready to go" when the market kicks into gear.
To date, perhaps the biggest decommissioning job H&W has handled was that of the MSC Napoli container ship, which was beached in Lyme Bay in the English Channel in 2007.
The job could quite easily serve as a dress rehearsal for the decommissioning of a floating production, storage and offloading vessel in the coming decades.
Dismantling topsides could be part of the mix, too. Mr McVeigh said H&W had carried out a dock appraisal to demonstrate that Allseas' mammoth Pioneering Spirit, which will remove Shell's Brent Delta platform in summer 2017, could work within the harbour's existing facilities.
Mr McVeigh also said H&W's location should not prove to be a sticking point for North Sea operators: "If you're in the southern North Sea with a small topside and you've got decommissioning facilities practically within site, then the transit may be a problem.
"But if you're in the northern North Sea and you're bringing down a big installation then there is no financial impact from going to the Irish Sea. It's just about the facilities we can offer."
However, as the large turbine towers that have been a feature of the Belfast skyline of late can testify, H&W is about more than just taking structures apart.
The yard has been involved in offshore wind turbine assembly for a number of years and recently netted a contract to deliver 24 jackets for the East Anglia One development in the southern North Sea.
The work will safeguard 200 jobs at the yard.
Mr McVeigh said: "We would not set ourselves up as being a dedicated decommissioning facility because the market is too up and down.
"We have to maintain a capability and a staff to do other jobs."
The series so far:
Turf wars and the North Sea's next 30 years
Lerwick confident experience will tell in hunt for new work
Aberdeen harbour sees supply chain as its 'strong suit'
Gap between P&A and platform removal full of opportunities
Montrose to punch above its weight in decommissioning market
New simulator to 'massively reduce' well decommissioning costs
Dundee strives to shape the market by investing early
Recommended for you

Harland & Wolff pins focus on growth and renewable partnerships