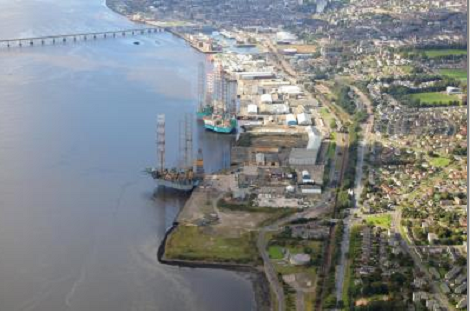 A former cabinet secretary has suggested re-writing the Tay Cities Deal wish-list because of its reliance on a "jobs bonanza myth".
The Port of Dundee in 2016 hailed the prospect of up to 1,500 new jobs for the city in oil and gas decommissioning.
However, the think-tank Options for Scotland, which is chaired by SNP MSP Alex Neil, has predicted the true employment figure for onshore work across the whole country could be just 200.
Speaking at the launch of the paper, Mr Neil urged governments on the both sides of the border to "get real" as he backed a call to abandon decommissioning and leave the huge structures in the North Sea permanently.
Mr Neil said: "The public purse would save about £15bn on decommissioning costs that are currently planned through tax liabilities and expenditure by the UK Government.
"That £15bn in times when money is really tight could be used to re-invest in renewable energy, or indeed for anything else for that matter.
"There would be no environmental costs, in fact quite the opposite. If that money was used to re-invest in renewable energy then there would be a net gain to the environment."
Asked if the proposals for the Tay Cities Deal, which would unlock hundreds of millions of pounds for the area and has a strong decommissioning theme, needed to be redrafted, he said: "I think this is what (the report) shows."
He insisted there would be "far more jobs" for Dundee in renewables projects.
Mr Neil added: "The point is there isn't the prospect of an onshore, permanent jobs bonanza, and that's what we've been led to believe up until now.
"We need to get real here and look at a different way of doing things."
The report's author Tom Baxter, a senior lecturer in chemical engineering at Aberdeen University, said: "You take something to bits and once it's finished there are no jobs, there is no legacy.
"There are jobs at the time yes, but certainly for onshore there is this myth of a bonanza and it's completely false."
Mr Baxter said the onshore value of the new industry would be worth about £81m over three years, rather than the £40bn often cited as up for grabs at Scottish ports.
John Alexander, the leader of Dundee City Council, said decommissioning businesses, including AF Deecom, Augean North Sea Services and Well-Safe, had invested in Dundee for good reasons.
"These private companies do not take such commercial decisions lightly or without a belief that there is a commercial return," he said.
"Decommissioning, by its very nature, takes a significant degree of planning which translates into years of work.
"However, I'm confident that Dundee is well placed to reap some of the rewards and it is already doing so."
Lyndsey Dodds, from WWF, dismissed claims there would be no environmental cost to leaving the installations in place, adding: "Given the very generous tax-breaks and incentives the oil industry has received over the years the idea that it might be allowed to wriggle out of its internationally-agreed obligations to clean up its mess is unacceptable."
A spokesman for the UK Department for Business, Energy and Industrial Strategy said: "Offshore oil and gas operators must decommission installations and pipelines at the end of a field's economic life.
"This is done in accordance with UK and international obligations and is delivered in a safe, efficient and cost-effective manner for taxpayers, while minimising the risk to the environment and other users of the sea."