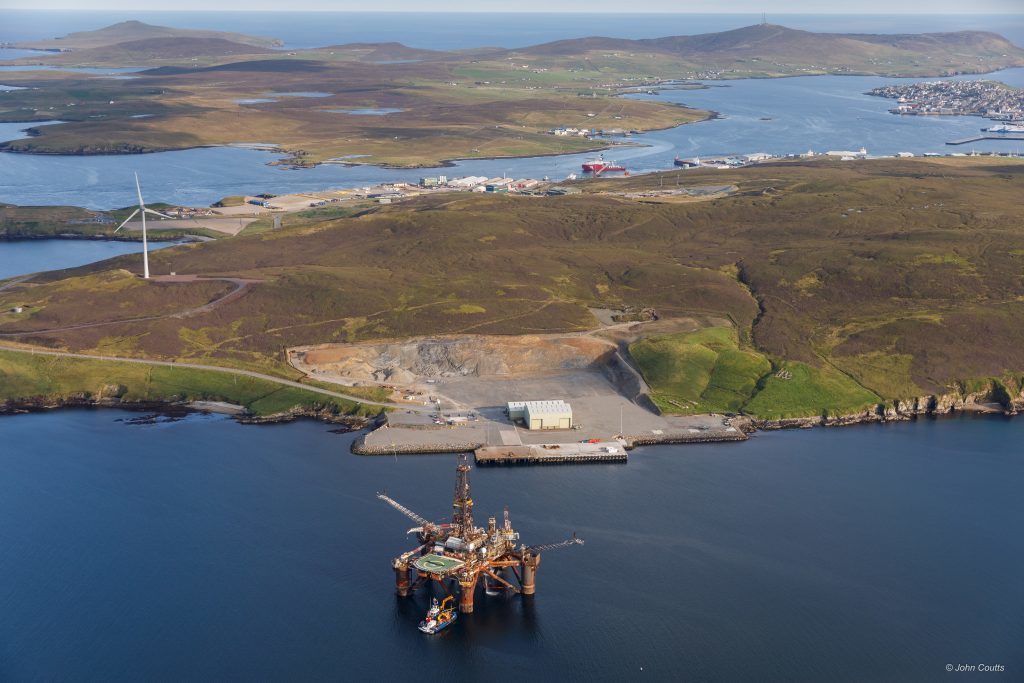 Shetland's hopes of securing a bigger slice of the multi-billion pound North Sea decommissioning market have received a boost.
A Scottish Government feasibility study showed the Dales Voe base at Lerwick was the best place in the UK to build an ultra-deep-water port for scrapping large installations.
Holyrood said it would work with the UK Government and industry to get the project up and running.
Shetland politicians welcomed the move and said the project could greatly benefit the local economy.
It is not yet clear whether Westminster will support Dales Voe's candidacy.
The UK Government has commissioned its own feasibility study into UK port facilities, but it has not been concluded.
Both governments want to prevent UK ports from missing out on contracts for large-scale decommissioning jobs.
A number of installations which were based in the UK North Sea, including Maersk Oil's Janice floating production vessel, have been shipped to Norway for dismantling in recent years.
Norway has an advantage because it boasts several ultra-deep harbours which provide better access for the largest crane vessels designed to lift oil platform sections.
A total of £17 billion will be spent on decommissioning in the UK continental shelf between 2017 and 2025, according to Oil and Gas UK.
The Scottish Government previously vowed to make £7.5 million available for the deep-water-port project, and challenged the UK Government to commit funding as well.
Scottish Energy Minister Paul Wheelhouse is in Lerwick today to meet stakeholders for a discussion about the opportunities the oil industry could present Shetland with in future.
He said: "This year's Programme for Government reaffirms the Scottish Government's commitment to establishing an ultra-deep water port in Scotland.
"Following an extensive feasibility study, which explored a number of UK-wide options, including a number of Scottish sites, Dales Voe was identified as the optimal location with potential for a deep water facility.
"I believe investment in a deep water port will unlock the potential for Scotland to secure the largest decommissioning contracts that require the largest heavy lift vessels currently in operation in the North Sea.
"A deep water port in Scotland will bring significant benefits not only for a single location, but as a key part of an integrated and networked Scotland wide decommissioning offering, with wider opportunities realised through the supply chain.
"We will continue to engage with industry to measure expected demand and to ensure that investment in a deep water facility will bring the widest possible economic benefit and most substantive boost to the decommissioning supply chain in Scotland."
Sandra Laurenson, chief executive of Lerwick Port Authority, said: "Official identification of Dales Voe in a nation-wide feasibility study as the optimal location for the UK's ultra-deep-water decommissioning facility is a welcome endorsement of our belief that this is an excellent future opportunity for Shetland.
"Such a development would benefit the country, greatly strengthening capabilities in a highly-competitive international market.
"We look forward to working with the Scottish Government, including Highlands and Islands Enterprise, industry and others on the next steps necessary for such a significant investment to be realised."
Lerwick has a strong track record of handling decommissioning jobs of various sizes and has been promoting its own candidacy for an ultra-deep facility for some time.
More than 10 years ago, the huge module support frame for one of the Frigg field's platforms was dismantled at Lerwick's Greenhead base.
The Buchan Alpha oil production vessel, operated by Repsol Sinopec Resources UK, arrived at Dales Voe for scrapping last year.
Orkney and Shetland MP Alistair Carmichael said: "This is an exciting opportunity for the isles. It's good news.
"We have been working towards this moment for years, but we know that there is a lot of work to be done on decommissioning and Shetland, because of its location and experience with the oil industry, is the ideal place to pitch for that work.
"Shetland has done well out of the oil industry and I think this gives as another opportunity to continue to get jobs and prosperity for the next few decades."
Shetland MSP Tavish Scott said: "It's encouraging that the Scottish Government are recognising the strategic importance of Dales Voe. Financial assistance will now be important to supporting this emerging industry."
A spokesman for the UK Department for Business, Energy and Industrial Strategy, said: "The North Sea supports thousands of highly skilled jobs across Britain.
"We will continue to support the industry and build on the unprecedented support already provided to the oil and gas sector.
"We have commissioned a UK-wide scoping study on an ultra-deep water port to support the decommissioning of offshore oil and gas assets.
"We will continue to work closely with the Scottish Government."
Gunther Newcombe, operations director at the Oil and Gas Authority, said: "The OGA is working with operators to develop area plans, to the east and west of Shetland, to maximise value, and welcomes all parties contributing to build a regional vision which will maximise the value of current developments and stimulate future opportunities.
"Shetland could play an important role in this vision as well as becoming a decommissioning centre of expertise."
Recommended for you

Wood Mac: New UK licences need major discovery to 'whet Shell's appetite'