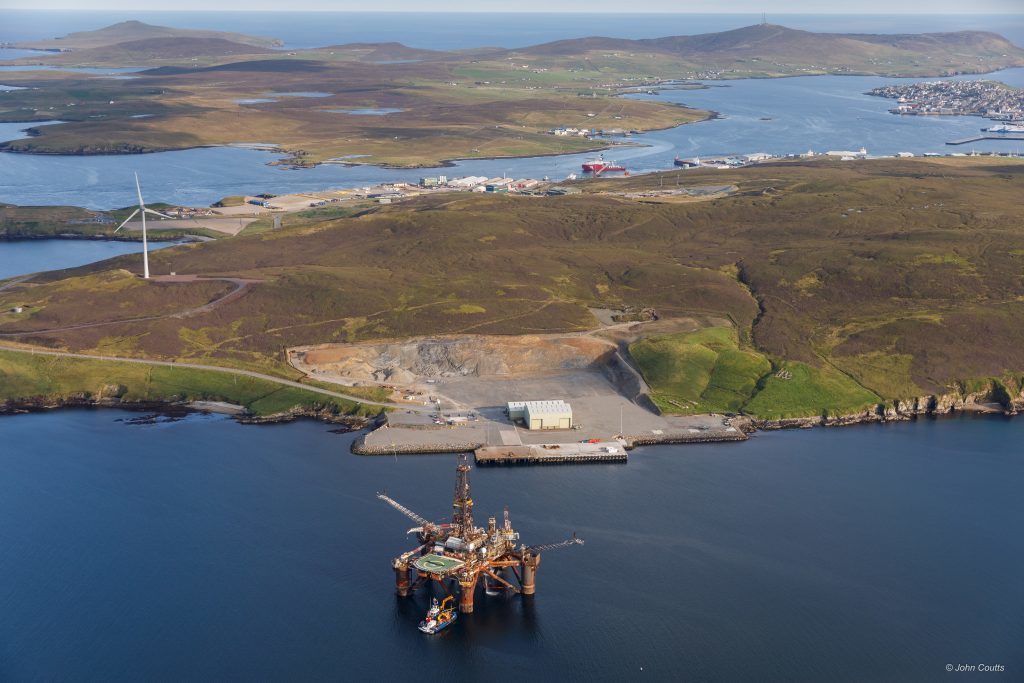 Scotland's first ultra-deep-water (UDW) port would have to secure 10 decommissioning projects to pay for itself, a flagship report said.
A newly-constructed base could target £580 million of the £1.2 billion forecast to be spent on onshore recycling and disposal in the UK, according to its authors.
The report estimated that about £10m worth of taxpayer money would be required to support the project.
But the facility would be of little use to the marine and offshore wind dismantling markets, they said.
The findings were set out in a controversial feasibility study commissioned by the Scottish Government and carried out by EY.
It was used to inform Holyrood's decision to back Dales Voe in Lerwick for the UK's first UDW port, ahead of about 40 other candidates.
The move prompted dismay among decommissioning chiefs in Dundee, who said their city was a better location.
The Scottish Government made the announcement in early September, but waited until yesterday's opening of the Offshore Decommissioning Conference in St Andrews to release the study.
The study concluded that Dales Voe and Nigg Energy Park were the prime candidates due to their proximity to natural deep water and key North Sea basins.
Dundee was eliminated at the first hurdle, as water depths on approach to the quayside were deemed too shallow.
Delivering his keynote speech, Mr Wheelhouse said Dales Voe would be the most cost effective project.
He said the lack of a UDW port was a "key gap" in the UK disposal market that led to infrastructure being taken to yards overseas.
Mr Wheelhouse said such a facility would provide direct access to ultra-heavy-life vessels, removing the need for barge transfers, which add cost and risk.
He said project partners and agencies were still working on the business case and financing options for Dales Voe.
Mr Wheelhouse stressed that the government had no intention of creating a single decommissioning hub.
He wants stakeholders to collaborate on the development of an integrated network of decommissioning destinations with complimentary services.
Doing so would help Scotland enhance its reputation as a global leader in dismantling and increase international demand for the supply chain's skills and expertise.
But EY acknowledge there was "no standard industry approach" for estimating the proportion of the £1.2bn onshore dismantling market that an UDW port could attract.
The professional services giant developed a "bespoke methodology" to arrive at its forecast, based on available tonnage data and a cost estimate of £300 per tonne.
The report authors said: "In performing this analysis, it is important to note that we have had to make a number of broad assumptions due to lack of available detail, inherent market related uncertainties and much of the financial information being commercially sensitive and confidential."
But they said a UDW port could deliver a net economic benefit to the UK "in all scenarios considered", which vary between the award of seven and 20 projects over two decades.
Contributors to the study reckoned each project would create about 50 jobs.
Lerwick port bosses said in September that the upgrade work required for the UDW facility would require investment of £30-40m.
Calum Falconer of Dundeecom – leader of the unsuccessful attempt to win the work for Dundee – subsequently said the project in Dales Voe could cost taxpayers £100m.
The EY feasibility said the strain on the public purse would be a tenth of that sum.
It said: "Considering the need for private funding and assuming £10m of public funding to support the project, more than 10 projects would be required to be won by the UDW port to deliver a net economic benefit."
As for renewables, floating wind industry reports and stakeholder feedback suggested there is no current need for an UDW port in the UK.
That sector's future scrappage requirements could be accommodated by existing facilities.
Wave and tidal energy do not require a UDW port either.
Commenting on the snub for Dundee, Mike Tholen, upstream policy director at Oil and Gas UK, said: "It's inevitable that some locations are going to be disappointed because the government cannot sponsor everyone.
"For one thing, there isn't enough work for everyone. Not everyone can be an ultra-deep-water port.
"It's better to have one real success story rather than trying to nudge two along and both failing.
"I completely understand some locations' disappointment but the government can only put in so much money."
Recommended for you

Aberdeen Harbour in rebrand as £400m expansion takes shape