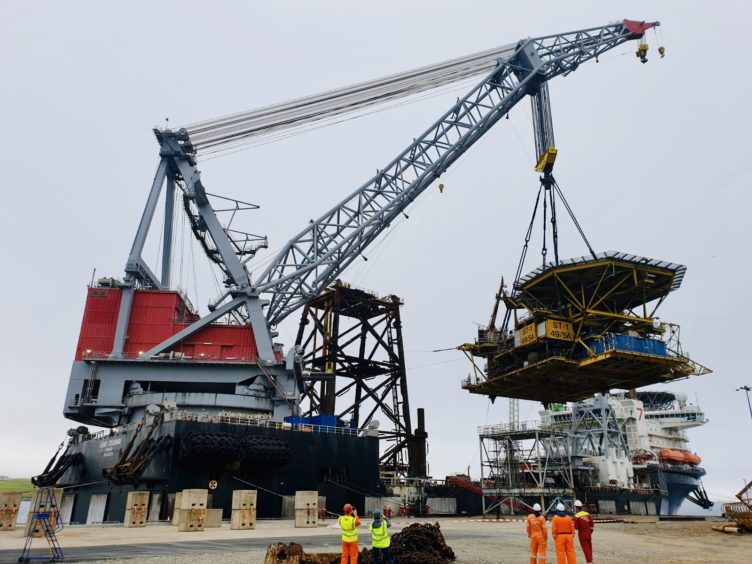 The delivery of a North Sea oil platform to Lerwick highlights the Shetland port's status as a "centre of excellence" for decommissioning, a joint-venture has said.
The topside module and jacket of Spirit Energy's ST-1 installation arrived yesterday at the Dales Voe facility for dismantling by environmental services business Veolia and logistics firm Peterson.
Veolia and Peterson have worked together on decommissioning projects for about a decade and also operate sites in Great Yarmouth and Lutelandet, Norway.
ST-1 consists of a 150ft high, 1,300 tonne steel jacket and topside modules weighing in at 1,200 tonnes.
It was originally installed in 1994 in the Greater Markham Area in the southern North Sea and produced until April 2016.
The structures were removed in two single lifts and taken to Lerwick by Seaway 7's huge crane vessel, Seaway Strashnov.
Veolia decommissioning director Martin O'Donnell said the joint venture was winning work on the back of its strong track record of "recovery operations" at Dales Voe.
Last year, the Scottish Government backed Dales Voe's candidacy for the construction of an ultra-deep-water port to help the country compete with Norway for large-scale decommissioning jobs.
The yard was picked for the dismantling of Repsol Sinopec's Buchan Alpha platform, which arrived in 2017.
Canadian firm CNR's Ninian Northern installation will also be taken to Dales Voe for scrapping.
James Johnson, decommissioning manager at Peterson, added: "This project is a great showcase of how our collaboration with Veolia is enabling us to provide a full decommissioning service which provides a better customer experience.
"We are pleased to be involved in the on-going development of Dales Voe as a centre of excellence for decommissioning for the North Sea."
Lerwick Port Authority chief executive Calum Grains said: "The Veolia/Peterson partnership's latest success is another significant milestone in Lerwick Harbour's extensive involvement in decommissioning.
"As well as providing employment in Shetland, it demonstrates for the first time that, with the use of cost-effective crane vessels, rather than barge transfers, to move offshore structures, the port can compete well-outside our immediate markets in the central North Sea and northern waters.
"The ST-1 project strengthens the case we and others have made for Lerwick to become the location for the UK's ultra-deep-water decommissioning facility, using this technique.
"What we need now is the go-ahead for the facility, building on our capacity, capability and competitiveness to meet the industry's – and the country's – future requirements."
Spirit Energy project manager Richard Newby said: "We are fully committed to delivering on our strategy which includes minimising our lasting impact on the environment by safely and efficiently abandoning our wells and removing our facilities once operations have ceased.
"We are achieving this through collaborative relationships with key suppliers and in this case we are delighted to see ST-1 being recycled in the UK and thereby further strengthening UK capability in an emerging global market".
Recommended for you

AF Gruppen secures decom contract for North Sea platform