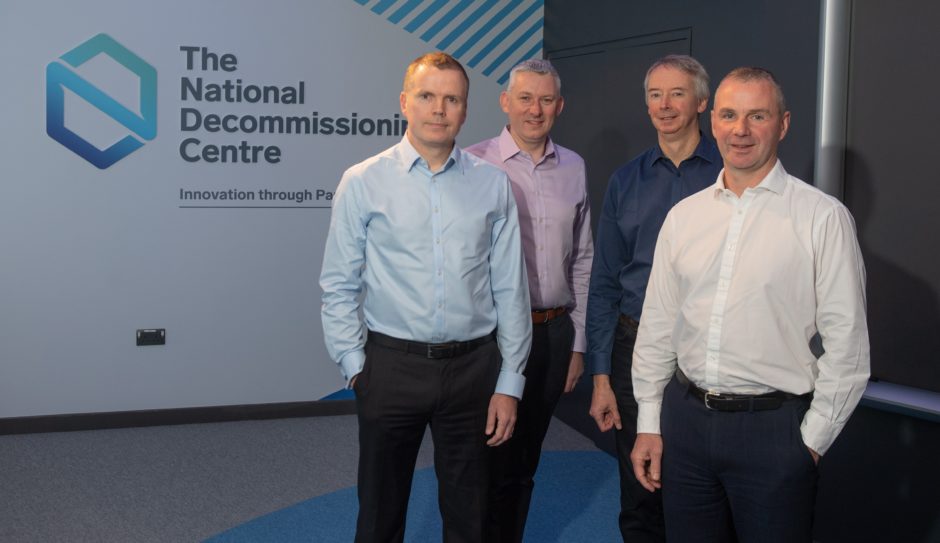 With a decommissioning bill currently estimated at around £50 billion for the UKCS alone, the pressure is on to get the job done for even less – and smarter.
Which is why, under the Oil and Gas Technology Centre (OGTC) and in partnership with Aberdeen University, the National Decommissioning Centre (NDC) was established in Newburgh, Aberdeenshire.
Momentum is now building at the centre where I recently met four leading lights in the project, namely:
• Prof Richard Neilson, director, NDC
• Martyn Tulloch, Net Zero Solutions Centre manager, OGTC
• Roger Esson, Decommissioning Solutions Centre manager, OGTC
• Russell Stevenson, industrial director, OGTC
Stevenson said: "A lot of assets are reaching the end of their physical life, regardless of prices, and will have to come out. We're here to try to drive the agenda to make sure decommissioning is carried out in the best way possible.
"Three hundred or so platform topsides need to come out and the plugging and abandonment of a huge number of wells is absolutely going to have to happen."
But as ever, the key factor that will determine the pace at which this could happen is commodity prices. And there appears to be potential for a log-jam to build and the decommissioning market to overheat.
"The major challenge so far is that it has been lumpy, rather than seeing log jams emerging," said Stevenson, acknowledging that the North Sea market overheated several times during the big build waves starting in the 1970s.
He agrees too that decommissioning has been part of North Sea life for decades.
"And yet, as an industry we've still not landed on what the most efficient model is for doing it," he said.
"There are various contractual/commercial models being utilised by different operators and it may turn out that there are a number of effective options out there depending on circumstances.
"But, at the moment, no one in the contracting community really knows what individual operators are going to ask for."
Clearly there's a desire for a one-size-fits-all solution but that's never going to happen. This has never been a one-size-fits-all industry to start with.
Stevenson said: "At the moment we've got a broad spectrum of options and we need to narrow that down.
"Starting at one end of the spectrum you have the operator that wants to control everything itself and contracting companies in the supply chain for individual elements only when needed.
"At the other end of the spectrum you've got what amounts to outsourcing the entire late-life -into-decommissioning part of the lifecycle. That's where duty-holdership and responsibility are handed to a single contractor.
"A lot of what happens is dependent upon who owns the asset and whether the decommissioning liabilities have actually been handed over or not."
Geography has a major part to play in the emerging North Sea decommissioning story, with different sub-geographies such as southern, central and northern North Sea, plus west of Shetland.
That surely has an impact on the manner and pace at which the market develops.
"It does to some degree and we've recently done a study to look at the heavy-lift fleet and whether or not there's a real bottleneck coming at us," Stevenson said.
"We've identified some pinch points but nothing particularly worrying in terms of not having enough vessels to carry out the task.
"But what we don't know of course are the external factors. Say the offshore wind sector gets even bigger than expected."
The International Energy Agency has just issued a forecast pointing to massive growth of offshore wind, with the North Sea dominating the market for some years to come.
Stevenson said: "It's a question of how those infrastructure projects are installed. If we end up going towards floating wind, then the impact on the heavy lifter fleet is pretty negligible. But if we go for more fixed foundation turbines then they are going to absorb lifter capacity.
"It's a really dynamic situation that we're trying to manage."
DIVERSE CHALLENGES
Roger Esson agrees with the different geographies model and that each dictates the way in which decommissioning proceeds.
"The southern market is functioning reasonably well and there's a fair amount of activity in both the UK and Dutch sectors," he said.
"You can argue that this market uses a different suite of vessels; but they're also using different contracting models and there seems to be greater flexibility in the Southern Gas Basin than elsewhere.
"In the central North Sea there's less activity but the northern North Sea is getting busier. For example, we've seen the Brent Bravo topsides coming into Teesside recently and Ninian North will be coming into Shetland next year."
However, he agrees with Stevenson that successful supply chain companies have decommissioning as a part of their business, perhaps combined with late-life operations.
He points out that preparations for the end can start as much as a decade ahead of cessation of production.
Esson said: "The interesting crossover is now coming where we're having the discussion about net zero emissions and how we could potentially re-use some of these facilities for carbon capture and storage (CCS) or hydrogen production or other repurposing of oil and gas facilities.
"That's really starting to come at us quite significantly now and we're going to have to get after that reasonably quickly. Around 80% of the infrastructure could be out of the North Sea in the next 10 years. If we're going to capitalise on that we need to get moving and develop options at pace."
Surely there's a case for a more or less complete clear-out ahead of future long-term maritime energy and carbon storage activity?
"That may turn out to be correct," Esson said. "But it is incumbent upon us to look at what those opportunities are and where we can use a circular economy approach to maximise what we already have out there.
"Can we reuse some of that to help reduce the cost of the likes of CCS? The recent announcement about repurposing the Ketch and Schooner platforms for offshore wind support in the Southern Gas Basin is a good example.
"There have been a number of programmes, particularly on the Dutch side, over the last few months of small gas platform topsides and jackets being switched around to enable repurposing."
But platforms like Ketch and Schooner are relatively modern. The situation in the Northern North Sea is totally different … huge elderly structures that are remote and located in a much more hostile environment. As clearing away the Brents demonstrates, they represent huge challenges and big opportunities for the supply chain.
Indeed the sheer scale of the opportunity and mountain of challenges presented by the North Sea mean companies that are involved are increasingly picking up similar business in other parts of the world.
They may even be eclipsing the most established offshore decom market in the world, namely the US Gulf of Mexico, which thus far has been a shallow water "toothpick" game. Yank it out, chop it up and simple, possibly crude well plugging.
Esson: "The North Sea situation is clearly different, not just in terms of water depths and installation size but there are significant differences in terms of technical challenges associated with well abandonment techniques being applied in the North Sea.
"The well-stock is different. The structures are different too. And we're finding that the approaches being developed here are exporting well to other parts of the world."
Does it help that the North Sea appears to be a more tightly regulated region?
"What you can argue with the UK approach and those of Norway and The Netherlands is that they are perceived to be doing the right thing," said Esson.
"Even if the regulations were stripped away, most people would look at it and say the approach that is being taken with the decom of assets in the North Sea is, by and large, the right one."
So genuinely responsible?
"I believe so," he claims.
CARBON FOOTPRINT
But how will decommissioning fit into the UKCS net zero commitment pronounced at Offshore Europe 2019? After all, decommissioning is a very intensive process. It's about taking big things out, chopping them up and recycling as much as is feasible.
Over to Tulloch, whose role as Net Zero Solutions Centre (NZSC) manager is a new one: "We have four focus areas at the NZSC: Operational emissions and that's 50 mega-tonnes per annum at the moment but reducing to net zero by 2050, plus offshore wind, hydrogen and CCS.
"Our short-term focus is always going to be operational emissions as reducing these is essential to maintaining the licence to operate.
"There are a number of quite straightforward things that can be done on this front. Increasing the efficiency of gas turbines is probably number one. Around 75-80% of carbon dioxide produced by the North Sea industry comes from power provision."
This isn't surprising as much North Sea offshore power generation kit is based on designs like the Rolls Royce RB211 engine, which is rooted in the 1960s though considerably upgraded since the early days of the first RB21-24 industrial variant emerged in 1974.
"They're not as efficient as new generation engines, nor are they operating in optimal conditions in many cases," said Tulloch.
"There's a lot we can do to recover waste heat, for example. It's the simplest thing to focus on short-term by applying the Rankine cycle: a thermodynamic cycle which converts heat into mechanical energy which usually gets transformed into electricity by electrical generation.
"Not only do heat recovery technologies make environmental sense, they quite often make commercial sense too. Raising energy efficiency helps reduce production costs and cut carbon emissions.
"We reckon we can reduce 20-25% of operational emissions, just by making production efficiency improvements.
"There are a few operators that have teams working on this at the moment. If we can take best practice from some of them and spread that across the basin, then that would be a great start.
"If you look at what Sintef in Norway is doing, we've developed links with them, also TNO (Netherlands) and DTU (Denmark). Sintef has a low carbon emissions programme looking at gas turbines."
Because power from shore is an obligation in Norway for every new development, that means much lower emissions on the NCS than is possible on the UKCS.
Tulloch reckons UKCS electrification is "more of a medium term opportunity".
However, in 2000 and influenced by Norway in this regard, BP proposed to power the Forties field from the beach, which it then operated.
The scheme, the first phase of which was predicted to come on stream in winter 2003-4, promised a big reduction in greenhouse gas emissions from Forties as well as economic and other benefits. The plan was simple in outline: Replace onboard power generation based on diesel or gas turbines with power generated by onshore plant at a much higher level of energy efficiency.
It never happened.
So why would operators start to electrify the UKCS now? They have surely missed the boat.
"These are different times," Tulloch said. "Think of BP. They looked at powering Forties from onshore but changed their mind. Now they're looking at developing Clair South and that is most likely to be powered from the shore."
DECOM R&D PUSH
Everything being done now has to be seen against the background of a growing environmental crisis, and it's a crisis of such a scale that the oil and gas industry is viewed as a carbon pariah that some want shut down tomorrow.
This is one reason why so much attention is now being paid to achieving high quality late-life production standards and responsible decommissioning of redundant infrastructure. It's also why academic research is an integral part of the NDC's remit.
Lead in this regard is NDC director Prof Neilson.
The programme that has so far been assembled and will continue to evolve basically grew out of consultations with the industry.
"We got together last year and had a look at what the industry priorities are in terms of terms of research and where the gaps are," Neilson said.
"We distilled this down, pitched it to the schools in the university, not just engineering but law, economics, biological sciences and so on.
"That resulted in a cluster of around 20 potential projects which Russell Stevenson and I, plus a small group of other key people, reviewed to identify the priority areas. We honed that down to about eight PhDs and, of those, we currently have five in place.
"They cover areas like more effective cleaning of installations to ensure they're properly ready for decommissioning. We have one that we hope to start soon that covers bundles and their safe and efficient removal.
"We have a couple of biology-based projects. One – and it's attracting a lot of interest – is the biodiversity around structures using the environmental-DNA technique.
"The other is about natural biofouling with a view to developing anti-fouling materials.
"Then there's one that is economics based. We're hoping to start looking at long-term liability including how to quantify carbon emissions more effectively so that a better decision can be made regarding which option to select for a particular decommissioning job.
"The aim is to start around five a year and to have a cluster of 15-20 projects eventually."
It means the NDC, aside from its other core activities, will in essence become home to a PhD incubator. But PhDs take four or five years to deliver. Meanwhile, the industry is increasingly looking for answers on the best ways forward much earlier.
So what are the prospects for early, interim deliverables? And how can Neilson be sure that the work being done by doctoral students is relevant to the offshore industry's needs?
"We're planning to hold a science day which the industry can come along to and look at what's happening and then we'll get feedback," he said.
"The aim is to develop an annual conference to which industry would also be invited.
"We're also looking for industry partners to join with the PhDs. That way they wouldn't be working in isolation but engaged directly with the industry.
"The other thing we're picking up just now is that there are a lot of worries with sharing data and one of the other things that we're about to set up is a one-year project funded by the Scottish Community Challenge Fund to look at the safe haven system used by universities for medical and clinical trials data.
"The objective is to try and see how we could use some of the protocols and governance of that to achieve a data sharing system that can be built into a smart basin model. It would be secure from the operators' point of view and allow access to supply chain base for the people involved.
"In short, it's about taking a protocol that's already being used and seeing how we can migrate that across to the oil and gas sector, in particular decommissioning."
And where do Master's students fit into this, MBA students for example?
Neilson: "There are indeed Master's students and almost all will run a three or four-month dissertation project sometime over the summer. If one includes law, economics and engineering then it will be in the 100-plus students range. A number of these will be students who are interested in decom or late life. We've run some at the OGTC in the past.
Esson adds: "Over the past couple of years we've had some coming in to complete their project in topics ranging from well abandonment techniques to devices for removing things from the seabed.
"It's very much connected to the OGTC's solutions centres and the today, tomorrow and next week activity that we're looking at.
"Actually, for us, the university is a delivery route for some of the projects that we're looking at. The subsea laser is a good example of working with industry in conjunction with Aberdeen University to develop a new technology that could help us with the conundrum of cutting structures in deep and ultra-deep waters."
And there's more.
For example, the NDC has just kicked off a two-year project with Shell looking at post decom monitoring. This involves investing in a simulation suite that will be up and running in Q1 next year and that will be used to virtually prototype and demonstrate new technologies for decom, different lift techniques as an example.
Stevenson: "We're also looking to use the simulation suite because the technology within that is the same as that nominated for the UK Smart Cities programme.
"We want to create the world's first smart oil and gas basin. And we're working with industry to achieve this.
"We're not trying to do the whole basin at once. We've targeted a special interest group which we we're going to work with, hopefully to model their infrastructure. The reason that electrification of the UKCS previously failed is because it probably didn't make economic sense if you look at it from a single operator or asset perspective.
"When you start looking at it from an area by area perspective across multiple operators and you link that with current and planned renewables interests in those areas then it starts to make economic sense. You can start to put in place projects that will create a linked infrastructure.
"As I say, the simulator will be up and running Q1 next year. Prior to that we expect to have had confirmation from our target operators that they're on board with the concept.
"They can be sharing the data, we can be doing the modelling even before the simulator arrives here at the NDC. We should be starting to deliver some interesting insights by the end of next year.
"But we don't want to make a big announcement until we know we've got a target group on board with the concept and access to data. Otherwise all we're talking about is an idea."
DEVELOPING HOLISTIC APPROACH
Basin modelling points to a major challenge, namely how late life independent decom asset operators can think more holistically about maximising economic recovery from ageing fields and capitalise on coordinated decommissioning to achieve economies of scale.
"We now need to step up a level and move to mature basin management and if we can get that right here and prove it in the North Sea, that becomes something exportable to other oil and gas provinces," said Esson.
"It's about being able to take that slightly different view and elevating it from just an individual asset to the entire basin and simulating that in a digital environment. It should be possible to plan almost every installation in the North Sea. I think we probably could."
Five years have passed since Roger Esson became the CEO of Decom North Sea, prior to moving to OGTC in December 2017. Over that time is seems that some genuinely major strides in decommissioning have been made and perhaps there is also greater cohesion within the industry regarding this aspect of its lifecycle.
Certainly he thinks so: "Look at the number of projects that we now have up and running in the decom space, including marginal developments and the deployment of new technologies like Ocean Power Technology's wave power buoy on a decommissioned well in Premier Oil's Huntingdon field.
"And if you look at what OGTC has delivered; it's currently got 35 projects happening through the solutions centres; also its creation of the National Decommissioning Centre and the soon to be operational National Subsea Centre. These are significant contributions through the Aberdeen City Region Deal including helping to develop the capability of the two universities here."
What about Brexit? It surely has or will eventually have an impact on NDC work, especially collaboration between UK and other EU universities?
Neilson is clearly concerned: "Potentially there will be impacts including on the recruitment of PhD, Masters and undergraduate students. Scotland is very attractive to foreign students and Aberdeen has a large proportion from the EU. So there will be challenges coming down the line.
"I think we will still have links to European universities but, yes, there is a trend towards UK universities being less involved with EU projects. We have a wind-farm decom project that kicked off last year.
"We've got a couple of bids in at the moment but it's becoming harder and harder to get involved in university consortia within Europe."
Is there any EU Interreg programme money invested in decom?
"Yes," says Neilson. "The decom tools one, which is a consortium across five countries, is an Interreg-funded project that is looking at wind-farm decom over the next four or five years and how that can be optimised, including whether there should be investment in sector specific vessels or linkage with oil and gas decom in some way.
"Aberdeen became involved because they were looking for a university with oil and gas and decommissioning experience to work within the consortium. Most of the rest of the consortium is renewables focused."
Potentially also damaged is research into the impact that offshore oil and gas infrastructure has on the marine environment and whether their removal is actually the right thing to do. This work is being conducted in various EU universities, not just the UK.
Esson, though apparently unruffled by Brexit, for one considers this work to be very important as, Ospar Convention notwithstanding, findings might point towards abandoning more platforms in-situ than is currently allowed, so saving money and reducing the associated carbon footprint at the same time.
As for direct Brexit impacts on oil and gas companies, Stevenson is positive.
"A lot of the operators are global players and the North Sea is the only offshore oil and gas province worldwide where the EU has influence," he said.
"So it's business as usual as far as this industry is concerned. We've had active engagement with, for example, Australia, the Philippines, Norway and so-on. There's plenty of international interest in what we're doing here."
The final words go to Esson: "We have a massive opportunity and we need to move the discussion from just obsessing about the word decommissioning and the lifting and shifting part, which most people think about. There's a lot of opportunity across the whole late life phase, which includes decommissioning.
"Part of that late life discussion and where we really need to be focusing on is: what are the opportunities to do other things with the infrastructure that have perhaps not been thought about before across the basin?
"There is a need to take a more holistic view of this thing that we're still going to have to do. Oil and gas will go on being produced for some time yet, the facilities that are out there still need to be maintained, at least in the short term.
"Of course decommissioning will still happen. It just hasn't matured properly yet."
Recommended for you

Offshore Energy industry and its role in security and a low carbon future